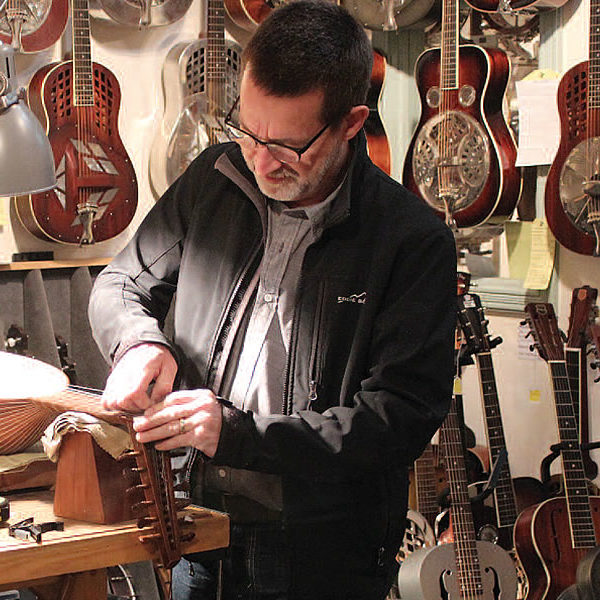 Grant MacNeill
"We've always been very hands-on. We want our customers to pick up and try instruments and to leave feeling they have learned something useful during the visit; construction, wood species, setup procedures or something as simple as string change technique.  We tweak setups on the spot to illustrate how flexible the guitar can be to their needs.  Guitars should be accessible to everybody; not just the advanced players so we carry guitars to suit beginners, passionate collectors and professionals."
Grant MacNeill | Founder | President
---
At 12 years old, Grant fell in love with guitar during his first lesson. A series of Rock & Roll and Classical teachers shepherded him through to high school where he spent his Friday nights playing folk music coffee houses then later on, hundreds of weekend wedding-band gigs and a brief time with a bar band. Through high school and university Grant supplemented his living teaching guitar lessons and tuning pianos. More time was spent playing guitar than in class which led to his first and only formal employment at age 19 working in the Fender Guitars service department. Mentored by Dan Charman he soon realized that the craft of Lutherie was his calling. Then in 1977 Grant and Dan opened The Twelfth Fret and the adventure began….
"Where else can you come in for an afternoon and play such a vast selection of guitars in one sitting?  Choosing a guitar is a long process and can take several visits.  I designed the shop to reflect an old fashioned home; low key and relaxed so men and women visiting the shop feel free to explore these fine instruments to their hearts' content." – Grant
Read The Twelfth Fret history as detailed in Music Trades magazine.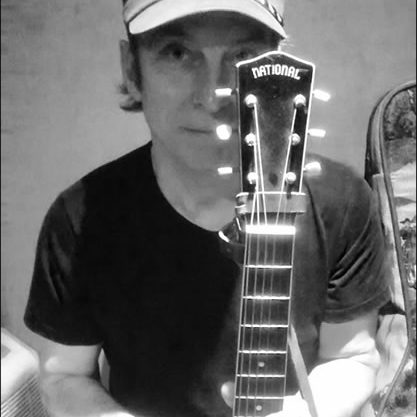 Chris Bennett
"My obsession with music and the history of recorded sound lead me to my interest in vintage guitars, amplifiers and related gear. How it contributed to the sounds players attained and the sonic legacy they left behind has always intrigued me."
Chris Bennett • Vintage Instrument Sales Expert
---
Chris joined The Twelfth Fret in 2000  just after it relocated to it's current location. He came on board to oversee the vintage instrument sector of the business. Much of his expertise is spent helping other vintage equipment enthusiasts find interesting pieces and appraise or assess their collections.
As a musician Chris has a diverse interest in music. Whether it's an old Eddy Lang 78 disc, comparing the differences in mono and stereo mixes of an obscure British band or listening to current players like Nels Cline or Mathew Stephens it all makes sense in his world.
When outside the shop Chris enjoys playing and recording with equipment from his personal collection.
The Twelfth Fret has a deep rooted clientele of rare and vintage instruments collectors. Chris attributes this to the practise of honest and fair appraisals extended to buyers and sellers alike.
Chris is well versed in the ever changing trends within the vintage and collector's world which allows him to help customers navigate the ever changing market.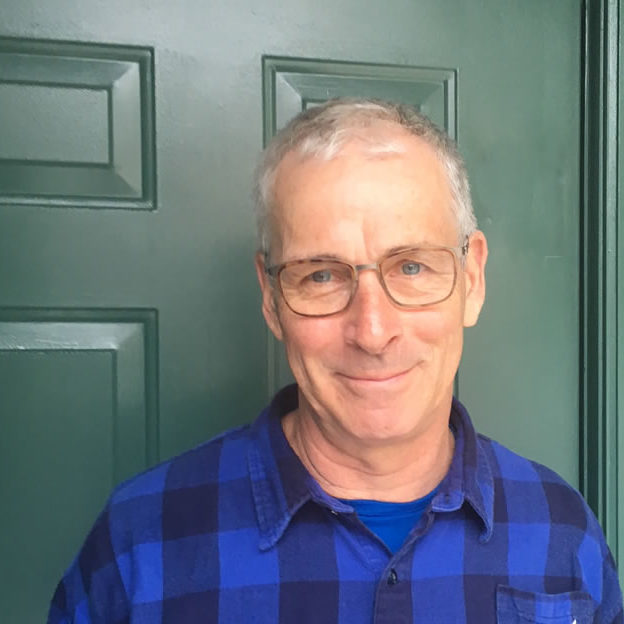 Brian Dickie
"Finding the instrument that works for the customer."
Brian Dickie – Sales Expert
---
It was May 2001 when Brian started working at The Twelfth Fret. He initially managed sales and purchasing for bass guitars, mandolins and the Seagull Godin line of products. His responsibilities morphed over time to include Martin, Collings and Huss & Dalton – as well as consignment sales and trades. For much of his spare time, Brian played bass guitar in numerous bands. Brian enjoys most genres of music and organizing local player showcases here at the shop. His satisfaction is in selling instruments that work for the customer.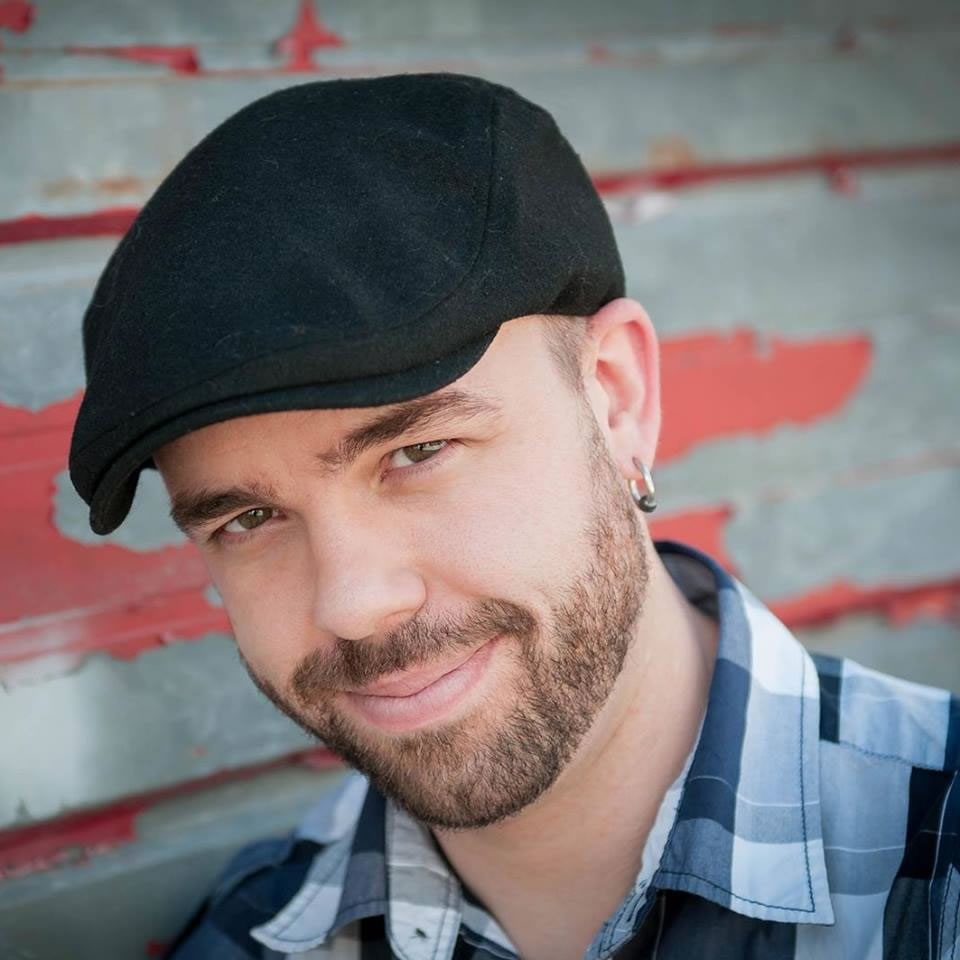 Mike Gray
Expertise in acoustic and electric guitars, amps and pedals.
Mike Gray • Sales & Purchasing
---
Mike joined The Twelfth Fret team in 2006. He started playing since the age of 12. He enjoys playing electric guitar, acoustic and bass guitar. As a musician, Mike divides his spare time playing in various bands; electric guitar for the hard rock band "Anthems in Ashes"; acoustic guitar for singer "Lisa Marie Kruchak". He also plays bass guitar for "No Shelter" – Rage Against The Machine – tribute band.
Mike's diverse talents and expertise in acoustic and electric guitars; amps and pedals, brings a skilful level of knowledge to The Twelfth Fret. His life as a musician affords a tangible, honest and applicable take to his consultations.
Maximilian Moy
Day-to-Day Retail Operations and Various Product Line Management
Max Moy • Management & Operations
---
Max has obtained a diverse portfolio through a wide variety of industries having worked at Price Waterhouse Coopers, Apple, LCBO, and Geek Squad. He has also lived, travelled and worked as an English teacher abroad in various countries; South Korea, Australia, Taiwan, Singapore and Japan to name a few.  As a result he is fluent in Korean, speaks basic Japanese and some Cantonese.
Max started playing guitar at the age of 13 and hasn't stopped since. He's also a victim of G.A.S (gear acquisition syndrome), and has extensive knowledge of buying and selling guitars, pedals and effects in the used market.
Max handles a few select product lines and also manages the day to day operations of the retail store.
When Max is not at The Twelfth Fret, he's making animal sounds and helicopter noises as the guitarist for Rage Against The Machine's Tribute "No Shelter" or playing rhythm guitar for local Toronto hard rock band "Anthems in Ashes".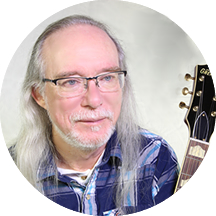 Patrick Keenan
" We feel it's important to research every instrument to respect its own qualities and place in history. "
Patrick Keenan • IT Director • Instrument Research and Photography
---
Patrick Keenan spent several years apprenticing with Darryl Williams, a classical guitar and lute builder north of Toronto.  Joining  The Twelfth Fret as it opened in 1976, he focused on custom building, repairs, finishing and refinishing.  In the early 1980s he played guitar and recorded with various bands and independent Vancouver artist Elizabeth Fischer. ( Link to compilation album.)
Developing an interest in custom building computerized audio control systems, in the late 1990s he spent several years in the software industry with companies like Delrina and Symantec.   He also developed and ran a mixed-media hybrid network for transcribing regulatory proceedings.
Returning fulltime to The Twelfth Fret as IT Director, Patrick now looks after the shop technology and heads the tech team, taking most of the photographs, researching and writing instrument postings.
Outside the shop, there's always maintenance and yard work at a rural century house property some distance east of Toronto.