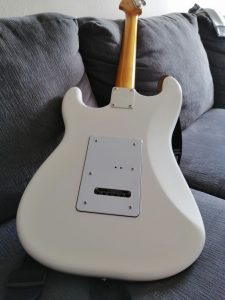 I have certainly been guilty of not leaving well enough alone in the past when it comes to modifying my instruments but having had such encouraging results with what Ken did for my CC telecaster, I thought to take a chance with my number one instrument of the last few years.
I had introduced a few new pedals into my signal chain and had noticed more noise creeping into my sound via the very loud, but noise susceptible, Lollar Charlie Christian single coil pickups that I have come to prefer.
So, I decided to get my three CC pickup strat fitted with the Ilitch hum-reducing backplate system. This is a similar system to the one designed by Ilitch for pickguards for Suhr guitars.
Having an unusual Obsidian pickup wiring system installed and a reverse wound middle CC pickup made the installation less straight forward. Ken took things in hand spent the extra time talking to the manufacturer, the other luthiers, and did what needed to be done consulting me along the way.
My first impression upon receiving the guitar was, "Wow! Plays like butter! Fantastic set up." – and I am fairly picky about set ups. But I found the guitar to be quiet but the sound altered.
Initially, I thought I would have to call it a failed experiment but then I adjusted the sound cancelling system which Ken ingeniously mounted in the tremolo cavity and cut holes in the backplate to allow on-the-fly adjustments with a screwdriver. I also removed a indifferent Vertex overdrive pedal from my chain which I found was messing with my sound even when turned off.
The glory has returned! – And with about 60% less noise that before!
I can't really distinguish any difference in the sound of the pickups and since I can turn the effect down I can hear what it sounds like without the noise cancelling engaged, I can make direct comparison.
I can recommend both the Ilitch backplate system (and I am one of those fellows who has not found any noise cancelling regular strat PUs acceptable) as well as Ken's work in making this guitar super playable with a fantastic set-up!
Matthew Rogers
A few weeks ago I dropped off my Martin guitar because I was experiencing fret buzz. Gord was nice enough to contact me and explain that the guitar required a fret dress and setup. He was very pleasant to deal with, answered my questions and told me how much it would cost. Gord did an excellent job on the guitar and I am very pleased. The Twelfth Fret has really good vibes and a great bunch of down to earth people working there which is rare in today's world. They also have business ethics which is lacking with other businesses. Thank you and keep up the good work.
Kam D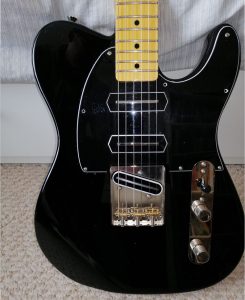 – As Don Adams used to say. (But I actually am!)
I previously had a Classic Vibe 50s Tele that I had Twelfth Fret put a Charlie Christian PU into the neck position of and I was absolutely wild about the sound. The thing was, at 10.5 lbs, it was a boat anchor and I ruined its aesthetic appeal by routing out the bridge position for other non-Fender sized pickups.
I bought a lightweight swamp ash Warmoth body and sent the original instrument to get everything transplanted into the new body at probably the second most popular repair shop in Toronto. The instrument was returned to me with a variety of issues, sounded uninspired and was set up in a manner – I didn't care for.
I thought that was it for this instrument, best to unload it. Having sunk so much money into it, I thought I would just see what "The Fret" could do with it before I ditched it.
– Enter Ken at the repair shop at the Twelfth Fret
He has completely resurrected this instrument!
It plays great now and it SOUNDS phenomenal! I have always known that The Twelfth Fret knows how to set up an instrument properly to my taste but I wasn't prepared for the instrument to SOUND so much better. They changed the wiring and the pots but it has the same pickups! Still, the difference is night and day.
Ken really took the time to speak to me at length and cured all the problems that had been introduced by the other repair shop. He went above and beyond in his lengthy communications with me.
This instrument is back in business! I really am so very pleased with Ken's work on this tele!
Matthew Rogers
I needed the binding repaired on my guitar and you (C. F. Martin & Co., Inc. – Customer Service) asked that I take my guitar to The Twelfth Fret in Toronto. Harry, your customer service representative was extremely helpful and a pleasure to deal with. Thank you for approving the work and thank you especially for directing me to this extraordinary luthier shop.
I've been playing guitar for over 50 years and I must say that the craftsmanship of the work done on my guitar is absolutely exceptional. I see why you've selected this shop as your warranty service location in Ontario. I truly hope that my comments reach senior craftsmen/management at Martin and that this shop is recognized for its great work. Also the guitar is a fantastic instrument and a beautiful work of art.
Peter D. | Toronto
I just wanted to say thanks to The Twelfth Fret and Brian for a pleasurable shopping experience. I received my new Eastman E80M today at about 11am and have just now at 4pm, after letting the guitar acclimate to its new environment opened the case. I was impressed by the Look , finish, craftsmanship and the playability of this guitar, thanks Brian for a great setup.
I have never had a hydration implement in a guitar I have received from any other guitar shop, nice touch. Again thanks, if I ever get to the point of owning a 00028 Martin I can say I know where it will be purchased from.
Craig W. | Canada
Just got the jazzmaster and I'm loving it. Plays great, sound great and at about 8 pounds it fell pretty good on my shoulder as well. Thank you very much for the extra pack of strings and for taking extra care on the packaging! Peace.
Pog
Received the guitar last Wed. Packing was well done and set up was flawless. I love it! Thanks for the help.
David A. | Austin Texas USA
Just wanted to thank you for your sales efforts and the great set up. I have played a bunch since the Sierra arrived last Friday. To my ear, there's a world of difference in tone, sustain and to the playability of this Sierra versus my starter Fender FB54 (and to the pre-1920's open back wooden-peg-tuner-gut-string banjo I first played old time style some 30+ years ago and that got me hooked on 5 string banjos!) Playing this Sierra will help me keep my sanity until this Covid19 nonsense is under control! I hope I get to take advantage of your re-set-up within the year in person.
Rick R. | Canada
Hi Grant and Mike. FedEx arrived yesterday, one day early. Looks and sounds great. Set up is good, plays well. Thank you. Nice case too. Considering it took me a few months of searching online and deciding sight unseen and tone unheard etc., I'm pretty happy overall. Hard to stop playing. Btw, That's a very cool video tour of your store. I hope one day I can visit in person. Keep well, play on.
Monté | Kelowna BC
Dear Martin Guitar, I needed the binding repaired on my guitar and you asked that I take my guitar to The Twelfth Fret in Toronto. Harry, your customer service representative at Martin was extremely helpful and a pleasure to deal with. He approved the work and directed me to this extraordinary luthier shop. I've been playing guitar for over 50 years and I must say that the craftsmanship of the work done on my guitar is absolutely exceptional.
I see why you've selected this shop as your warranty service location in Ontario. I truly hope that my comments reach senior craftsmen/management at Martin and that this shop is recognized for its great work.
Also the guitar is a fantastic instrument and a beautiful work of art.
Thanks.
Peter D. | Ontario
Grant, thank you! The guitar arrived safely, thanks for the great packing, and it's fantastic. I love the setup, and really appreciate the effort you took into making it play so well out of the box. The guitar really smashes my expectations, I've owned an old Dobro before and a Supro resonator, they sound like frying pans compared to the National ( Reso-Phonic ResoRocket Steel Guitar).
Thanks again, I'll keep an eye on your site, as I'd love to buy from you guys again!
Best regards from Singapore!
Steve C. | Singapore
Dear Brian- Just got my Mando lightning fast and I LOVE it!!! Thank you a million x for making this possible. I am thrilled and thanks for all the extras and setting it up for me. I really appreciate it. Have a great holiday and take care.
Lara M. | Ontario
Good morning I wanted to express my appreciation for the great work done on my Tele. I picked it up yesterday after receiving a call from Anne who it appears worked on my guitar. What a difference in playability it has made.
Once the restrictions ease I have two more guitars that require setups. Only the Twelfth Fret will touch them. Thank you once again. Total professionals.
Steve S. | Ontario Canada
I purchased my Ibanez RG5121 from 12th fret just recently and it has been one of the best purchases I made.
Jeremy looked after my concerns and needs as I have a bit of OCD when it comes to guitars. Lucky I came to the right store and everything was as true as promised.
The guitar arrived flawlessly and was setup exactly how I asked. I never had a setup so good as this before…. low action, no dead notes, no buzz. Magic!
As a new customer I highly recommend 12th fret for all your musical needs, I myself look forward to future business with this special store.
Very grateful and thankful. Cheers!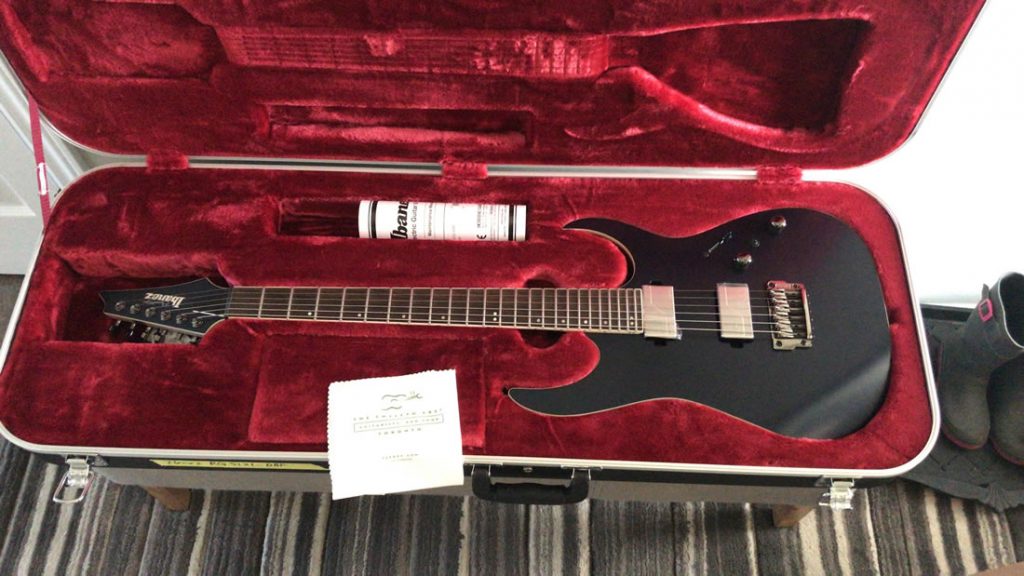 Jinder Virdee
Many thanks to Jay for resurrecting my 1987 Marc Beneteau dreadnought. I purchased it sight unseen from a store in Victoria, B.C. (Why? It was Covid and I love Beneteau guitars!) It arrived, as I suspected it might, needing quite a bit of work. Jay resolved multiple issues ranging from a required fret dress to a new bridge subplate. The guitar has come back to life and regained its distinctive Beneteau sound and feel (the incredible lightness of being)…thank you so much for the fine work and the advice!
Jim Dix
Hi Brian. My guitar arrived yesterday morning. I gave it a day in the box to acclimate and just unpacked it. What a fantastic guitar! I'd forgotten just how much I enjoyed playing one of these in the shop 7 years ago. Thank you for getting this into my hands! 🙂
Dan
I just want to let you know that I am very pleased with the Standel square-neck resonator guitar. It is exactly what I was looking for and the great price was a bonus. This guitar is definitely a keeper. Thank you Jeremy and the folks at The Twelfth Fret for the excellent communication and prompt shipping.
Allan K. | Peterborough Ontario Canada
I recently purchased Godin 5th Ave Uptown TR Red GT with Bigsby, 2014 guitar. I would like to thank Brian and Jeremy for their assistance. I would also like to thank the previous owner as there is not a mark of any kind on the guitar. It is just like new. On some electric guitars the high strings can sound somewhat thin. Not so with the Godin. It is perfect!
Gary M. | Ontario Canada
Dear Chris, the Gibson GB-3 arrived safe and sound. The condition and playability were well above my expectations. It's beautiful. Thanks so much for your help during the process. Thanks, as well, for the strings and for the T-shirt–I will be glad to advertise for your store.
By the way, I'm sorry about all the craziness that is going on down here. Canada has always been a great friend and neighbor and I'm sorry that our present administration does not appreciate you more. There are a lot of good people down here, and we're doing our best to make sure that there is a change, come our elections in November.
Eric | USA
I had a Larrivee shipped from BC years ago and it arrived with damage to the neck by the head stock. The repair team at 12th Fret fixed it on a rush job (paid for by Larrivee I should add) as I had a ticket out of the country. To this day I've traveled the world with this guitar and I'm convinced the repair job strengthened my guitar which is still going strong! Great thanks.
Joel
Grant all I can say is WOW. I received the (Deering Eagle II 5-String) banjo last night. It is stunning. The sound is incredible. It may take a bit to get used to the weight as it is a bit heavier than my old Goodtime but well worth it. Thanks for putting this together.
Richard W.
Grant – Thank You for the Great Service! I received the Guitar yesterday after it stayed in NY for a week going through Customs…………… I got to say this is an amazing Instrument and plays very well. I understood the quality and finish work was good, but didn't expect it to be at this level. The packing was great and I really appreciate what you and your team did for me! Thank You!
Steve B. - Annapolis MD USA
Hi Brian: Thank you for packing the bass so well. Part of the reason I purchased an instrument from you is that I expected that level of professionalism from you and was not disappointed. Can't believe how light that bass is! It's a thing of beauty both to look at and to play. Don't expect to see me sending it back. My mother passed away just over two years ago now and she collected bird's eye furniture to use and so I am very happy to have that bird's eye on the back of the neck.
David C. - Perth Ontario
Hi Grant, the banjo is brilliant, vintage just like me. Thank you very much for your help and hard work setting up the banjo. I would recommend your shop to anyone and I will do so every opportunity I get.
Eamonn B.
I received my Gibson Mastertone RB250, 1975 with original case yesterday and it is perfect. I followed my guts as to order it or not before trying and I do not regret at all. Thanks a lot, i'll swing by the store when it can happen. Thanks for everything, very professional! PS: I really like the original receipt from 1976. I'll probably frame it. 😉
Cédric B.
I have been performing in the retirement homes in Toronto for the last nine years. I brought my Martin acoustic into your shop for a complete fret change and set up. I picked it up on Monday and have to say I am thrilled to have her back home. Big thanks to Gord and all the repair staff for doing such an amazing job. I couldn't be more pleased. My guitar has never sounded better. Much appreciated, will spread the word and will bring back any of my guitars to your shop in the future. Thanks again everybody, I am incredibly happy. Stay safe and keep well. Rock and Roll will never die.
Brian Hibbert - Toronto Ontario
I just want to thank you guys for doing such a great job on my kids teachers guitar. I can't even tell it was broken. It's way beyond what I expected. You guys took real good care of me and showed the same love to that guitar that teacher shows our children. The service was impeccable. From start to finish you guys to make me feel and treated me like a champion. I don't usually write emails like this but in this case it was warranted to let you guys all know that your repair team went above and beyond.
George - Toronto Ontario
Thank you very much! This afternoon I brought my 12 string guitar in for a repair appraisal. The 2 staff people that examined the guitar were wonderful. Their good counsel allowed me to set aside the repair and make plans to purchase a new instrument I will return. Excellent customer service. Sean
Sean
I dropped off a fender squier HM ver 5 at The Twelfth fret restoration dept a short time ago having heard/read the excellent reviews and was not disappointed. The luthier's meticulous attention to detail first in assessment of work required/estimate and subsequent review of the general state of the guitar is extraordinary in present day. Just want to say thank you! Doug for the immaculate restoration and the staff at The Twelfth fret. – Alan M.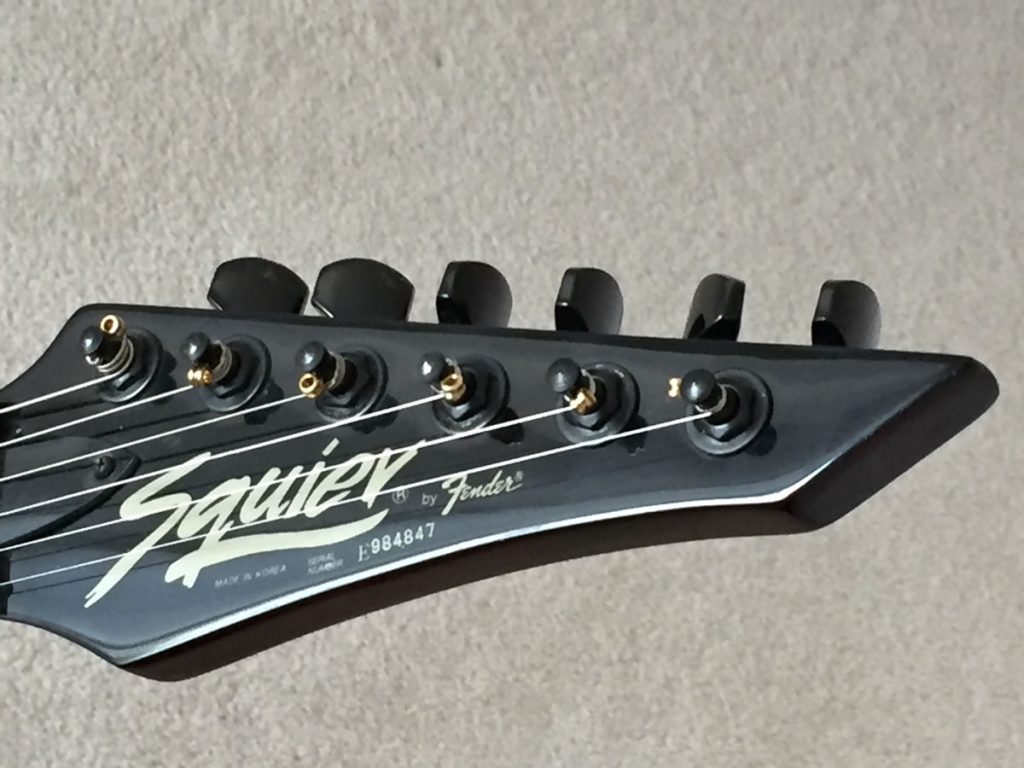 Alan M - Whitby ON
Anne, I received my new Rickard Maple Ridge banjo last night and I absolutely love it. It is beautiful and in very nice condition. Also, it sounds amazing and it is much easier to play than what I was currently using. Feels like the neck is a bit wider, which is great. Thanks for helping me make my decision.
Michael C. - UK.
Grant, I just wanted to take a second to thank you for the welcome and the time you gave me last Friday. It may sound silly but I have been looking forward to visiting the store for years, and my visit didn't disappoint. The fact that you were kind enough to allow me to see "behind the scenes" and could spare some of your time to chat in an obviously very busy day was the icing on the cake. Once Again – thank you. Oh – and I have sent a note to Jason Verlinde of Fretboard Journal suggesting he consider doing an article on you and the store.
Warren H. - Quebec
Nevin, I purchased a fender vintage 69 telecaster thinline from you on Monday of this week. I just wanted to thank you again for the terrific service and easy going atmosphere I felt there that day. What a great guitar! I have a wonderful collection of great guitars, and this one stacks up with the best of them. Plays great, and a nice pairing with my 78 fender deluxe reverb amp. It does help to have the expertise of Larry Chown as my wingman, but you certainly took it home with your customer service.
Eric M.
Hi Grant: I attended the store today and had my old P Bass inspected by your luthier. He was absolutely great, and was patient with all of my questions. I left feeling absolutely relieved. He didn't want to take any money, but I managed to convince him to take $5 for the coffee fund! I brought along a second bass that I was thinking of selling, but decided against it. The sales person that I spoke with was very fair and I felt quite honest. It was a long drive down from Orillia, but well worth it. I can't speak highly enough of the great service I received at 12th fret.
Mike M. | Orillia, ON
Thanks Gord Barry for you wonderful work on my 1974 Martin D35! It wasn't in bad shape to begin with but I decided since it was 45 years old it should have that inevitable neck reset. It's like I have a whole new guitar: it is more responsive, has better volume and tone and all the notes coming out of it are more articulate than ever, just like you said it would be. Even my old and half-deaf bandmates have noticed the difference.
I am in love again!
Thanks so much.
Jack Walker
I'd like to thank Jay in Repairs for doing such a great job installing the pickup in my old Martin. It seems to play much better too with the different bridge.
It is hard to explain to the uninitiated how nuance plays such a huge part in our musical adventures. And it is strange that after 45 my D35 still sounds like me!
Many thanks
www.davidbradstreet.com
Dave Bradstreet - Toronto
Brian – the guitar is home! No problems, it took a long time to leave Canada (strikes I presume), but then it was fast, no problems with customs agencies and all. It's really a great guitar, exactly what I was expecting, it suits perfectly to my playing.
Thanks!
Picture attached: the Piccolo with her old sisters.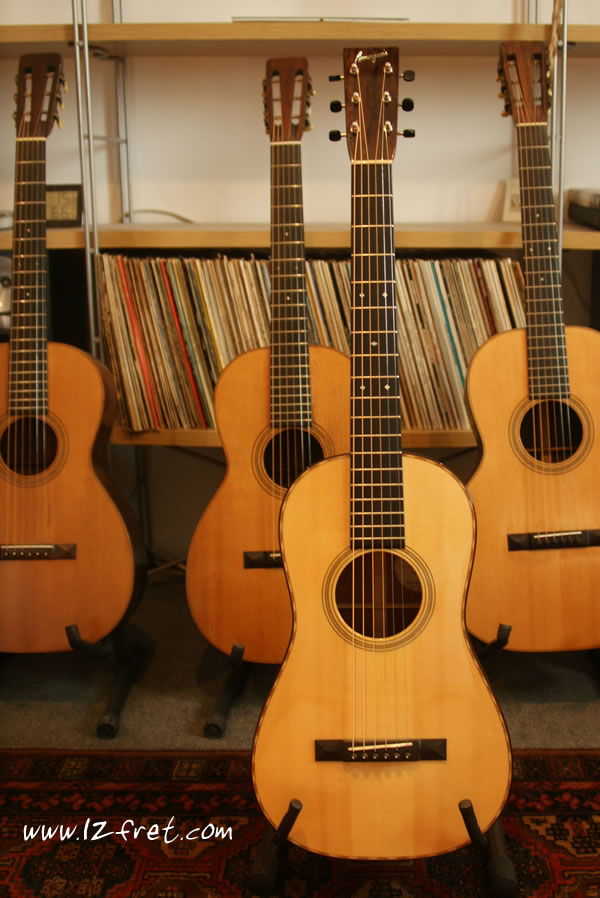 Denis Emonet - FRANCE
The guitar came safe and sound. With that case I don't know why it wouldn't! You were right, it is a gem. It seems like it hasn't been played much. Hardly a mark on it. I know it is 26 years old. Do you think it will open up more, being a spruce top and all? Anyhow, I'd like to thank you Grant for your high level of expertise and professionalism. I am very pleased with this guitar!
Thank you again!
Mary R. - USA
The Southern Jumbo arrived late yesterday, and I let it warm up overnight before opening the case this morning. It's in great shape, and sounds fine, as advertised! It was worth the wait. I appreciate all your assistance with this purchase, and thank you for the careful packing!
Jim K. - Portland ME - USA
The banjo stork dropped off the baby safe and sound. A couple thousand miles of travel, pulled it out of the case and I barely needed to tune it. Unbelievable instrument. Can pick high and soft, or low and push the pedal to the metal…solid and in tune. Returns whatever you throw at it with cristal clear tonality.
Set up, strap, string gage, bridge height, neck profile….all perfect. Can't think of one thing I would change.
Thanks for all your work on this Grant. I couldn't be happier.
Bob H. - WI USA
Grant…received my Alhambra
CS-3 CW crossover guitar yesterday safe and sound.
I am more than pleased with it. Your recommendation was spot on.
I'm enjoying playing it, in fact, can't seem to put it down! Your professional setup is perfect.
As you described, it is beautifully constructed and the sound is very much to my liking.
I have purchased other guitars over the years from The 12th Fret but this purchase was all completed without even having to drop by in person. Typically, I would want to play a guitar prior to purchase, but I trusted your judgement and experience to guide me and I am…
Completely Satisfied…As Always.
Thanks again Grant.
Best Regards…Mark
Lucan,ON
Mark Assaf
Wanted to send out a huge thanks to Mike Gray for helping with my purchase of my new 2015 Taylor K14ce Koa Limited Edition.
Extremely happy with this guitar. Thanks again, I'm sure to be back soon.
---
Wally H. – Ajax, Ontario
Myself and some of my mates have developed a charitable organization in Toronto called Guitars for Kids Toronto. We provide new and previously loved guitars to underprivileged kids in Toronto through Big Brothers and Sisters. I was looking for a "drop-off" depot in the east-end, where guitar donations could be left for pick-up.
If you have been to 12th Fret, you would know that they do not have much room for stocking additional gear – especially not for sale gear!
Because 12th Fret saw the value in community support…they graciously signed up to become a drop-off centre and have helped to promote GfK Toronto through their newsletters, web pages and social outlets!
Special thanks to Vicki, Grant, Brian and the team for your continued support!
Steve M.
Guitars for Kids Toronto
Steve Maric
Hello Grant. Just want to let you know that my banjolele arrived on Monday afternoon, so the postal strike didn't hold it up too long. I'm delighted with the quality craftsmanship of the instrument and I was right that the shorter fingerboard is much easier for my 81 year old hands! So, here's a shot of me with it in my studio with my dog Dusty laying beside me. Now just to harden up my fingertips and loosen up my finger joints! (Dusty loves it too!)
Thanks for everything.
Best. John.
October 2018
(Victoria, British Columbia, Canada)
John McConnell
I have had this guitar back over a week and I am still ecstatic over what a great job Jay did with that humble Classic Vibe Strat!
After you guys put that Lollar CC pickup in the neck of my tele, I couldn't find a telecaster style bridge pickup which matched up closely enough with it for my taste while still fitting in a conventional telecaster bridge. So Lollar wound three balanced output CC tele neck style pickup and I bought a CV Strat in order to have something to try them out in.
It was a total experiment. The CV strat had had its fret edges beveled just a little deep and there was some playing room lost on the fret. I asked the fellow who helped me (Scott?), if he could put a new nut in with a bit tighter string spacing to compensate for the loss of playing space and he assured me that he could and we left it at that.
Now as things turned out Jay was the fellow who ended up working on the guitar. Now in a mediocre place when a different fellow works on your instrument than the fellow you talked to, something usually gets lost in the translation. But I'll have you know, that thing plays fantastic now. The before and after with a new nut and set up was really striking. Way beyond expectations! I had assumed that I would check out how the pickups sounded and change out the neck to a Warmoth or something, once I determined whether it was worth it or not. This guitar is remaining intact now.
I have owned a lot of instruments, have taken guitar building courses and put guitars together myself. Twelfth Fret's work really is on a different level than other places in this city and it is not only the technical ability but taking the time to understand clearly what the customer wants and treating even less expensive instrument with care.
I couldn't be happier. This set up has taken this guitar to a different level now. I have a totally unique instrument that can effectively go from playing thick George Benson single-note jazz lines to Dire Straits approved 'quack' with the flick of a 5-way switch!
---
Matt R
There are not many feelings better than heading down to the 12th Fret with a pocketful of cash looking to buy (another) guitar. Although the store was fairly busy the staff were fantastic in offering help and advice. As I sat and auditioned ten or fifteen guitars no staff member passed by without asking if I needed help. Every question was answered with expertise. There was absolutely no sales pressure – take your time get the guitar that is right for you was the philosophy. Thanks Grant, Brian and Mike for sharing your knowledge and sage advice.
Finally, there is no better feeling than heading home from the 12th fret with a brand new Taylor 714ce professionally set up and ready to rock 'n roll.
Thank you all
Gord Brady
(The Brady Brothers)
Bobcaygeon (Hip Town)
GORD BRADY
Hi Grant, received the Ramirez last Thursday and looks wonderful and more importantly plays and sounds amazing. Imperfections are barely noticeable. Honestly, it is a beautiful instrument. Thank you so much for your help! I will be playing this guitar for a very, very long time. Thanks again and have a wonderful day,
---
Tony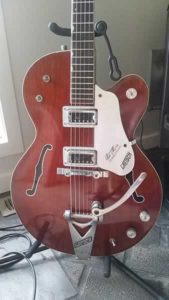 I came to Twelfth Fret with an all original 1967 Gretsch Chet Atkins Tennessean which I had purchased online. The guitar was barely playable, would not tune and was just a very expensive disappointment. After a consultation with Scott, he came up with a plan to see if this guitar could be brought back to life. After great communication, Scott put his skillful hand to work and gave me back one of the greatest guitars I have ever played!
I went from totally disappointed with this guitar, to it being one of my favorites. I don't know how Scott did it, but unbelievable. Great communication throughout the process, incredibly skillful work, and most of all just a real desire on Scott's behalf to bring this thing back to life as best he could. I went from having totally given up, to very boastful to own this guitar. Completely blown away.
Absolutely no hesitation bringing any future projections to Scott and the rest of the staff. Thank you so much!
Ric Berti
Dear Twelfth Fret. To the folks in sales and repair, especially Dave H. in service who did a great job, I would like to express my sincere appreciation for the care and concern that you have shown for my old Martin D35. You honoured my request for the fret dressing and thank you for the neck straightening, strings etc. And my gratitude to Grant for supporting this decision.
Thank you all so much for re-uniting me with my old buddy D35 which has been with me for my entire recording career since 1973. You have made it possible to continue with this tradition.
Twelfth Fret proves to be the best pro shop in Canada, and for good reason.
David Bradstreet
Just wanted to thank you Brian for facilitating the purchase of the 1970 Martin D18. I didn't intend on buying anything that day and appreciate your help on getting it done. Thanks again! Pass along my thanks to the Luthier who took a look at the guitar and say hi to the rest of the crew down there, a friendly bunch they are.
Wayne S.
I want to first thank Nevin who has spent time with me over several visits explaining the ins and outs of acoustic guitars. He has always been patient with, I'm sure to him, obvious questions and also full of really interesting information. Thank you Nevin, and thank you also for your diligence taking my Lucille in on consignment. Hope to hear from you soon on that!
I have been simply over the moon playing this beautiful herringbone the last few days.
Many thanks also to Brian who saw me standing there, guitar in hand and wondering what next and wrapped everything up very nicely and clearly. Anyhow great day as always when I visit you.
Alan A.
Grant, many thanks. I'm glad my lefty Huss & Dalton Crossroads went to a good home. It served me well. Thank-you for such wonderful service. Periodically, I turn-over a guitar and I will definitely use The Twelfth Fret for my future consignments.
Brian M.
Strings are in, wooot wooooot, like always, the best service one could get! You rock!! Happy customer here 😊.
---
Daniel G. - Gatineau, Québec
Thank you! I was messing around with a capo at 3rd fret and made this first recording of it.
Keith's Recording :
This is definitely the bluegrass sound I was yearning for and was not able to get out of the Eagle. Thanks again!
Happy Customer Keith.
Keith Johnson
I recently took a 60's era DelVecchio resonated guitar in to your repair shop. Dave Hill did all the work (I believe?) It took about 8 months as the neck had to be straightened (steamed) several times and re-planed. Plus re-fretted and some other small things. I paid and took my instrument home.
I have neglected letting you know how ecstatic I am about the level of the repair and the end result. The guitar is extremely playable and responsive. It tunes better than it ever has and the tone is unbelievable! I couldn't be happier. It was expensive, but it's plain to anyone that this is a superior repair and the workmanship is first rate. You get what you pay for and I don't mind spending the money for your excellence.
Thank you Dave! A million times! I'm a very happy camper and a loyal Twelfth Fret customer. Forever.
Wendell Ferguson
Mike, I just wanted to let you know that the Thunderbird arrived safely just now. It got stuck in customs in Chicago for a couple of days (the post office told me that it always happens that way with everything that comes from abroad) but eventually got on its way again. Anyway, it is here now and is beautiful and plays like a dream. It sounds great through my amp, and not surprisingly, sounds just like my 1976 Thunderbird. I was delighted at how light it is too.
Thanks again!
Ron D.
Now that I've had it (Manzer 1980) for 24 hours all I can say is WOW! I took it in to my local L&M to order a new case for it and the guys were literally lined up to see and try it out. Also some patrons came over hearing there was a Linda Manzer in the store. Anyway, I do not regret the investment. Out of the 14 hours of ownership…. I've played for at least 10 and showed it off for 2. I think my Taylor 914ce will be looking for a new home. No comparison.
Thanks for everything.
Barb G.
Hi, Just want to say "thank you" to Brian and friends for making my purchase a wonderful experience, from pointing out the guitar that suits my needs at the moment, to accessories.
Howard N.
I love your store. You were my first dealer outside the US back in 1987, when I started THD. The 12th Fret has always been one of my favorite guitar stores in the world.
Andy
Hi Grant. You have no idea who I am but I was some schmuck that came into your (old location?) store and bought a D28 for my 40th. That was almost 20 years ago and as I have moved round the world I finally decided to take formal lessons rather than rest on my "lyin eyes" "streets of London laurels"! Currently in South africa but I remember when you served me and I had NO idea what to look for in an acoustic – you said "see which one you like" – but as I didn't play, I had no clue! Please keep that same patience and gentle guidance that served me well all these years ago and never get too too serious. Good luck with the store. My sincere best wishes!
Fraser
I want to send you this happy mail and thank you for your help and patience. The Saratoga is ringing and plinging and has accepted me as her user. My fingerpicking is improving and I am happy in every way.
Next year I will buy a good open back banjo and I mean to buy it from you. I don't find the Saratoga to be ideal for claw hammer so we must look into the matter. Maybe a fine top end instrument already used and treated with songs? Greetings from Norway!
Geir Ruud
I really like what you folks have done with the web site and now with this Newsletter posting. Please keep these things coming. Another reason why The Twelfth Fret is just about the finest 'go to' place for all of us guitarists, and those who pursue other fretted instruments.
Meredith Cutting
Just a quick note to say you guys do a great job, and I wish I were closer to you. Kansas is a long way away. Great job on the tips you provide for players. Spot on info, well said. I wanted to thank you for doing this, as it's a great service to all of us. Take care and keep up the great work!
Ken Gustin
First, thanks to all that helped my wife Deborah, and Ken W. pick out what appears to be a great resonator guitar for my birthday yesterday. She was very impressed with the help she received!
David L.
Max & Brian, I would like to thank you for the beautiful mandolin. It made his travel well packed and protected and arrived well. I love the sound!
Lode B.
"Good news, received the Guild Starfire III today. Exceptionally pleased with the instrument and the condition of the case. Absolutely beautiful setup on the guitar. Can't fault it in any way. Have enclosed one of our posters for you to have a look at. We are professional players of 20 years or so. Thanks to you and your staff for your assistance! " – Trevor Miners (& Margaret Barrat BACKTRAKKIN')
Trevor Miners
I received the guitar today. It's even better than I hoped it would be. The Tennessee Waltz brought my wife in smiling from the other room. Thank you for the excellent service.
Ken F.
I picked up a Strat on Saturday, and was helped by Nevin. He was extremely helpful, and knowledgeable about the differences in the models. Once I made my selection, he set it up for me and showed me how to make minor adjustments myself.
Overall, great service and a great shop.
Lawrence Senders
I received my Turner guitar last week and could not be more pleased. It's a beautifully simple guitar that feels and sounds sublime and is exactly as you described. Thank you Max and the rest of the 12th Fret staff for working through my questions, the payment options and the solid packaging and shipping.
Jeff H.
Just wanted to let you know that my Banjo arrived today. I am glad I paid the extra and got the Artisan. It is beautiful and the sound is awesome like I knew it would be. Thanks again and if i find anyone in need of a banjo I will send them your way for sure.
Stephen G.
Grant, thanks the great service, guitar should be arriving in Barbados first week in June…. cant wait!
John
I just received my Kenny Hill Torres guitar and I can't stop playing it. The projection, sound and ease of playing are truly remarkable. I love it! Very satisfied with the purchase and your staff.
Marius P.
I'm sure I will enjoy it thoroughly. I had also contacted an instructor and will be setting up some lessons in the near future.
Grant, your help has been wonderful and you will be getting great word of mouth reviews from this satisfied customer!
Marc B.
I really like what you've done with the website and newsletter posting. Please keep these things coming. Another reason why The Twelfth Fret is just about the finest 'go to' place for all of us guitarists, and those who pursue other fretted instruments.
Meredith C.
Really like the look and sound. Haven't plugged it in yet, but looking so forward to it! Thanks for the great guitar at a good price and excellent service.
Justin S.
Finally picked up the banjo from Fedex last night. Looks and sounds great . Thanks for the setup! My wife loves it! She would play a bit, hug the banjo giggling, play some more, hug banjo and giggle some more, repeat … A big hit (:
Steven R.
Got the guitar yesterday, you guys did an awesome job. If I didn't know there had been an issue I would never be able to tell. Please relay my thanks to the boys, that's serious pro work!
Andy
I was one of the lucky winners of your Christmas photo-contest giveaway. I'd like to express my thanks! I've purchased two instruments from you guys, had lots of set-up work done; am delighted with your service, expertise and advice.
Colin B.
Just a word of thanks for the superb job you folks did in bringing an early 50's LG-2 back to life for me. The improvement in the sound is absolutely amazing. And it plays like buttah!
Paul A.
The guitar arrived safe and sound yesterday morning and I've been playing the heck out of it. What a joy! Thank you Nevin for the great packing job! PS: Grant-when I'm in T.O. I'll drop by and cover the $4.80, or buy you a latte!
Brian
I had the biggest surprise of my life for my birthday: the guitar of my dream (I tried in Madrid last October). I never thought it would be mine. It is an EXTRAORDINARY FLAMENCO GUITAR; the sound is just amazing.
Alain & Danielle
I've had the Deering Calico for a week now and I feel I needed to contact you again to let you know… every day I play, I' m absolutely blown away by the look, feel, quality and sound of this thing! The love grows; I couldn't have gotten it from a better person and shop. Truly, thank you very much!
Matt
Mike, thanks for all your help! The setup is great. The sound is great. I'm a happy guy! Your service & follow up was excellent & appreciated. Good people like Mike are usually hard to find!
Dan R.
I received the Baby Collins on 24, October 2016 in good condition. The guitar fully meets my expectations. I couldn't' be happier! Smooth transaction, good packaging and prompt service. Thank you!
Kim
Grant, thank you once again for all your help and enlightenment. I think we've found a new guitar shop in you guys for future business. Very refreshing!
Peter
Grant MacNeill… he is THE BEST and most knowledgeable dealer I could ever recommend.
Carolina Bridges
Max, just writing to let you know that this guitar is awesome! Very impressive in every way. I'm keeping it for sure. Thanks!
Gordon
Post Your Testimonial - Fill Out The Form Below.