Ken's work in making this guitar super playable with a fantastic set-up!
---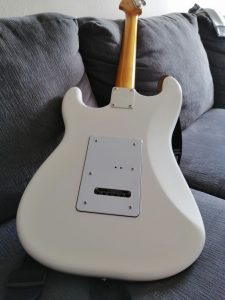 I have certainly been guilty of not leaving well enough alone in the past when it comes to modifying my instruments but having had such encouraging results with what Ken did for my CC telecaster, I thought to take a chance with my number one instrument of the last few years.
I had introduced a few new pedals into my signal chain and had noticed more noise creeping into my sound via the very loud, but noise susceptible, Lollar Charlie Christian single coil pickups that I have come to prefer.
So, I decided to get my three CC pickup strat fitted with the Ilitch hum-reducing backplate system. This is a similar system to the one designed by Ilitch for pickguards for Suhr guitars.
Having an unusual Obsidian pickup wiring system installed and a reverse wound middle CC pickup made the installation less straight forward. Ken took things in hand spent the extra time talking to the manufacturer, the other luthiers, and did what needed to be done consulting me along the way.
My first impression upon receiving the guitar was, "Wow! Plays like butter! Fantastic set up." – and I am fairly picky about set ups. But I found the guitar to be quiet but the sound altered.
Initially, I thought I would have to call it a failed experiment but then I adjusted the sound cancelling system which Ken ingeniously mounted in the tremolo cavity and cut holes in the backplate to allow on-the-fly adjustments with a screwdriver. I also removed a indifferent Vertex overdrive pedal from my chain which I found was messing with my sound even when turned off.
The glory has returned! – And with about 60% less noise that before!
I can't really distinguish any difference in the sound of the pickups and since I can turn the effect down I can hear what it sounds like without the noise cancelling engaged, I can make direct comparison.
I can recommend both the Ilitch backplate system (and I am one of those fellows who has not found any noise cancelling regular strat PUs acceptable) as well as Ken's work in making this guitar super playable with a fantastic set-up!
Matthew Rogers
POST YOUR TESTIMONIAL
Fill Out The Form And Submit