Bob Taylor puts it best when he says "Sometimes you find a guitar, fall in love, and buy it. Game over. Other times you go on the hunt and these days that includes the possibility of having a guitar made for you. While exciting, it's a scary thing. Believe me, I understand. To help make a complicated subject simple, here's my attempt at explaining what R. Taylor has to offer."
One of the most popular custom changes that players make to their guitars is the combination of woods used. For example, some people know for a fact that they'd like to have an Engelmann spruce top on their guitar. Or perhaps they like mahogany with spruce rather than the cedar we offer. Any of the woods mentioned in the four standard models can be mixed and matched at no charge. There will be some charge for adding other top woods such as Engelmann spruce, Swiss Alpine spruce, and Adirondack spruce.
Next in popularity are premium woods. I'm talking about woods that are hard to acquire, especially in the quality required for these guitars. Woods like super premium koa, Madagascar rosewood, cocobolo, Brazilian rosewood. You don't come across them everyday, so you'd expect them to carry some cost. Depending on the wood, it might be a lot.
We expect that most people will love our standard neck, but we have other neck shapes as well. If you like your neck more "V"-shaped or a different width, no problem. We'll do it at no charge to you. We even have different bracing patterns that give the guitar different tonal characteristics. No charge here either.
There are more changes that can be made, whether a shorter scale length or custom inlays. We're willing to discuss anything with you, and help guide the process so that the guitar works together both aesthetically and tonally."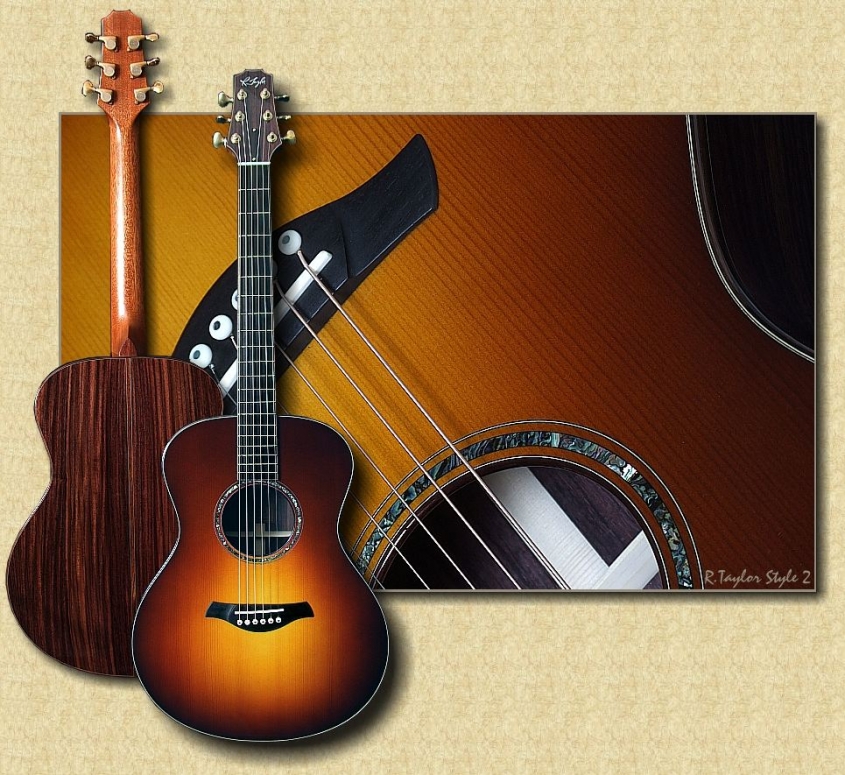 Specifications
* 1 3/4″ wide bone nut
* 24 7/8″ scale length
* mahogany neck with ebony fingerboard
* RT Standard neck profile
* Indian rosewood peghead overlay
* Adirondack spruce top with 65′ radius
* Modified X-brace
* Adirondack spruce struts
* Indian rosewood back & sides
* rosewood body binding with pinstripes
* Camel bone bridge pins
* Ameritage Case