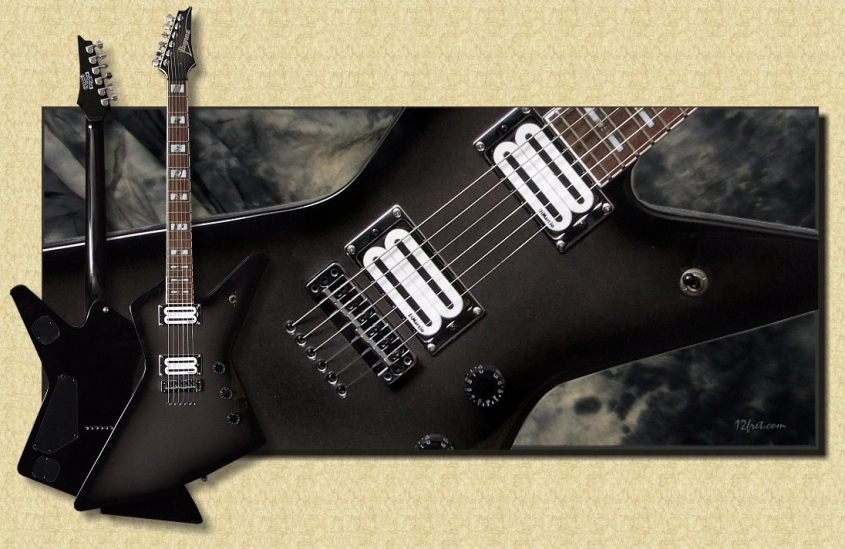 This guitar is such a pivotal piece in rock history. It is in fact that guitar that Eddie Van Halen used on the first three Van Halen albums. Not only that it was used extensively during Van Halen reign of the Los Angeles club circuit from 1975 up until the third or fourth album. Over the years, the Ibanez Destroyer saw many modifications and design changes. From the EVH inspired single humbucker bolt –on to the neck through, three pick-up models that were popularized by players like Phil Collen of Def Leppard, Paul Stanley of KISS and Adrian Smith of Iron Maiden.
Today, the DTT-700 is a testament to the design and esthetics of the models of yesteryear. The new model sports a pair of Dimarzio D-Activator X Humbuckers with a new Gibraltar bridge and string through body design. The Wizard II neck through design allows for comfortable and effortless shredding while the mahogany body resonates and provides the guitar with big, huge wide open sound that Explorer style guitars are known for. The Dimarzio pick-ups add a new dimension of "phat" to the equation. They are the direct result of R&D by Dimarzio to simulate the sound of an active high gain humbucker but without having to use a battery powered circuit and keeping all the dynamics and warmth of a standard humbucker pick-up. Throw in a Black and Silver metallic burst into the mix and you've got yourself a serious machine that just begs to be plugged into an amp and punished.
Specifications
* 5pc Maple/ Walnut Wizard II Neck
* Mahogany body
* Jumbo frets
* Bound Rosewood Fingerboard
* Pearl/ Abalone Block Inlay
* Gibraltar Custom bridge
* Neck PU: DiMarzio® D Activator X™
* Bridge PU: DiMarzio® D Activator X™

Here's Mike McAcan playing the Ibanez DTT700!