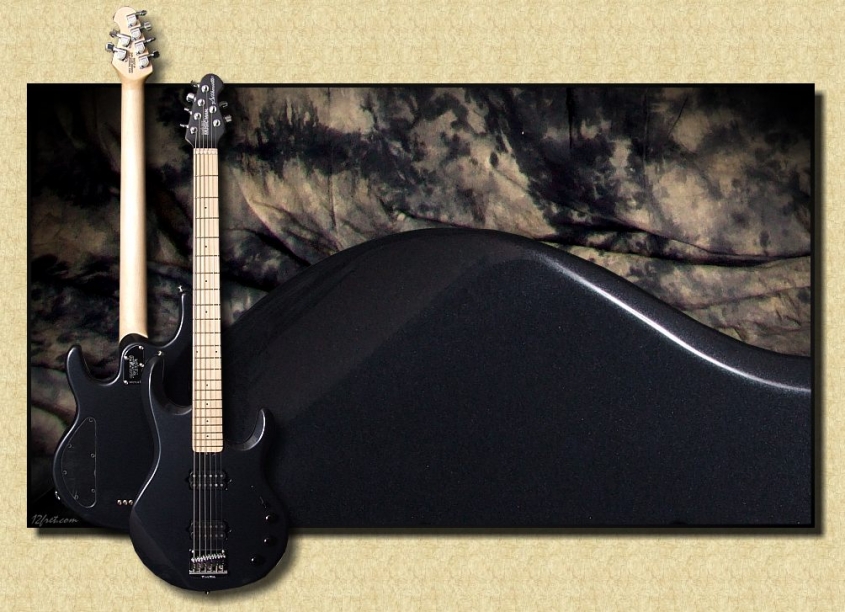 Once in while, we come across an instrument or a concept that leaves many people scratching their heads in wonder. I always like seeing and hearing the quirkier side of music. The introduction of the Silhouette Bass guitar isn't a new concept and in fact Fender introduced a "bass guitar" in the Sixties that appeared on many surf, country and rockabilly recordings. Since the introduction of heavier, avant garde artists like Godflesh, Non-Fiction, The Melvins, Meshugah, Entombed and the New Wave of American Heavy Metal, there has been a trend for guitarist to reach for even lower tones. More mainstream artists like prog rockers Dream Theater, The Deftones and King's X have been known to employ the baritone guitar in their arsenal of sounds.
The Musicman Silhouette Bass guitar is an evolution and a step into the future for baritone guitars. At first glance, it is simple and minimalist yet sexy and sleek at the same time. The controls are laid out in a straightforward manner and make the transition to this 29-5/8" scale length almost seem welcoming. In fact, what I thought might be a bear-ish feeling instrument was in fact a path to a whole new set of tones and sonic exploration. The oil-finished neck is pure Musicman plays-like-butter consistency and the frets are expertly shiny without any dead spots. The heart of this guitar is it's custom electronics from DiMarzio. DiMarzio make some of the most progressive and colorful sounding pick-up out there and they have knocked this one out of the park. The split able humbuckers not only aptly amplify the extended range of this instrument but they offer wide variety of subtle tones and colors that one couldn't obtain with a regular guitar.
So where the hell would I play something like this? The guitar comes tuned from A to A. Have a listen to King's X's Tapehead and Please Come Home Mr. Bulbous as well as Dream Theater's Six Degrees of Inner Turbulence. This instrument is also all over the music coming out of Nashville today. The fact that you could take the simplest chords and give them a whole new spin and color is worth the price of admission alone. In fact, being a seven-string player, I put my custom Musicman Petrucci 7 down to use a Musicman Silhouette bass for my tenure in the Aggro-Alt rock band Anti Trust Divison. It still has a way of creeping back into my recordings at home as a way of beefy up sounds. As Public Enemy's Chuck D (my fave rapper) would say "BASS…how low can you go…".
Specifications
* 29 5/8″ scale Silhouette Bass Guitar
* Poplar body
* High gloss polyester finish
* Maple neck
* 1 3/4″ nut width
* 10″ neck radius
* MusicMan string through body chrome plated bridge, Schaller roller saddles
* Dimarzio custom split humbucking pickups
* Schaller M6LA tuners
* Hardshell case