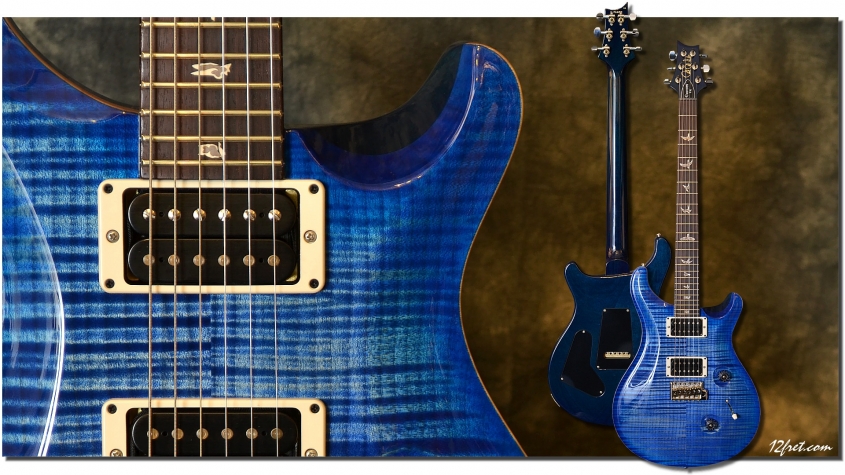 There a rush of exhilaration whenever we get a new PRS Custom 24 in. They are, by far, my fave of the entire line. Many player from Ted Nugent, Howard Leese(Heart), Carlos Santana, Chris Poland (Megadeth, Ohm) and Dave Navarro (Jane's Addiction) have made the Custom 24 their weapon of choice. The PRS Custom 24 has gone through some minor tweaks over the years but the ferocious and familiar roar is very much the same.
The first major change was the adoption of the short tenon neck joint. This offered player unchallenged access to the 22, 23, and 24th frets. On a side note, many people argue and debate over the placement of the neck pick-up due to the 25 inch scale with a 24 fret neck, but with the advances and dedication to a "Kaizen" like attitude, the pick-ups perfectly balance the plethora of tones that come stock on the newly added 5 way, 4 pole switch. There is so much available to a player with the addition of this switch. From killin' humbucker sounds to twangy Strat and Tele sounds, I could easily do an entire cover band show with this guitar without changing over once and I have. It's always funny to watch other guitarist on a gig switch guitars for certain tones where I just roll with the 5 way and all the options under the sun. The other new detail thrown in the mix is the sexy new open gear machine heads. I've always sung the praises of these machine heads as I'm constantly abusing and torturing my own PRS Custom 24. They are rock solid and believe or not, actually add a distinct timbre to the tone and the way the string resonates. People are always amazed at what abuse my guitar takes. PRS have never been a company to skimp on material and hardware and the new machine heads are a welcome addition to the floating PRS trem.
The other change which is more of a purely aesthetic change is the new finish and new bird inlays. Debates roar on forums about the purity of the line being tarnished with this and that in regards to the inlays. At the end of the day, this guitar simply oozes beauty and commands attention when it's innocently hanging on our wall. The faded blue burst is the perfect combination of the Matteo blue and whale blue finishes and takes the class factor up several notches. Add a ten top to this guitar and you can't help but think of a pristine beach somewhere in the Caribbean. It never fails with this brand. It seems that every time I open a shipment from them, I can't help but fall in love with product over and over again. Here's the proof in the pudding.
Mike McAvan
---
You can preview our videos now on Our YouTube Channel!
You can now Visit our Facebook page!