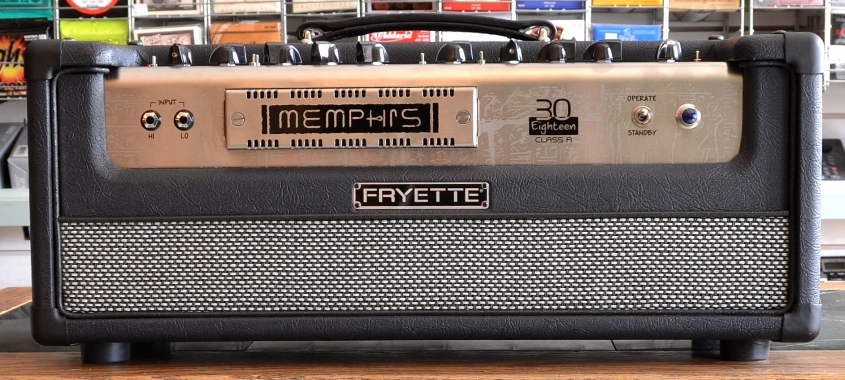 Being a fan of Steven Fryette's amp design from way back, it truly is an honor to be part of this amazing company's dealer network. I still remember the rush of plugging into my first Pitbull head and being positively blow away. Having jump on board this locomotive, I found the perfect match for my rack in the the Fryette 2502 power amp. Having fell head over heels for the Memphis 30 combo, Fryette amps continue to raise the bar for guitar amp design.
After a few long discussions with my bud Kevin Parker at Fryette amps, I started poking and nudging him to see if a head version of the Memphis 30 was at all on the radar for 2011. Having just released the Memphis 30, Fryette amps were in a feeding frenzy to produce the industries most anticipated amp, so my requests were notes and files away for safe keeping. About a few months ago, Kevin and I shooting the breeze over the phone when he let me know that my wish was going to become a reality. If he could have only seen the smile on my face!
In regards to controls and aesthetics, nothing has really changed here. What you get is the same killer, uber versatile design that we saw with the Memphis 30. I've always been about using heads with a 2X12 cab. It's the ultimate compromise between portability and keeping with a closed-back stack sound. I find that my Deliverance 212 pack as much low end and smackdown as any 412 out there. It's all I've used for the past few Sixes & Sevens shows and, if I might add, that's with an Ibanez 8 string guitar through it. The first thing you notice with the Memphis 30 head is the bottom end response when plugged into a closed back cab. The sound is just killer and oozing with tone. Headroom is king here. As you would expect, the clean tone is among the best in the biz. If there's something missing, it can easily be attained by tweaking the user friendly knob layout. The overdrive tones are where the Memphis 30 head differs from the combo. With my Deliverance 212, the amp was able to cover all the tones that I use for most of my musical ventures, except for the uber-industrial tones. It's all in the closed-back cab. The overdrive channel echoes and pays tribute to all of the amps that Fryette has designed. I had no trouble going from John Mayer to John Petrucci in a single bound. An overdrive pedal or booster can take care of that by hitting the pre-amp harder but this isn't why I'm all over this amp like stink on a monkey. In channel 2, I was able to go from AC/DC to Van Halen to semi-dirty blues tone with the turn of a volume knob. There is something to be said about that type of flexibility. The amp makes it very difficult to get a bad tone with the way the EQ reacts to every tweak. Add in some very cool features like a series/parallel effects loop and all sorts of foot switching options, the amp will be right at home on any stage or studio. What still amazes me is that I have fallen in love with an EL84 powered amp. I've been a die-hard EL34 guy for years so there's something to be said about that. I had the check twice to make sure that Steven and Kevin weren't playing some sick joke on me. I really can't say enough about the clarity, richness, complexity and headroom that this amp exudes. I've already placed my order with my buddy Kevin and should be seeing mine in a month or so and I can't wait to get it out on a stage near you. This amp is my favorite piece of gear to be released this year. Kudos Steven…and Kevin, how much longer? When will I see it? Are we there yet?
Mike McAvan
---
You can preview our videos now on Our YouTube Channel!
You can now Visit our Facebook page!