So Jim Hall is using his new Henriksen JazzAmp 10 on his Village Vanguard gig in New York and between sets, both Howard Alden and Kurt Rosenwinkel ask Jim how they can order one. Luckily Bud Henriksen was in the audience. He delivered their amps the next day. Steve LaSpina was playing bass on the same gig and is now loving his JazzAmp 12!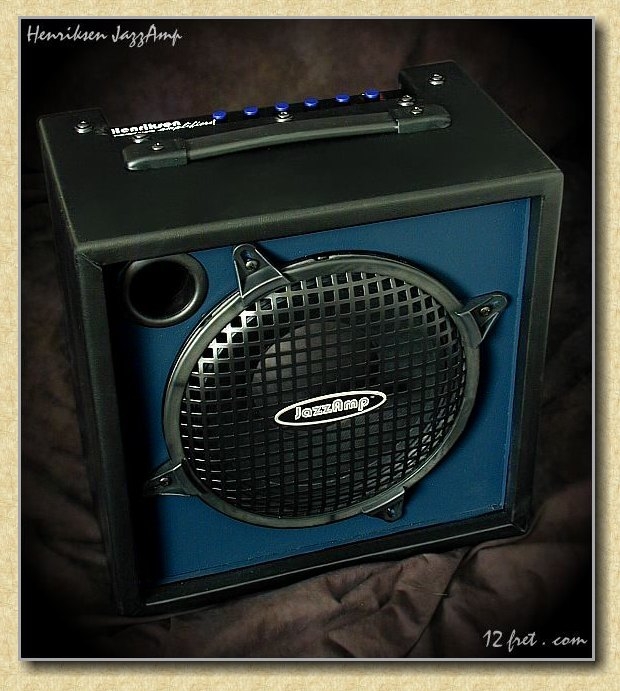 Why is the new Henriksen JazzAmp turning heads in jazz venues across the U.S.?
The short answer is … it sounds great. The long answer is … it sounds really really great! The 110 amp weighs in at 23 pounds (10.5 kilos), is only 14″x14″x8.5″ big, and can really fill a room with 60 watts of clean, transparent power (80 watts with extension cab plugged in). The 112 is the same amplification section, at 32 pounds (14.5 kilos), and is just a bit bigger to accomodate a 12″ speaker – 14″ x 14″ x 13″.
"The basic design of the JazzAmp 10 is engineered to pass (amplify) all frequencies from 40 hz to 5 khz at a magnitude as equal as the laws of physics will allow. As such, this amp when played with all tone settings at 0 should sound exactly like your guitar or string bass acoustically. Next we add a five band graphic equalizer. This replaces the standard tone controls that you are used to with a setup which more closely parallels a recording studio. This approach is incredibly superior to the conventional use of "shunt" circuits to alter tone, which is found in most production amplifiers."

Specifications
Henriksen JazzAmp 110 and 112

* 120 watts power (160 watts w/extension speaker)
* 5-band graphic equalizer
* Eminence Beta-A 10″ speaker on the 110, Eminence Beta-A 12″ on the 112.
* 14″x 14″x 8.5″ ported closed-back enclosure on the 110, 14″x 15″x 13″ for the 112.
* line out jack
* 11-ply Finland Birch, steel chassis, Tolex covering with metal corners.

| | |
| --- | --- |
| Serial Number | Varies as New, made in USA |
| Pricing for JazzAmp 110 Model | Email us for pricing from the form below. |
The Henriksen Jazz Amp Manual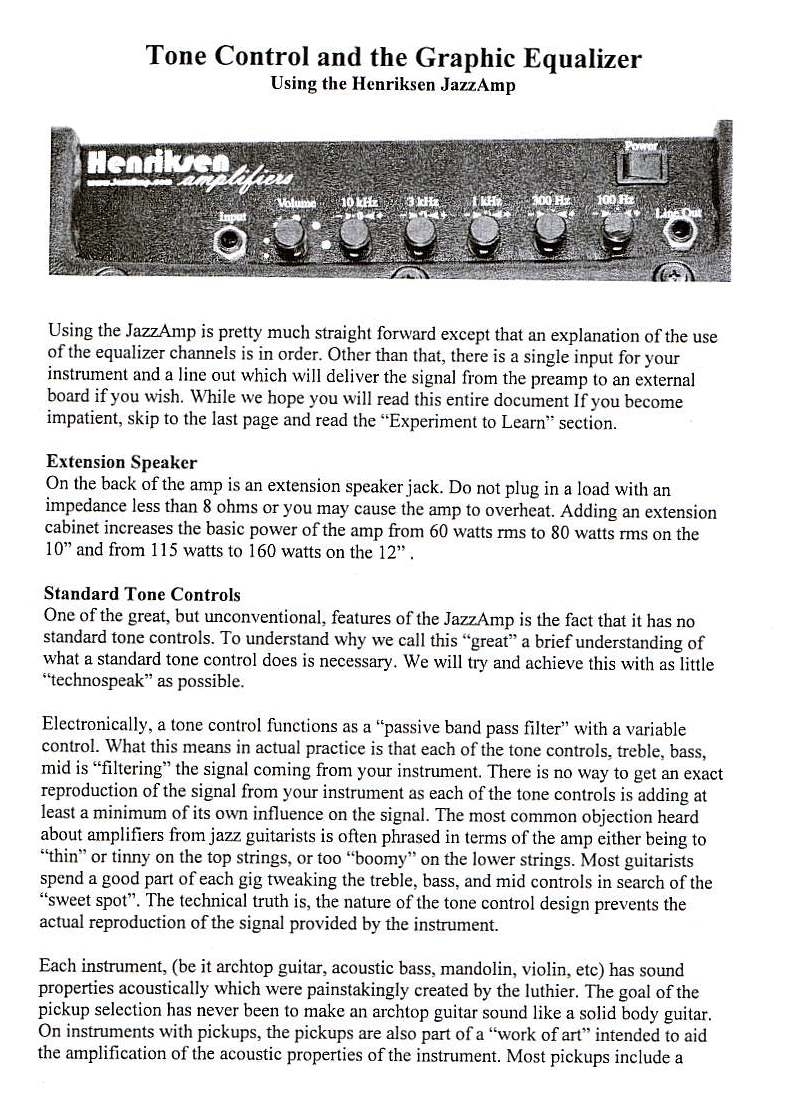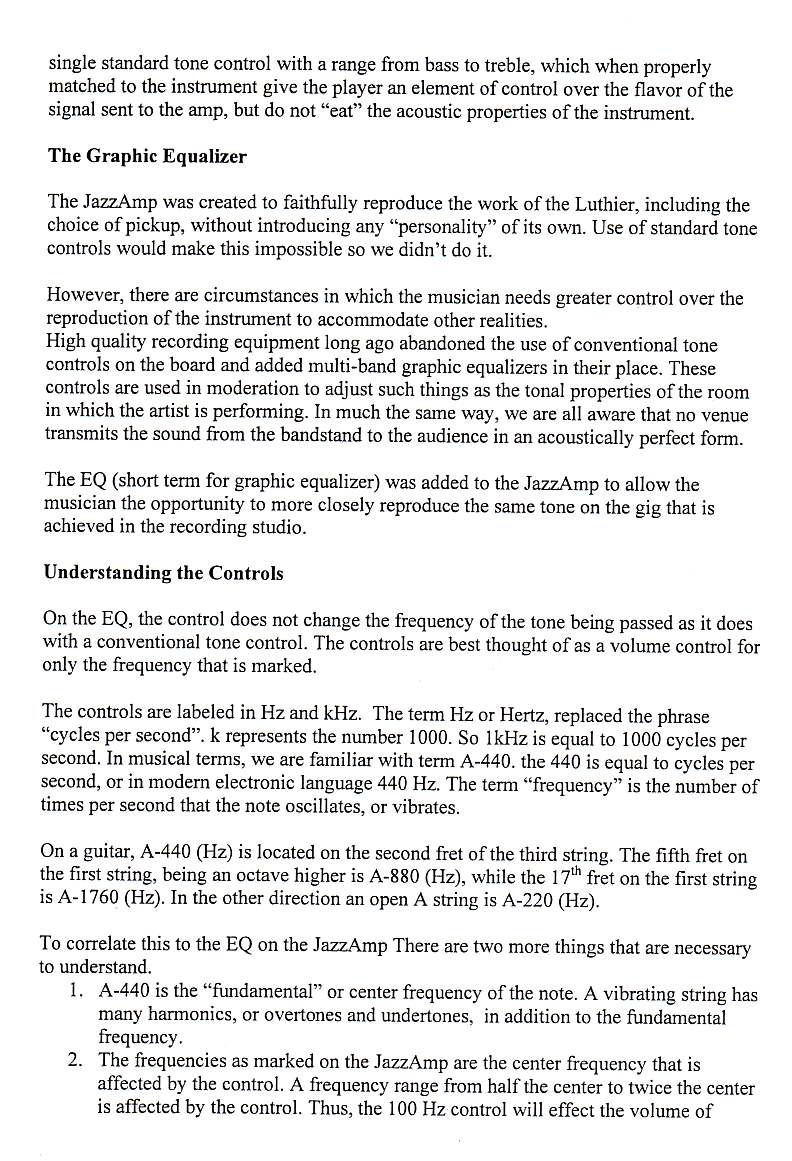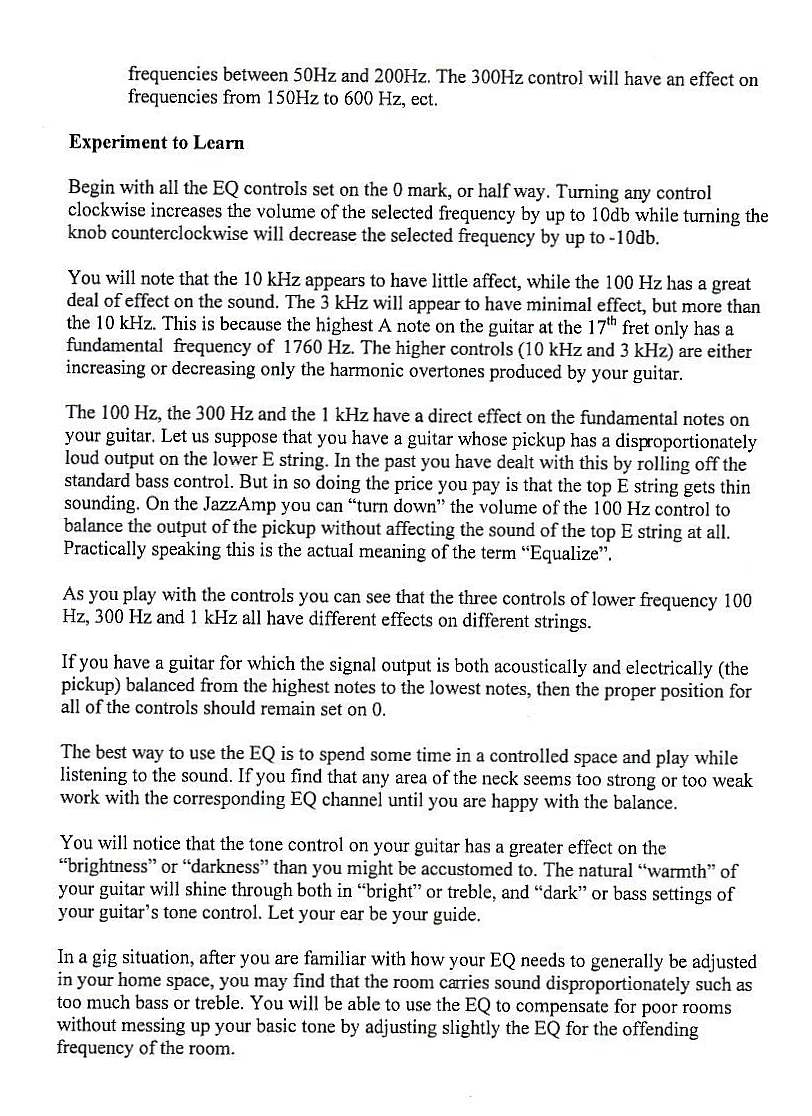 ---
You can preview our videos now on Our YouTube Channel!
You can now Visit our Facebook page!