New Shop Worn Ramirez model 2NE.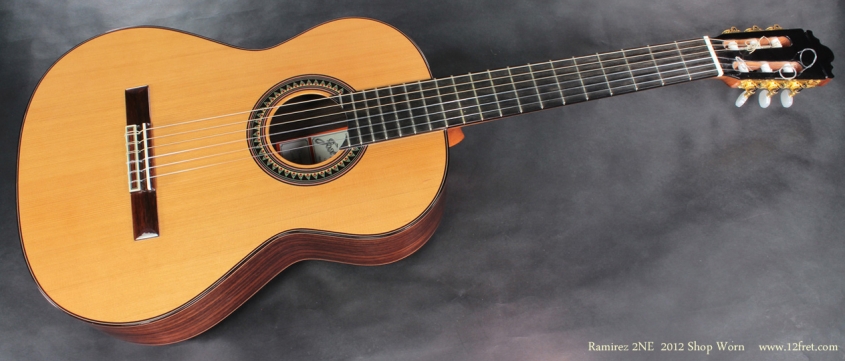 Built in late 2012, this guitar is virtually unplayed and comes with full warranty.
A customer bopped the top with another guitar last week and put two chips in the top near the edge of the upper bout. They are filled with fresh finish, so the top is protected, but it is not invisible.
Otherwise the guitar is perfect and without issue.
The regular price for this instrument is $1699.00 CAD with case.
On sale at $1489.00 CAD with case. Full warranty and full setup included.  SOLD!
What We Like-Ramirez Guitars
Ramirez guitars – we carry 12 models with over 50 new Ramirez guitars in stock at all times!
Models we stock include the NE and 130th Anniversary Series guitars in both Cedar and Spruce tops; the CWE Cutaway with pickup models, flamenco models and the Professional 1a and Concert SP models.
Email or call any time with questions. We'll answer!
We have 6 full time luthiers on staff with the expertise to setup and service your instruments. All Ramirez guitars will be very thoroughly setup to suit your right hand attack and playing action expectations.
Read more at the links below
---
You can preview our videos now on Our YouTube Channel!
You can now Visit our Facebook page!