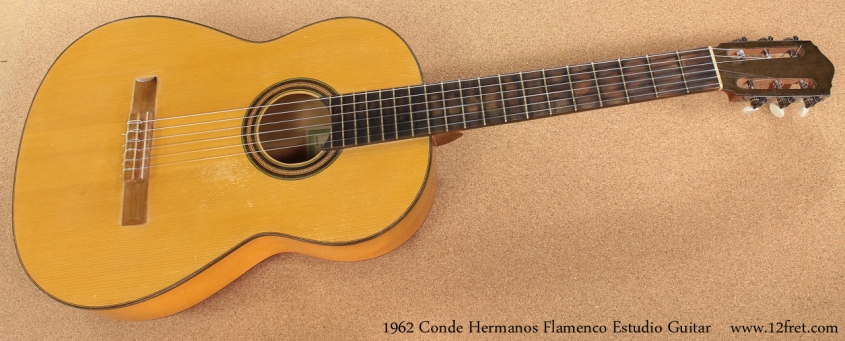 Here is a 1962 Conde Hermanos Flamenco Estudio guitar, with a German Spruce top and 3 piece Cypress back and sides. The neck is likely Spanish Cedar.
A single owner guitar for 51 years! This guitar is completely original and in remarkably clean condition.
Though the Estudio guitars, often called "tourist guitars" don't have the high value of the Maestro- built Conde Hermanos guitars, this guitar is a gem!
We recently repaired a very minor top crack for the client here in our workshop. There is one minor crack repair right on the black inlaid strip on the back done many years ago.
The original french polish finish is complete and shows minor scuffing on the top typical of a guitar that has been used but not abused. The back, sides and neck are almost perfect showing very little wear and tear.
Tonally the guitar is much more a classical guitar than a flamenco. Though it is cypress wood back and sides it has the full bass balance one would expect from a rosewood back and sides guitar. Though it is not loud, it has a very lovely full bass response and nice balance throughout the range.
Frankly it sounds MUCH better than most Spanish made guitars I see from that period — at any price.
The fretboard is lighter coloured hardwood stained to appear like ebony which was commonly done at that time on lower priced guitars. It is fretted with brass frets which have been freshly polished. The tuners are the "Raed Patentado" branded common from this period and are in good working order.
Action is at standard concert-classical action at 8.5/64 treble to 9/64 bass. It could be lowered another 2/64 to regular flamenco action with a 12 hole bridge conversion / bridge pedestal shave job. This is something we do here in the shop routinely at a cost in the $180 range.
But, it plays beautifully as it sits and will continue to make lovely music for another 51 years. I would be inclinded to leave it exactly as it is and enjoy it.
Case: original 1960s era Spanish-made case: white weave cloth covered with red felt interior. Surprisingly intact case in good shape. We have never seen one of this design in one piece before. All latches and hinges intact with the original case lock key. Handle is gone but handle loops are intact so any "AllParts" vintage leather handle would work fine. For the moment, there is a shoulder carry strap clipped to the loops.
Serial Number: N/A, built in 1962.
Pricing: $1250 CAD with orginal case. SOLD
---
You can preview our videos now on Our YouTube Channel!
You can now Visit our Facebook page!