Grant MacNeill and Dan Charman opened The Twelfth Fret in June of 1977 at 920 Kingston Road in Toronto's Beach area. The building had been a mandolin and guitar workshop since the 1950s and was an ideal setting for our new shop. To start, the emphasis was entirely on the workshop; repairs, restoration and custom guitar building. Retail sales of guitars and amplifiers was strictly a sideline. Dan and I met at Fender, working together in 1975 in the Fender warranty workshop. Dan left The Fret in 1982 when he moved to the Gulf Islands of British Columbia where he operates an organic farm and still plays his '57 Martin D-18 guitar.
Pay a visit to the website for Dan's farm.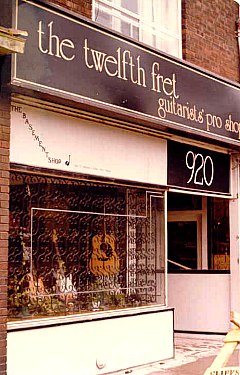 The workshop coalesced around a nucleus of dedicated guitar makers, many of whom are still in the workshop today. There are 6 full-time Luthiers on staff with vast experience and skills. Virtually all kinds of repairs and restoration work of fretted instruments are done in our workshop; anything from minor setups and repairs to extensive restorations of rare historic instruments. Our shop became the authorized factory repair center for Fender and Gibson and eventually for most brands of guitars sold in Canada.
You can learn more about our workshop and the Luthiers elsewhere on our web site.
The late 1970s and 80s were interesting times for musicians in Toronto. Toronto was an "industrial" music production center for the film and jingle industry. Dozens of recording studios supported a large population of session players; The Twelfth Fret workshop catered specifically to these busy pro players. Many of the early clients continue to have busy recording and performance careers.
In the 1980s, 'The Fret' expanded into retail sales. Sales of vintage guitars came naturally to us due to our extensive repair and restoration experience. Because of my Fender connection we got our Fender dealership in 1979,something not normally offered to a young and struggling music store but fortunately,they took a chance on us. The first generation of Fender Vintage Reissues were hugely successful for us – long before they were popular elsewhere. Soon, we were Gibson dealers which dovetailed with our status as the Gibson warranty repair center. Then in the early 80s came dealerships for Martin Guitars, Taylor, Gretsch, Larrivee and Dobro. We had our own line of handmade electric guitar which I dream of reissuing on our 35th anniversary year.
I was the first foreign dealer for Dean Markley Strings in 1979 and similarly for the original Dimarzio pickups. The first generation of handmade BC Rich guitars played a big part in our shop too. We purchased them directly from Bernie Rico himself. Dan and I survived those first couple of years on Dimarzio pickups and Dean Markley strings alone! They were brand new concepts at the time – first examples of new innovations in pickups and strings; quite common now but at the time, new start-ups that were independent of Fender or Gibson were a very big deal indeed!
In 1979 we began to support private Luthiers: David Wren, William 'Grit' Laskin, Marc Beneteau and Oscar Graf were our first Luthier-built guitars.
We were very much in awe of Dave Wren and his incredible guitar making abilities. David was John Larrivee's first apprentice and built thousands of guitars with him in the 1970s. In 1985 he joined The Twelfth Fret as a part time restoration expert while continuing to build Wren guitars. David became my full partner in 1990. David recently 'retired' from the Twelfth Fret and returned to his first love; guitar making.
Together, from 1990 to 2009, David and I took the Twelfth Fret to an entirely new level and grew the business to what it is today. Our partnership was very successful and I truly miss seeing him at his desk each day.
In 1996 David found a new outlet for his creativity, the Twelfth Fret web site. With no formal training, Dave built this incredible site entirely on his own and 12fret.com grew to become a benchmark for music industry web sites. Though the site is constantly evolving, many of his incredible photos are preserved on the new web site. We continue to use Dave's photos whenever we can as he continues to do photography for many of Toronto's top guitar makers.
Read Dave's goodbye message here.
Visit Dave's new Wren Guitar Works website here.
Our original workshop had been a guitar and mandolin workshop through the 50s and 60s. It was a hodge-podge of small rooms and very cramped. David and I moved the shop to a much larger building in 1990 on Danforth Avenue.
Over the 1990s our horizons expanded. We became boutique guitar dealers: handmade, limited production guitars by Bourgeois, Collings, Santa Cruz, R Taylor, Martin Custom Shop, National Resophonic, GW Barry, Harrison Guitars, Ramirez and Alhambra guitars. Our inventory slowly grew to be one of the largest and most varied collections of acoustic and electric guitars in the world.
That said, we don't ignore our customers who are beginner and intermediate-level players; we maintain a good representation of well made, lower priced production guitars. Every player has to start somewhere and we continue to pride ourselves on finding well made guitars that sound good and play well in every price range.
We outgrew our second location quickly. In 1999 we bought and renovated our own building and moved in to our new digs in 2000. The larger building allowed us to locate the workshop and finishing facility separate from the busy retail shop. Ideal for dust control and the Luthiers were thrilled to be further from the busy retail side of the business.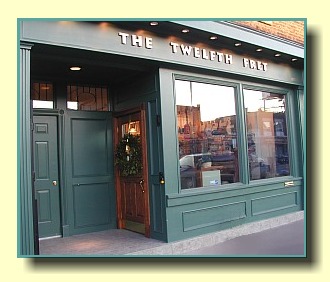 I'm often told by our customers and suppliers that our shop is unique in the world. If this is true, it is because our guitar buying patterns differ from the larger chain stores. Our background in guitar making influences what we choose to carry. We will be servicing these instruments for decades to come so we want to be certain our guitars will hold their value. I feel that our "guitar makers" approach to the choice of guitars we carry has been fundamental to our retail success. All this ensures that The Twelfth Fret offers an eclectic selection of fretted stringed instruments in a world of cookie-cutter music stores.
After 34 years I still enjoy coming to work every day. Where else could I routinely hang out with many of the world's best guitar players on a daily basis? I still have my own workbench right on the sales floor and spend much of my day doing setups and minor emergency repairs on banjos, guitars and mandolins.
With a customer base of over 26,000 clients, The Twelfth Fret has outgrown my meagre management talents. Fortunately, I have learned to delegate and surround myself with very capable staff. Our staff are all talented musicians with a broad variety of musical backgrounds enabling us to be able to provide for our customers various musical needs.
Things have changed since the early days of The Twelfth Fret when I knew all of my customers by name. Though we are larger but we strive to maintain the small-shop friendly feel that we had in the good-old-days. Personalized service remains part of each and every sale. New customers learn quickly that we will "move heaven and earth" to make them happy and take care of any service or warranty issues. All of our sales staff were once Twelfth Fret customers and they take pride in our "service first" ethic.
The Internet has changed the nature of guitar sales dramatically. We ship guitars, banjos and mandolins daily to the farthest corners of the world, to customers I will never meet in person. Establishing a dialogue with these long-distance customers is essential to a successful sale and happy customers.
The worst aspect of on-line guitar sales is that mail-order companies often treat guitars as if they were simple widgets or power tools. But – guitars are living, breathing, wooden musical instruments. They MUST be thoroughly inspected and setup. A dialogue MUST be established with the buyer to ensure the setup, strings and action are appropriate to the buyers playing style and right hand pick-attack. This dialogue is by and large, sadly missing from the world of on-line sales.
Matching an instrument to a customer who you have never met is a skill that entails lots of email communication, a caring attitude and a passion for guitars.
It really makes my day when a customer in New Zealand, Japan or Russia for example, reports back that they love their new instrument and the setup is perfect.
As we approach our 35th anniversary I am pleasantly surprised to find that I still love coming to work at The Twelfth Fret. The enthusiasm for music and guitars that I see in my staff and our customers rubs off on me and each day brings something new and interesting.
Customers often remind me that I got them into their first guitar many moons ago… and now their children are getting the guitar itch!
Many thanks to our customers for your years of support.
Keep on pickin'!
Grant MacNeill
Come on a tour of The Twelfth Fret!
The Two Minute Tour:
And if you've got time, the Ten Minute Tour: