Instrument Categories: Banjos
So why is the Deering Sierra Tenor Banjo the most popular tenor banjo in the Deering line? Greg Deering says it best … "No one can buy a better banjo! They could buy a fancier one but not a better one.
The satin finished mahogany neck is made the same as every one of our necks – fast, comfortable, and precise. A masterpiece of playability!
The pot or drum assembly is the best quality money can buy. It has our 3-ply maple rim, our top quality sand-cast virgin bell bronze tone-ring, and our own one piece cast zinc flange. In fact, it is the exact same pot we use on most of our more expensive banjos all the way up to the Gabriella!
Specifications for the Deering Sierra Tenor Banjo
* 1 1/8″ wide nut
* 17 fret ebony fingerboard
* 20 3/4″ scale length
* mother-of-pearl dot position markers
* tropical mahogany neck
* adjustable truss rod
* 3-ply maple rim
* sand-cast virgin bell bronze tone ring
* one piece zinc flange
* mahogany resonator
* matte finish
* deluxe hardshell arched top Deering case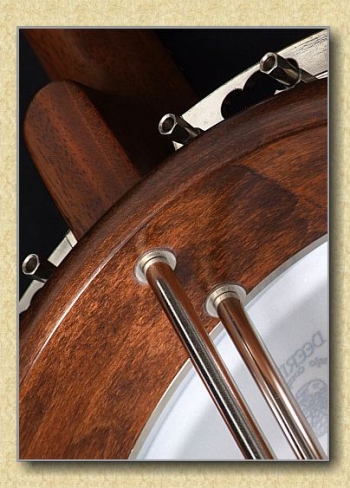 PRICING: $2649 Canadian dollars, or $2086 US dollars, based on 1.27% exchange rate.
NOTE: Exchange rates change daily!
A Deering hardshell, archtop case is included.

Check out Grant's Banjo Setup Q&A
You can preview our videos now on Our YouTube Channel!

What we like: Deering Banjos
Deering Banjos, Tenbrooks Banjos, Vega Banjos, Goodtime Banjos — all made in the USA by the Deering Banjo company.
We keep an inventory of over 200 Deering banjos at all times, with 40 models including virtually all the Deering 5 string banjos, several Deering 6 string and Tenor models, plus the Vega open back 5 string models, the elite Tenbrooks 5 strings and a huge offering of the entry level Goodtime line of banjos.
Email or call any time with questions.

We have 6 full time luthiers on staff with the expertise to setup and service your instruments. All banjos we sill will be very thoroughly setup to suit your right hand attack and playing action expectations. Head tension, action, nut height, bridge and tailpiece positioning and installation of 5th string capo tacks are issues that we deal with as each and every banjo is sold. Plus there is no charge for follow-up adjustments on new banjos for the first year.
Price: $2649 CAD
Model: Sierra
Year: Current
Class: New
Condition: Brand New
---
---
Contact The Twelfth Fret Regarding This Item