The National NRP brings back memories – I owned one of the few original 1930s National Duolians that I have seen in my 40 odd years in this business that did NOT need a reset and had not history of amateur repairs…and foolishly sold it. The good part is that it went to a pro player who actually regularly gigs with it. I loved this guitar and have always been on the lookout for another.
Unfortunately, most 1930s have severely overbowed necks, funky neck sets and played out original low-grade aluminum cones.
The new NRP gives you an accurate brand new Duolian but with fully playable and adjustable action, a truss rod and a modern "spun" aluminum National Resophonic cone. Stamped into the headstock are the tiny letters NRP…just as on the original 1930s Duolian and Triolian guitars.
Steel body Nationals are the loudest of the National Resophonic family of guitars; Brash, bright and clanky they are the epitome of the classic Delta Blues guitar. While not as sweet and complex sounding as the brass body guitars, the steel body guitars would easily have filled a room back in the old days where musicians eeked out a living playing flop house bars…and been useful for self defense when things got out of hand !
Available in standard 12fret and 14 fret neck versions these are amazing guitars!
PRICING: $3149 Canadian dollars with case, or $2480 US Dollars based on 1.27% Exchange Rate.
NOTE: Exchange Rates Change Daily.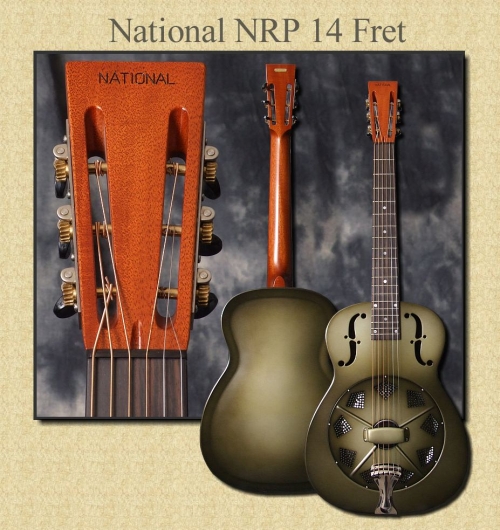 Note:
Setup: It is a given that we will setup any guitar we sell to suit the player and Resophonic guitars are particularly quirky to setup
For new guitar setup it is best if you can provide as much information as possible about your playing style so we can make an informed decision on how to setup the guitar
– fingerpicking vs flatpicking
– your right hand picking attack and your pick gauge
– preferred string brand and gauge
– your estimation of your normal action height on your current guitars (low vs medium or high) and anything else that will help us to setup your guitar appropriately.
– Important: what tunings will you be using? Will you be playing some bottle neck? All bottleneck? Or strictly conventional fretted stylings?
Specifications for the National NRP 14-Fret
* Steel body Duolian style reissue
* Silver Green burst painted finish
* Mahogany neck
* Ebony fretboard
* 1.825″ nut width
* 25″ scale length
* 14 fret neck
* Slotted headstock
* Mother of Pearl fretboard markers
* Vintage National tuners
* National Resophonic 9.50″ spun aluminum cone
* Biscuit bridge
* NRP headstock stamp
* Hardshell case

Price: $3149 CAD
Model: NRP
Year: Current
Class: New
Condition: Brand New
---
---
Contact The Twelfth Fret Regarding This Item