In the 1920's, two Los Angeles men came together, originally to make a new type of guitar using the horn principle, whom would together create the National Resonator guitar as we know it. The amount of responsibility each had in creating it is, as Bob Brozman describes in his book, is disputed by the various parties. However, there's no doubt that both were important to the creation of the first Tricone guitar.
George Beauchamp's first idea was to create a "wild looking" Hawaiian guitar which sat on a stand and had a horn attached to the bottom. John Dopyera built it, as Brozman relates, "against his better judgment–he knew George's idea wouldn't work before it was made." Beauchamp did use this eccentric gizmo of a guitar on the vaudeville circuit, but abandoned it. It was a perfect stage guitar with unusual looks, but it sounded terrible.
George then suggested to John that he build one based on the same principle as the mica disc on a Victrola. John experimented with various materials such as pressed fiber, glass, tin and other metals. He settled on a very thin, conical shaped aluminum resonator design, used in a set of three connected with a T-bar inside an all metal body. Dopyera used three because it mellowed the sound, as opposed to using one large cone which was louder, but harsher in tone and with less sustain. He applied for a patent on this Tricone guitar in 1927, which was finally granted in 1930.
Beauchamp found some investors, and in a short time, the National String Instrument Company was formed. Factory production of this remarkable new guitar began in 1927, and by the next year, the company was producing hundreds a week.
Today we're featuring an instrument that is very true to these very first National resophonic guitars, right down to the nickel plated German Silver body, T-bridge on spun 6″ National cones, V-profile mahogany neck and slotted peghead!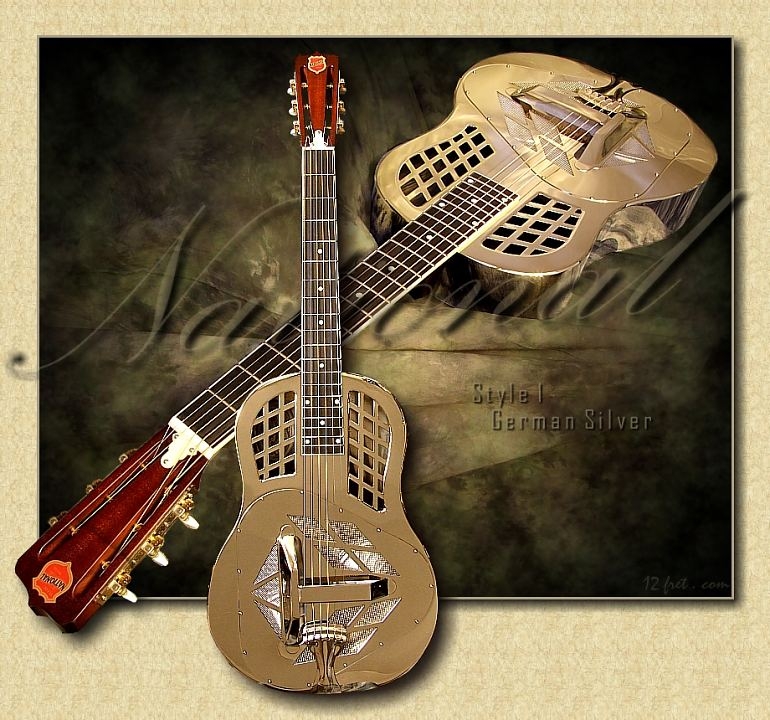 Specifications
* 1 25/32″ wide nut
* bound ebony fingerboard
* slotted peghead
* mahogany neck with V profile
* 12 fret neck-to-body joint
* 25 21/32″ scale length
* nickel plated German Silver body
* T-bridge on three 6″ spun National cones
* 14 1/4″ lower bout dimension
* 3.125″ deep body
* hardshell case
PRICING: $4989 Canadian dollars, or $3928 US dollars, based on 1.27% exchange rate.
NOTE: Exchange rates change daily!
A National hardshell, archtop case is included.

Price: $4989 CAD
Model: Style 1
Year: Current
Class: New
Condition: Brand New
---
---
Contact The Twelfth Fret Regarding This Item