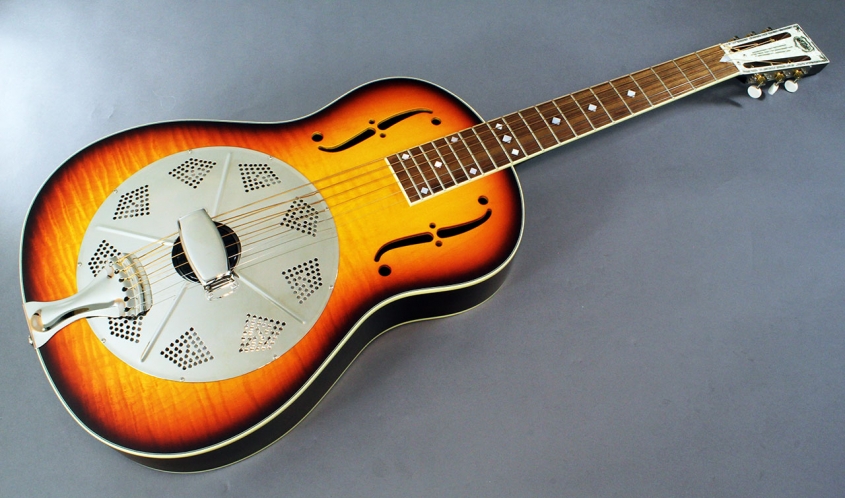 Serial Number
Varies as new; this is 696, built 10-08 in the USA.
Pricing
$3449 Canadian dollars, or $2716 US dollars, based on 1.27% exchange rate.
NOTE: Exchange rates change daily!
National hard shell arch top case is included.
Neck
Walnut neck with bound rosewood fingerboard, mother of pearl diamond-shape markers. The head features an engraved pearloid overlay.
Frets
This instrument has a 12-fret neck, 19 frets in total.
Body
Walnut back and sides, with a figured Maple laminate top. Triple layer binding on the top, single layer on the back. This is a single-cone instrument with F-holes.
Finish
Satin lacquer finish, natural on the sides and neck, slightly shaded to the edges on the back, and a sunburst on the top.
Hardware/electronics
Single National cone and tailpiece, vintage style engraved open strip tuning gears with ivoroid buttons. As vintage style, the ratio on the gears is relatively low, perhaps 10:1, which makes quick tuning changes a breeze.
Playability/Action
We can set these up to meet the needs of your playing style.
Case
National hardshell case included.
Comments
The Estralita Deluxe has been the most popular wood body National over the past decade, evolving from the Jazz-Blues model (see here ) . It's very full sounding with lots of volume, and playing it will really open it up. National biscuit cones have a 'break in' period of several hundred hours of playing; they start out sounding really good and quickly head towards sounding really great.These are 12-fret neck guitars. The 12-fret geometry often locates the saddle more towards the center of the largest vibrating surface, which can enhance the fullness and bottom end response.
---
You can preview our videos now on Our YouTube Channel!
You can now Visit our Facebook page!