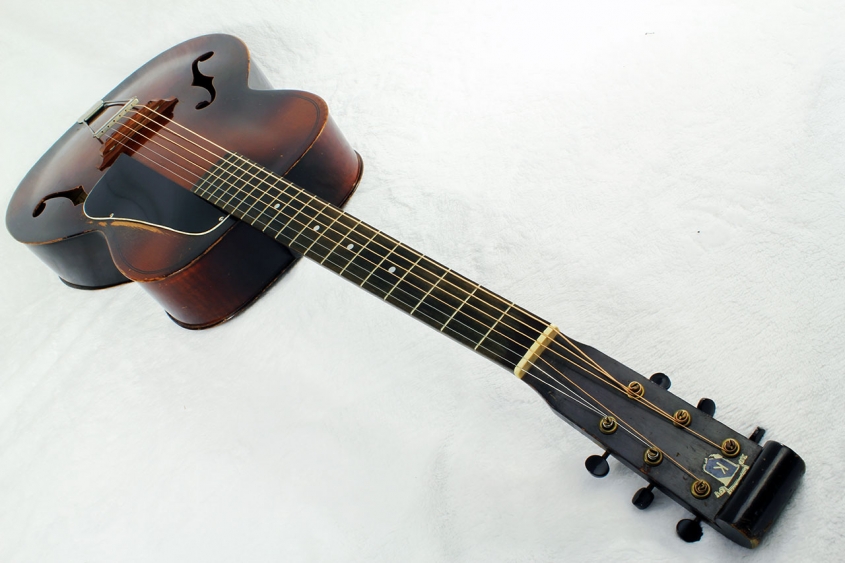 Serial Number
This is a very early Kay guitar. Stamped inside the bass soundhole is 05463.
Pricing
$895 CDN SOLD
Neck
Likely maple neck, unbound fingerboard with dot markers.
Frets
Some wear, narrow frets.
Body
Rare fiddle-type construction. Instead of the traditional guitar model with the top and back cut back from the sides, this guitar mimics violin construction and the top and back plates extend beyond the sides. Completely unsuited to mass production, this style was not continued.

The top is braced with a single longitudinal brace and a dowel soundpost, following the violin construction motif.

Finish
Original sunburst lacquer, violin type finish. Some damage to the back; this guitar has been played.

As on many later Kay-produced instruments, the 'striping' on the sides and back may well be painted, not a feature of the wood itself.

Hardware/electronics
No pickups! Nickel-plated 'patent pending' strip tuners with black buttons, nickel tailpiece, wooden bridge. The pickguard may not be stock, but is clearly patterned on the original.
Playability/Action
Made prior to the introduction of both adjustable trussrods or fixed stiffening rods (as Martin used until fairly recently), the neck is somewhat chunky and V-shaped. However, it is straight and the neck joint is good; this guitar plays quite well with light strings.
Case
A case is included.
Comments
The Kay company was founded in 1931, and this example is very early in their history. The violin-type construction is unusual and wasn't continued; it's expensive to make and easy to damage. Because the top and back extend beyond the sides, electric polishers can't be used on the sides, and hand finishing is required. The scroll section of the peghead was separately made and appears to be dowelled on – in two of the photos you can see the oval section of the dowel pins.   I don't think I've ever seen another original Kay Musical Instrument Co. decal.

This is a very rare and unusual instrument!
---
You can preview our videos now on Our YouTube Channel!
You can now Visit our Facebook page!