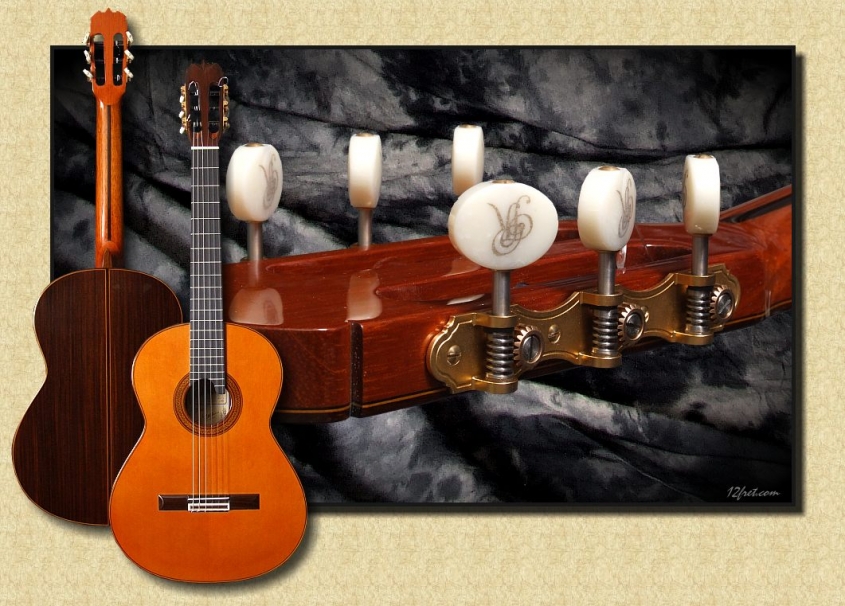 ---
We are fortunate to be the first shop in North America to receive one of these amazing new instruments from José Ramírez Guitars.
The José Ramírez Auditorio 1a Professional Double-Top Guitar is based on the famous Ramírez 1a Traditional model with one remarkable difference: it is fitted with a Cedar "double-top".
Master-Luthier Amalia Ramírez has been working with double tops for several years. She has been determined to incorporate this 21st century concept into a new model of Ramírez guitar. After a great deal of experimentation she has perfected the design and announced this new model to the public for 2010.
Double-top construction is growing in popularity as luthiers around the world adapt this modern technology to their guitars. This unique construction allows the tops to be much thinner than conventional tops. Many luthiers feel there is less tonal variation from top to top with double-top construction compared to conventional solid top construction.
The thinner, stronger nature of double-tops permits lighter bracing, improving treble response and clarity.
We find that the extra treble harmonic content of the double-top makes a superb marriage with the huge throaty bass one gets with the famous José Ramírez "Traditional" model design. The guitar retains the essence of the classic Ramírez tone but seems to gain in the top end. Several of our customers have told us the guitar sounds like a Ramírez 1a that has been played for several years; more open sounding and balanced.
The world of classical guitar building is a conservative one, and change comes very slowly but over the past decade double-tops have become common. For the new Auditorio guitar, Amalia Ramírez elected to use the Nomex honeycomb-core system since it is the most commonly used double-top manufacturing method.
Interestingly, Double-top construction protects the top from damage due to dryness. As top-level classical luthiers have used progressively thinner tops, guitars have become even more vulnerable to top cracks…something that simply won't happen with a Nomex double-top guitar. Though one certainly does want to continue to humidify any double top guitar, we anticipate that these guitars will be more stable in the long term over the winter to summer seasonal changes that often play havoc with classical guitars.
* The price for the Auditorio guitar is slightly above the equivalent standard José Ramírez 1a Traditional.
---
Serial Number: Varies as New.
Pricing: Please contact us for pricing.

Status: In Stock and Available.

---
---
What We Like-Ramirez Guitars
Ramirez guitars – we carry 12 models with over 50 new Ramirez guitars in stock at all times!
Models we stock include the NE and 130th Anniversary Series guitars in both Cedar and Spruce tops; the CWE Cutaway with pickup models, flamenco models and the Professional 1a and Concert SP models.
Email or call any time with questions. We'll answer!
We have 6 full time luthiers on staff with the expertise to setup and service your instruments. All Ramirez guitars will be very thoroughly setup to suit your right hand attack and playing action expectations.
Read more at the links below
---
You can preview our videos now on Our YouTube Channel!
You can now Visit our Facebook page!
Model: Auditorio 1a Professional
Year: Current
Class: Vintage
Country of Origin: Spain
Condition: Brand New
---
---
Contact The Twelfth Fret Regarding This Item