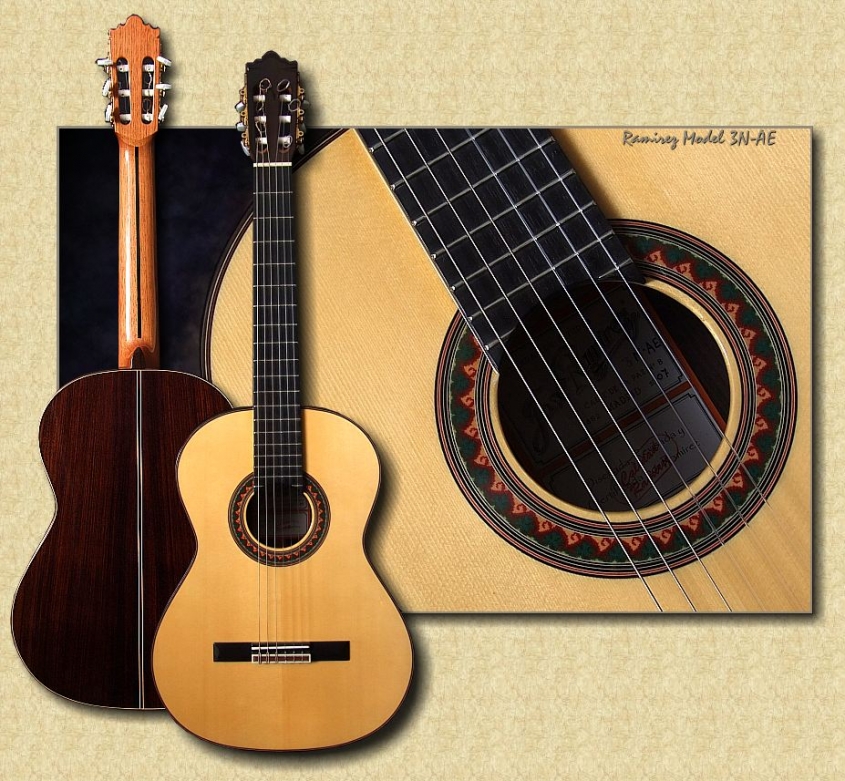 Amalia Ramirez has introduced the new Studio NE Series of instruments. "It has the same aesthetic and technical mosaic design, headpiece, stringing, template, scales, bridge, placement of soundboard bars and cross bar of the E line, entirely as built by José Ramírez III in 1984. The new NE line is based on this design, the only changes being the mosaics and a few minor details of the internal construction in order to improve the sound quality."
Today we are highlighting the model 3N AE which features true Spanish construction with a solid bookmatched European spruce top, solid East Indian rosewood back & sides, an ebony fingerboard on Spanish cedar neck with a 650 mm scale length.
The model 3N AE brings all of the lush sonority that Ramirez guitars have become famous for, with the added crisp attack & silvery overtones that European spruce brings to the table.
The design features, inside and outside of the Model 3N – AE Ramírez guitars, as well as the template, decoration, tone, and quality of sound and materials, are exclusively Ramirez. These guitars are made outside of the small Ramirez workshop, in limited runs, by carefuly selected Spanish manufacturers. They are specifically and uniquely built for Ramírez, and although their construction is not directly inspected by Amalia Ramírez, all guitars are finally adjusted in her workshop by her craftsmen under her personal supervision.
Specifications for the Ramirez Model 3N-AE Classical Guitar:
* 52 mm wide bone nut
* ebony fingerboard
* Spanish cedar neck with ebony reinforcement
* 650 mm scale length
* solid bookmatched European spruce top
* proprietary mosaic soundhole rosettte
* solid East Indian rosewood back & sides
* rosewood body binding
* rosewood bridge with bone saddle
* hardshell case
---
Serial Number: Varies as New.
Pricing: Please contact us for pricing.

Status: In Stock and Available.

---
What We Like-Ramirez Guitars
Ramirez guitars – we carry 12 models with over 50 new Ramirez guitars in stock at all times!
Models we stock include the NE and 130th Anniversary Series guitars in both Cedar and Spruce tops; the CWE Cutaway with pickup models, flamenco models and the Professional 1a and Concert SP models.
Email or call any time with questions. We'll answer!
We have 6 full time luthiers on staff with the expertise to setup and service your instruments. All Ramirez guitars will be very thoroughly setup to suit your right hand attack and playing action expectations.
Read more at the links below
You can preview our videos now on Our YouTube Channel!
You can now Visit our Facebook page!
Model: 3N - AE
Year: Current
Class: New
Country of Origin: Spain
Condition: Brand New
---
---
Contact The Twelfth Fret Regarding This Item