Posts Tagged Nashville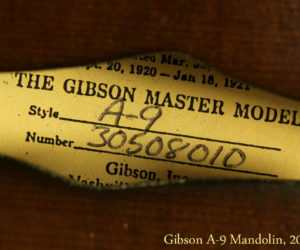 Here's a great used and affordable Gibson A-9 mandolin from 2008, with a Fishman bridge pickup installed.
MORE

→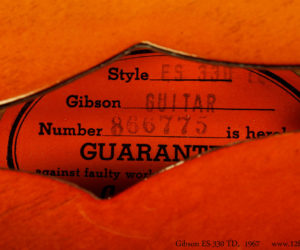 The Gibson ES-330 was introduced in 1959 to replace the ES-225,and is cousin to the Epiphone Casino, famously used by John Lennon on many Beatles recordings. The ES-330 was discontinued in 1972, but is available again as a Gibson Custom Shop piece.
MORE

→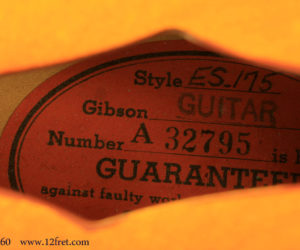 This is a fantastic example of a 1960 Gibson ES-175 D. Gibson began production of the ES-175 in 1949 as a mid-price, laminate alternative to the L-5. In 1953, the D model was introduced, featuring two pickups, and in 1957, the new PAF humbucking pickups started appearing on production models.
MORE

→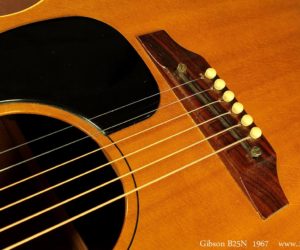 Produced from 1962 – 1977, The B25 was available in both sunburst and as this 1967 example here, in a natural finish – the B25N. For many players, this was their first 'real' guitar.
MORE

→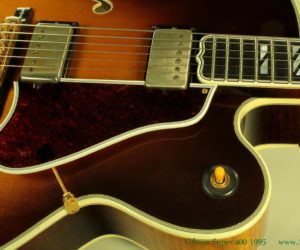 The Super 400 used to be seen on many big stages with top players in top acts, like Merle Travis, Scotty Moore and Kenny Burrell. Now they are hardly seen, and Gibson doesn't make many of them – they are mostly built to order. This 1995 model is in great shape, a big guitar with a big sound and a commanding presence.
MORE

→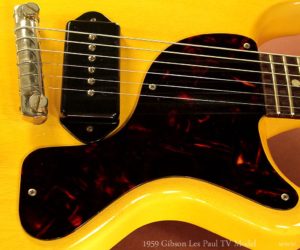 If you've ever wondered what the term 'Closet Classic' means – this is it. A near-mint 1959 Gibson Les Paul TV Model; the guitar has been played but has also been taken care of.The TV model was produced to address the needs of television production – this colour, it turned out, was most visible on black-and-white television sets. The TV model is basically a Les Paul Junior with the TV finish, and a decal identifying it as a 'TV MODEL' rather than 'JUNIOR'.
MORE

→