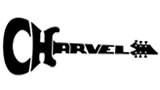 Charvel Guitars was founded by Wayne Charvel in 1974, and has consistently delivered professional road quality instruments in a wide range of configurations.
Now a Fender brand, Wayne Charvel worked at Fender for three years, and in 1974 launched Charvel's Guitar Repair, providing repairs and custom finishing to many professional touring artists. In 1978, the company was sold to Grover Jackson, who built the business up to the point where it manufactured most of its own bodies and necks. Soon, other companies including BC Rich and Music Man were contracting with Charvel Guitars to produce those parts.
Charvel and Jackson were key players in the introduction of the 'Super Strat' concept – significant enhancements to the traditional Fender Stratocaster design.
In 2002, Fender purchased Charvel, and restarted US production, with some models built in Mexico.
Charvel also produced the EVH Art Series models for Edward Van Halen.
Visit Charvel Guitars website.
---
---