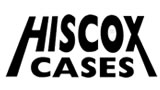 Hiscox Musical Instrument Cases are made in the Staffordshire, England to the highest standards.
These ultra-lightweight cases are "flight worthy". With 800 pounds of "crush resistance", they're ideal for air-travel.  Even the most determined baggage handler will be hard pressed to damage your guitar in a Hiscox case!
Hiscox cases first came to my attention when Lowden Guitars and Ramirez Guitars started using them for their top models. I approached Hiscox and they agreed to ship them by ocean container for several years.  More recently they have established a reliable Canadian warehouse and they are always in stock.
They offer cases to fit all of the standard acoustic guitar sizes and a variety of electric guitar sizes as well.   The standard classical size works nicely on the hard-to-fit National/Dobro guitars.