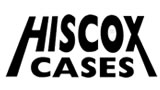 Hiscox Musical Instrument Cases are made in the Staffordshire, England to the highest standards.
Established in 1985, Hiscox Cases Ltd. is the brainchild of Brynn Hiscox, a professional guitar maker. Being acutely aware of the lack of quality cases on the market, he used his engineering background to design a case that stood up to his exacting requirements. Brynn's customers demanded cases that had higher protection but with less weight.
Hiscox Cases are only too aware that in this fast moving, hectic world, it is so easy to damage precious musical instruments (travelling with a stringed instrument). That's the Hiscox 'LiteFlite' range of cases are ultra-lightweight "flight worthy" cases. With 800 pounds of "crush resistance", they're ideal for air-travel.
Hiscox Cases popularity is no accident. It is achieved by consistent Quality of Product, Quality of Service and Value for Money pricing. They offer cases to fit all of the standard acoustic guitar sizes and a variety of electric guitar sizes as well.
---
---