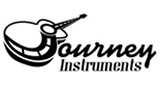 The Twelfth Fret is an Authorized Journey Instruments Dealer for Canada
Life is a journey, and so is your music. At least, that's what Journey Instruments believe.
Passionate about bringing on-the-go musicians quality instruments and accessories that take the stress and trouble out of traveling. Journey Instruments know first hand that smooth and stress-free travel makes for the best musical journey – whether on the stage, in a garage, on the road, or around a campfire.
Journey Instruments began as a subsidiary of Convergent Sourcing Limited, an American owned and managed sourcing and supply chain management company with offices in Hong Kong and China. Convergent Sourcing has a long history of sourcing and supply chain management expertise and has consulted numerous Fortune 500 companies in product development, supply chain management and global logistics. Journey Instruments leverages Convergent Sourcing's expertise and resources to maximize efficiencies in product development, procurement, production, and logistics.
Journey Instruments flagship wood and carbon fiber detachable neck travel guitar models are:
Carbon Fiber detachable neck guitar

Sitka Rosewood detachable neck guitar
Sitka Sapele Mahogany detachable neck guitar
---