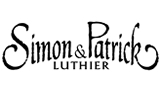 The Twelfth Fret is an Authorized Simon & Patrick Dealer for Canada
---
Every Simon & Patrick acoustic guitar is made with the utmost focus on sound and quality. Certain common features throughout the line emphasize this ideal, such as only using select solid tops allowing for maximum response and a full rich sound. However, it's not enough just to say we offer a solid top on our guitars. This is why we at Simon & Patrick have taken the importance of a solid top beyond the norm by featuring "Select Pressure Tested Solid Tops" on all S&P guitars. Graded and tested using customized equipment uniquely engineered for our guitars, this method of pressure testing each solid top ensures the highest levels of stiffness and rigidity along with maximum harmonic vibration.
Enjoy our selection of Simon & Patrick guitars at The Twelfth Fret.
Simon & Patrick website.
---