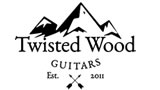 Twisted Wood Guitars is a Canadian company based in Sturgeon County, Alberta specializing in Ukuleles, Weissenborns, and Acoustic Guitars – since 2011.
"Twisted Wood Guitars has quietly become the leader for Ukuleles and Weissenborn style guitars in Canada. With our instruments being shipped and played globally, we are thrilled to meet new musicians every day.
We apply a forward-thinking approach to instrument design and manufacturing. This approach, together with outstanding playability, quality craftsmanship, and stunning aesthetics, are just a few of the reasons some of today's leading musicians make Twisted Wood their instrument of choice.
Whether being featured in music videos, on-stage, in TV and film, played in classrooms or leading campfire sing-a-longs, our instruments deliver superior resonance and tone.
From beginner instruments to the advanced models, Twisted Wood Guitars can accommodate players of all skill levels."
---