Brand:
Ampeg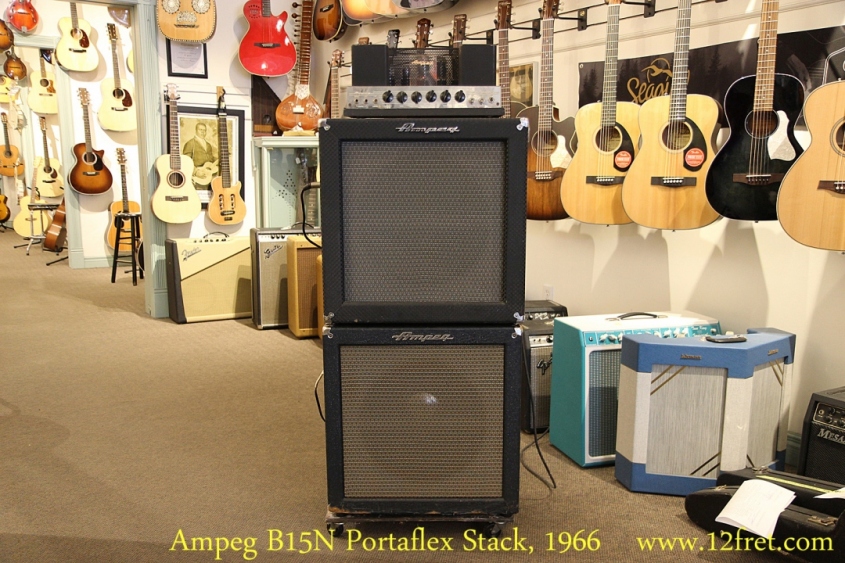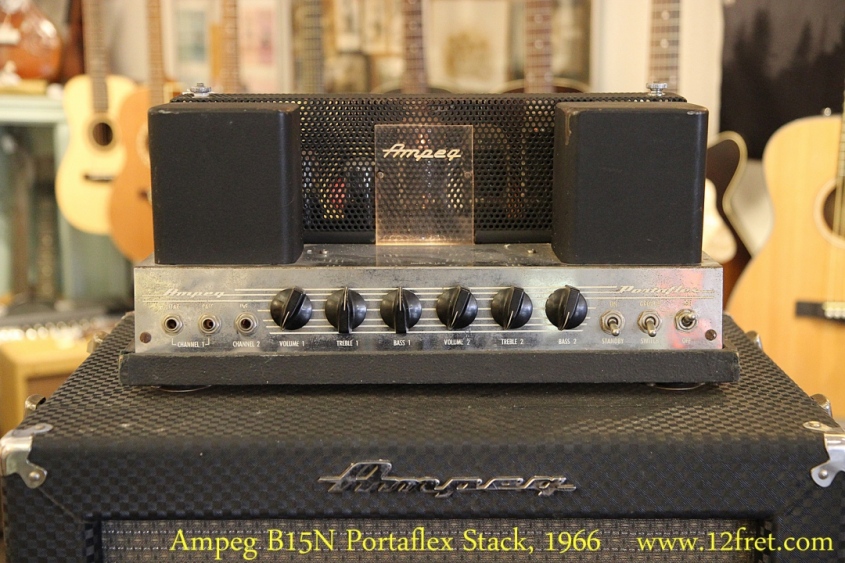 Let's start off with a classic amp in a format I've never seen before – an Ampeg B15N Portaflex amp stacked on an extension cabinet!
Introduced in 1960, the Ampeg B15N and its distinctive flip-top cabinet design rapidly became *the* most popular bass amp anywhere. For transport and storage, the amp head simply flipped over into the cabinet. Delivering a great tone and around 25 watts through a single 15 inch speaker, this amp was seen on countless stages, clubs, studio floors and basically everywhere moderately powered bass amps were needed.
The Ampeg B15 was the amp used for most 1960's recordings at Motown, Stax, FAME and Atlantic studios. Every professional studio in New York had at least one. It even appears on Led Zeppelin recordings!
As time progressed, various versions of the Ampeg B15 appeared. Originally, the two channels shared the EQ circuit. For 1961, the Ampeg B15N (N for New) received separate tone circuits for each channel, and an extra channel-1 input jack. Visually, the light-up lucite panel was added! In 1962, the B15N B settled on blue-checkered tolex covering, and swapped the original octal speaker cable for a 4-pin XLR. As well, a Solid State Rectifier was used in place of a tube. For late 1964, Ampeg designer Jess Oliver restored the 5AR4 rectifier tube and switched to a printed circuit board. This is known as the B15C. In 1965, the cabinet switched to a single baffle and the circuitry to fixed bias, which raised the power to 40 watts. This is known as the B15F. Production ended in 1970, but Ampeg (now a division of Yamaha) has re-issued them.
Here we're looking at an Ampeg B15N, and based on its features and serial numbers appears to be a 1966 B-15NF model, built in Linden, New Jersey. It's in good working order with the original 2-prong power cord and 4-pin XLR connector, and the original Jensen speaker. The second cabinet is somewhat earlier based on its aesthetics, and allows for a fuller sound without breaking up. This cabinet has a later replacement speaker.
This is a classic amp that delivers an instantly recognizable and eminently recordable tone.
NOTE: We originally described this as having a 'Hard Case'. That's because of the 'Flip Top' nature of the Portaflex design, which turns the cabinet into a protective case for the head.
Price: $2200 CAD
Model: B-15-N
Year: 1966 | This is an approximate year
Class: Vintage
Serial Number: 020426
Country of Origin: USA
Condition: Good
Date Posted: 12/03/2020
---
This item has sold
Consignment Item
---
Manufacturer's Website
Contact The Twelfth Fret Regarding This Item