Brand:
Ampeg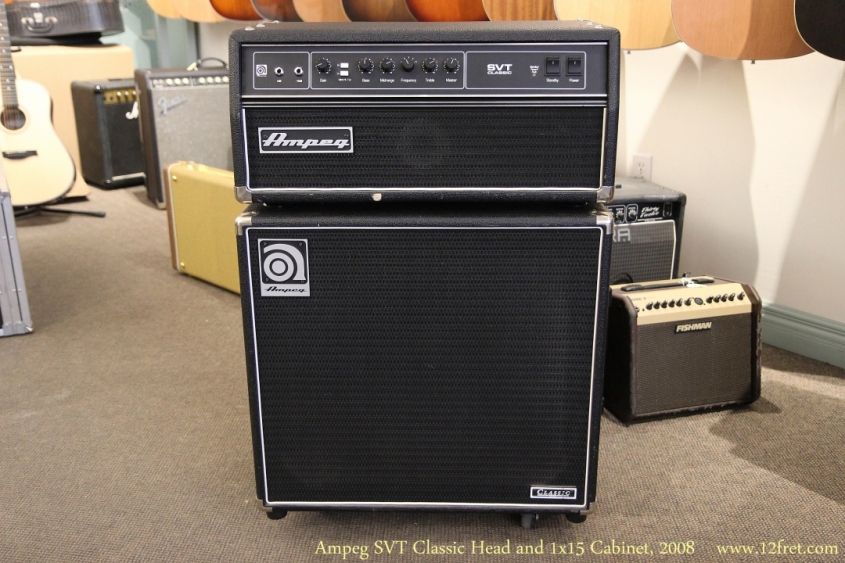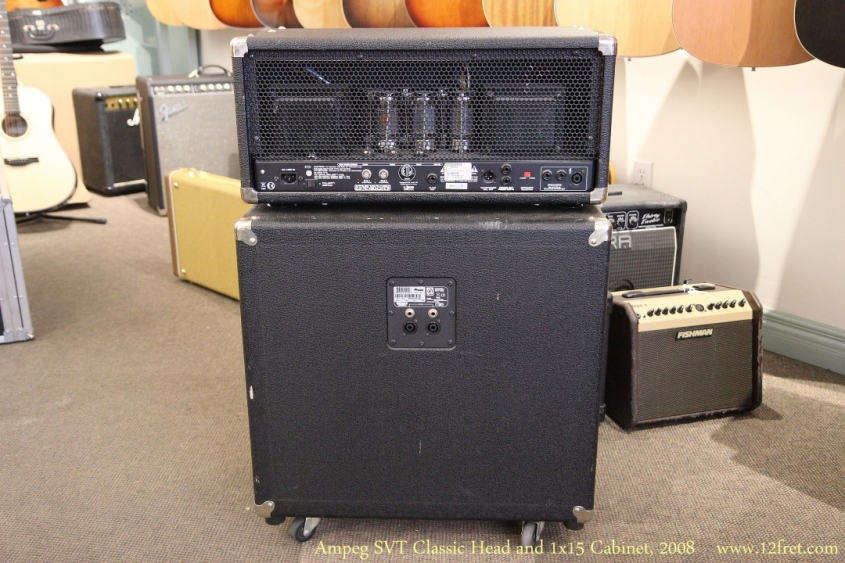 The Ampeg SVT Classic is based on the groundbreaking 300 Watt SVT tube amp line used by bands touring large festivals and areas from 1969. Prior to the SVT, very few amps could produce more than 100 watts. These amps are particularly prized by bass players.
The public introduction of the SVT series, in 1969, was unexpected. The Rolling Stones were rehearsing for an upcoming tour, and all of their UK-model Fender amps were damaged due to power differences. Ampeg delivered five prototype 300-watt heads and these were used for all the guitars and basses on the tour. At the end of the tour, the SVT became a production model.
Here we are looking at an Ampeg SVT Classic head paired with an SVT 15E cabinet, both dating to 2008. At this point, Ampeg was owned by LOUD Technologies; they purchased it during 2005 from St. Louis Music.
The head is 300 watts and in good condition with a few rips in the Tolex covering. The SVT 15E cabinet houses a single, 400 watt 15 inch driver. The cabinet features factory installed wheels, which is a great feature given that the two pieces total around 150 pounds.
The Ampeg SVT Classic models are still in production. The current owner of the Ampeg company is Yamaha, who purchased it from LOUD in 2018.
Here is the builder on the Ampeg SVT Classic and the SVT15E speaker cabinet:
SVT-CL Bass Head:
The harmonically rich sound and legendary performance of the Ampeg SVT are redefined in the SVT Classic. This dynamically powerful all-tube bass amp delivers a thunderous 300-Watts of unsurpassed quality, reliability and tonal flexibility. Although other companies have tried to capture the classic all-tube sound of '60s and '70s Ampeg bass heads, no one can touch the SVT.
Classic Series Heads are designed for players who are looking for the authentic, vintage Ampeg tube sound that has earned the respect of the industry. With a huge and diverse group of artists endorsements, including George Clinton (P-Funk), Gene Simmons (KISS), Dave "Phoenix" Farrell (Linkin Park), and far too many others to list here, the SVT-CL is a clear favorite. In the world of high performance bass amps it stands head and shoulders above the rest.
Padded Input
¼" and Neutrik Speakon® Outputs
Complete Tube Protection
User Bias Adjustment
SVT-15E Bass Enclosure:
When only the fat, warm sound of a 15" speaker will get the job done, we highly recommend the SVT-15E. Armed with a massive five-pound magnet, the SVT-15E's custom-designed 15" speaker generates chest-thumping low end like nobody's business—all the way down to 33Hz. Team it up with the SVT-CL head and an SVT-410HE, for top-end, and you're guaranteed to get the dance floor moving.
¼" and Neutrik Speakon® Jacks
Poplar Ply
2" Swivel Casters
---
Price: $2000 CAD
Model: SVT Classic Head,
Year: 2008 |
Class: Used
Serial Number: Head:SVTCL AP09460101 Cab:ECWDV20182
Country of Origin: Head: Korea Cabinet: Vietnam
Condition: Good
Date Posted: 19/04/2021
---
This item has sold
Consignment Item
---
Manufacturer's Website
Contact The Twelfth Fret Regarding This Item