Brand:
Carr Amps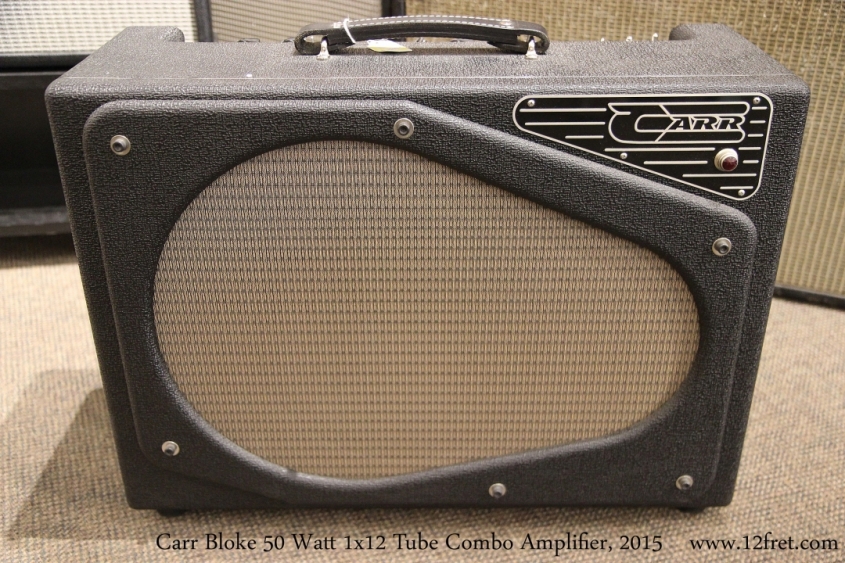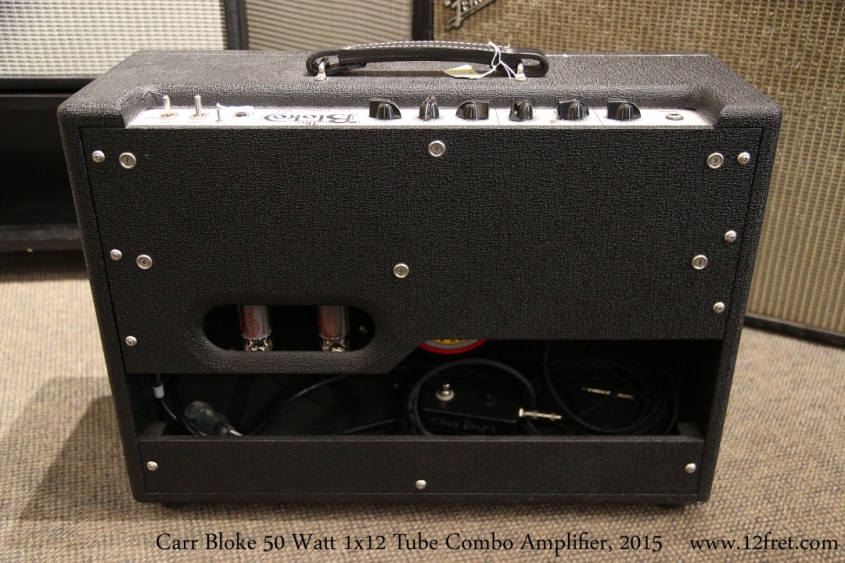 The Carr Bloke Amp, hand built from 2012 to 2015 at Steve Carr's shop in Pittsboro NC, is a 50 watt, EL-34 based amp that can go down to 35 watts with 6V6 tubes. Its concept is based on classic British amps of the 1970s and 80s, combined with 1960s American power amp sections like those from the Ampeg SVT.
Carr amps are built using point to point techniques, and use solid pine cabinetry.
The Carr Bloke model was discontinued in 2015 to make way for new models. Its normal configuration uses a pair of EL84 tubes and pushes a healthy 50 watts through a 60 watt, 12 inch Elsinor speaker made by Eminence. Like the pairing of UK preamp and US power amp, the speaker pairs as British style cone and American style magnet and spider, providing enhanced mids, tighter bass, and better high-end response. Because of the way the speaker is mounted in the baffle, there's a cabinet extension to hold the grille cloth.
If you prefer a 35 watt output, you can pop in a pair of 6V6 tubes, rebias and ajust the impedance.
This amp dates to about 2015, and is in excellent condition, with footswitch.
Here is what the amp's manual has to say about the Carr Bloke. The manual is linked to is post via the '
Manufacturer's Website' button on this page:
"Thank you for purchasing a Carr Bloke amplifier. The Bloke finds its inspiration in both
classic British 70s and 80s heads plus late 60s American tube bass amps. We meld raw
brashness with an incredibly muscular direct driver output section. Bloke overdrive is thick,
articulate, and has exceptionally solid speaker control. Massive filter capacitors in all power
supply stages further add to the rock-breaking punch. Footswitchable Lead mode increases
sustain and odd order harmonic drive – perfect for cutting through on solos."
Price: $1800 CAD
Model: Bloke
Year: 2015 | This is an approximate year
Class: Used
Serial Number: 076
Country of Origin: USA
Condition: Very Good
Date Posted: 24/09/2018
---
This item has sold
Consignment Item
---
Manufacturer's Website
Contact The Twelfth Fret Regarding This Item