Brand:
Fender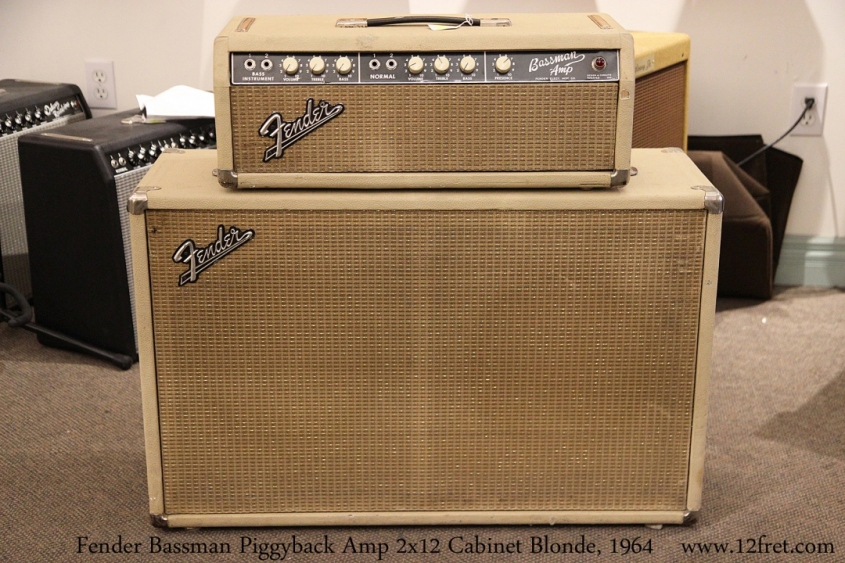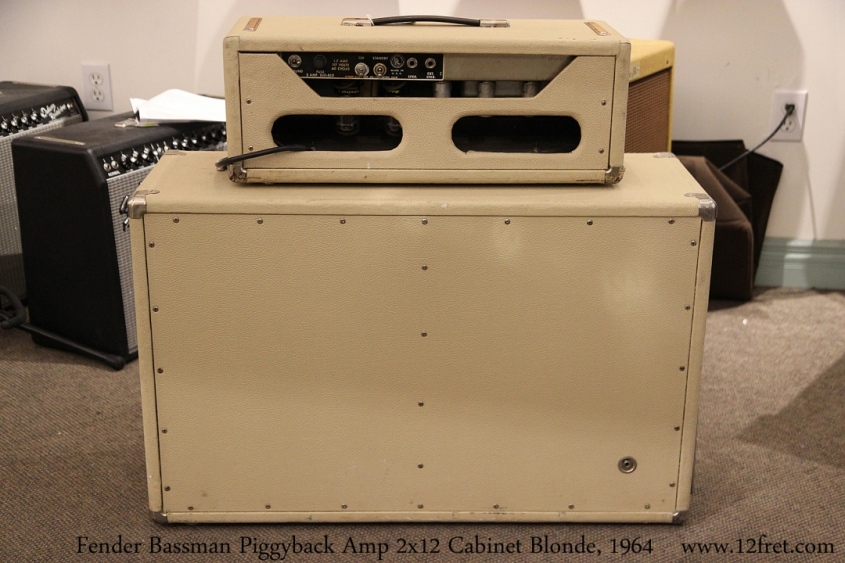 By the early 1960s, amplifiers were rapidly increasing in power – and weight – and combos were split into two sections, like the Fender Bassman piggyback amp seen here.
Part of the issue was service. As power levels rose, early amp reliability was sometimes an issue, and it's a lot easier to carry extras or service heads rather than wrestle multi-speaker cabinets as well.
The Bassman has been an extremely influential amplifier, and the late 1950's circuit, housed in a 4×10 cabinet was used as the model for a line of very successful amps built in the UK by Jim Marshall. A Fender Bassman piggyback amp in blonde Tolex built during 1963 with a 2×12 cabinet was used by Brian Setzer for most of his Stray Cats recordings.
These are great sounding amps for both bass and guitar, and are really quite loud with a lot of physical presence.
This is a Pre-CBS Fender Bassman piggyback amp head and 2×12 cabinet in blonde Tolex and in nearly original condition – the exceptions are the tubes and a grounded power cable, recently installed by John Fletcher. Tubes are wear items, and the grounded cable is entirely for electrical safety. The tube chart is stamped N F, which stands for 1964 (N) and June (F).
The cabinet and speakers are entirely original, with an interesting detail. On models built for the US market at that time, Oxford or Jensen speakers were often installed. However, on models exported to Canada, it seems that the cabinets were exported unloaded, likely to avoid unnecessary duties. Those cabinets had speakers installed by the Canadian distributor. The speakers are Jensen models assembled from Jensen components by Radio Speakers of Canada, and bear logos from the two companies. The cabinets are stuffed with yellow fiberglass, which hasn't been removed since 1964.
This amp is in quite clean condition, and the tolex covering is in very good shape with minimal scuffing.
Price: $2999.99 CAD
Model: Bassman
Year: 1964 |
Class: Vintage
Serial Number: BP10151
Country of Origin: USA
Condition: Very Good
Date Posted: 14/01/2020
---
This item has sold
Consignment Item
---
Manufacturer's Website
Contact The Twelfth Fret Regarding This Item