Brand:
Fender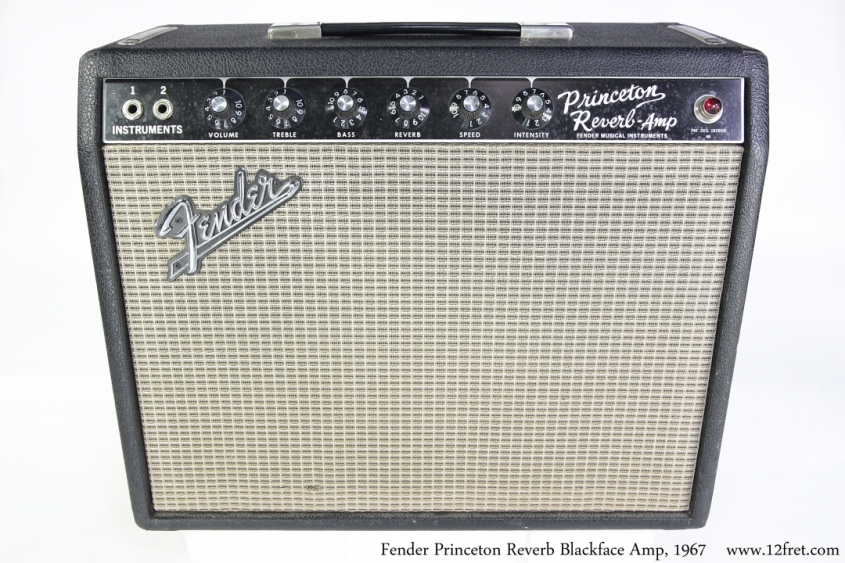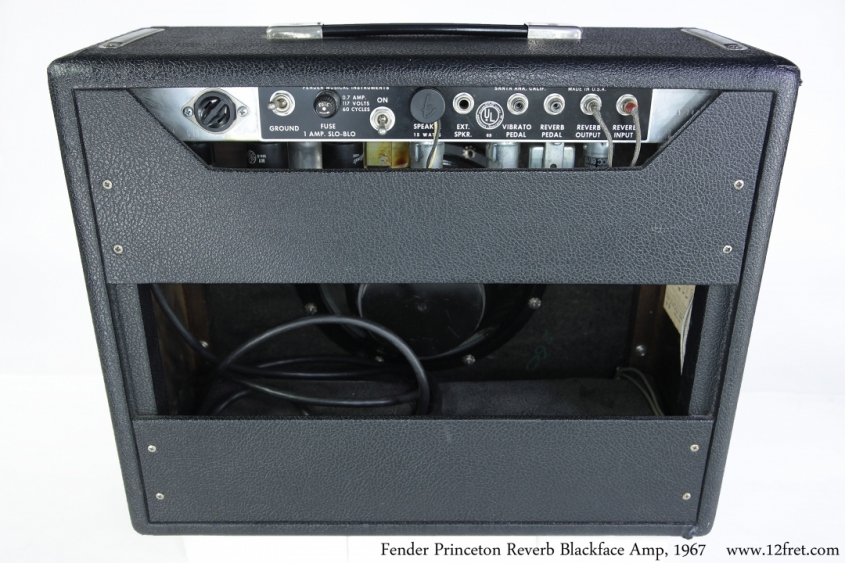 The Fender Princeton Reverb Blackface was the successor to one of Leo Fender's first amps, the 5-watt, 1×8 speaker 1946 Princeton aimed at students. Over the years that model evolved into a the 15-watt, 1×10 speaker combo with Reverb and Tremolo. And over those years, it was adopted as a key tool for session players due to its great sound, relatively low power, light weight and portability.
The Princeton Amp was built until 1979. The Princeton Reverb appeared in 1964 as part of Fenders programme of adding reverb to its combo amps, and was built until 1981.
The single channel, two input Fender Princeton Reverb and older Princeton Amp were the amp of choice for many recording sessions, from Motown and Chicago to Muscle Shoals and Los Angeles. The single 10 inch speaker and relatively low power or 12 to 15 watts allowed it to sound great and play well with others in a closed room. As a bonus, it's a compact package, easy to move from gig to gig and doesn't take a lot of stage space.
Along the way, a modified Princeton sparked another amplifier – the Mesa Boogie. The story is that during the early 1970s as a practical joke, Randall Smith performed some modifications to a Princeton owned by Barry Melton of Country Joe and The Fish. These modifications included splicing in key parts of a Bassman – particularly the 60 watt output transformer – plus a gain stage and a 12 inch speaker capable of handling the load. This was extremely successful and Smith wound up making nearly 200 of these prior to finalizing the Mark 1 design.
Here we're looking at a Fender Princeton Reverb Blackface using the AA764 circuit. It was built during the CBS era – the sale to CBS occured in 1965. The rear panel and tube chart both specify that the amp was built in Santa Ana, California. Shortly after the purchase, CBS decided that the original Fullerton facility would be insufficient, and built a new plant in Santa Ana. The tube chart has Q D stamped at the bottom, with Q representing 1967 and D April. The transformers date to 1966. This amp seems in original condition except for the speaker – the original Jensen was at some point replaced with another, unidentified 10 inch model. The original footswitch is long gone. The amp sounds great, and cosmetically is very clean with one small mark to the lower left of the grille cloth and a very slight snag on the tolex at the top, rear left corner.
Price: $3250.00 CAD
Model: Princeton Reverb
Year: 1967 |
Class: Vintage
Serial Number: A14734, Tube Chart Date QD or April 1967
Country of Origin: USA
Condition: Good
Date Posted: 08/07/2021
---
This item has sold
Consignment Item
---
Weight: 17.874lbs 12.76kgs
Manufacturer's Website
Contact The Twelfth Fret Regarding This Item