Brand:
Fender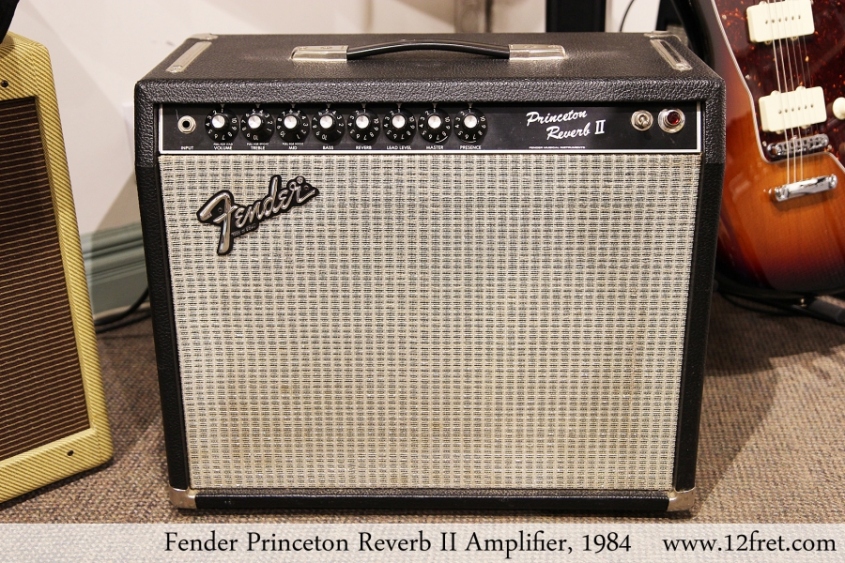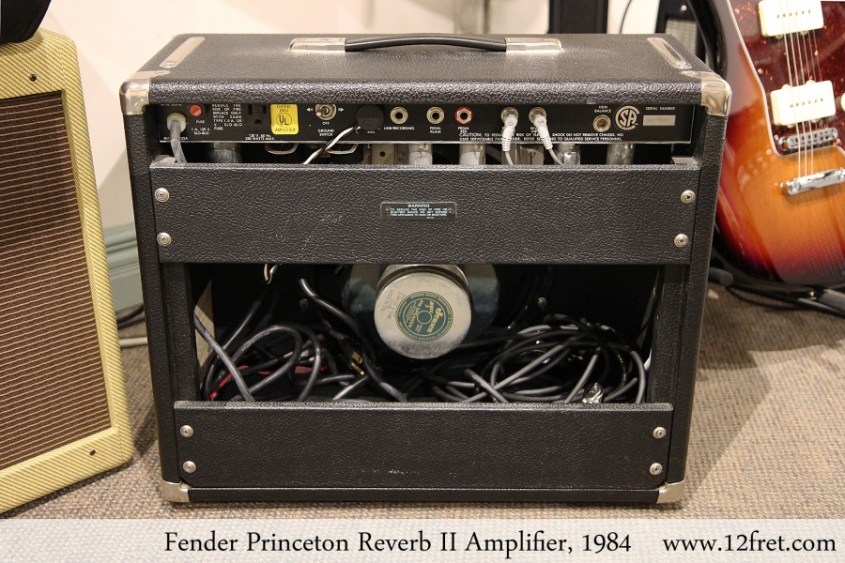 The Fender Princeton Reverb II was built from early 1982 into 1986, ending not long after CBS sold Fender to a management team. This was one of several specified or designed by Paul Rivera, and is one of the last of the regular-production Fender amps to use traditional (non-PCB board) construction methods.
Built from 1947 to 1979 (to 1981 as the Princeton Reverb), the Fender Princeton was positioned as the second in Fender's line, after the Champ. Over time, it grew to being a studio favourite delivering 12 to 15 watts into a 10-inch speaker. In the late 1960's, an amp tech named Randall Smith decided to 'play a joke' on one of his customers, Barry Melton the guitarist for 'Country Joe and The Fish'. The 'joke' consisted of replacing the Princeton's 12-watt power section with parts and circuitry from a 50-watt Bassman and also a speaker capable of handling the power. On his way to test the amp, he was distracted by another customer, Carlos Santana. Santana played the amp for some time and his reaction was the origin of the early Mesa amps and the name 'Boogie'.
The Fender Princeton Reverb II design was influenced by Randall Smith's development, and so the PRII is not a minor evolutionary step from the original Princeton Reverbs. They are single-input amps with extra gain stages, mid and presence controls, and line-out jacks for recording or other sound reinforcement. The volume, treble and mid controls use pull – pots: Volume, pull for Lead, Treble, pull for Bright, and Mid, pull for boost.
Around 6,200 examples of this amp were built. This Fender Princeton Reverb II dates to 1984 and is in overall quite good condition, with its original footswitches and soft cover.
Price: $1150 CAD
Model: Princeton Reverb II
Year: 1984 |
Class: Vintage
Serial Number: F327761, built during 1984 in Fullerton CA
Country of Origin: USA
Condition: Very Good
Date Posted: 21/06/2022
---
This item has sold
Consignment Item
---
Including original Soft case
Weight: 40lbs 18.18kgs
Manufacturer's Website
Contact The Twelfth Fret Regarding This Item