Brand:
Fender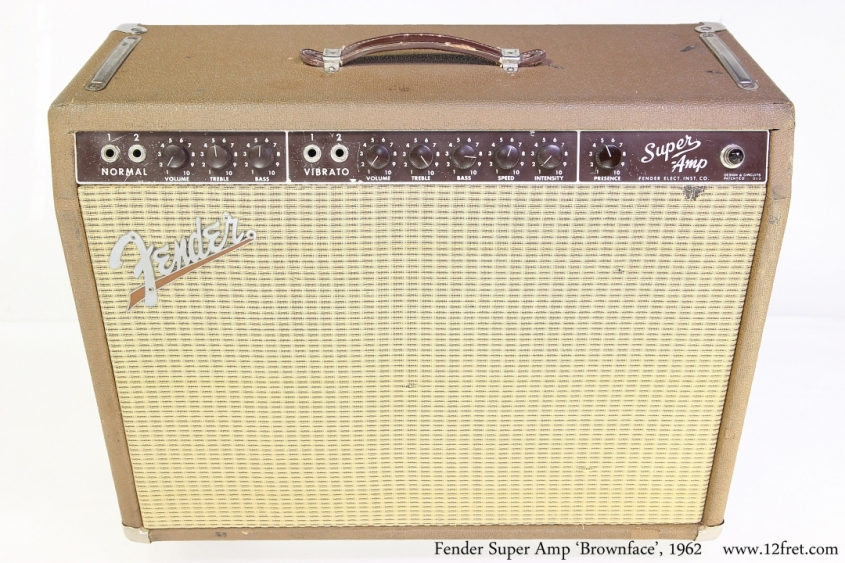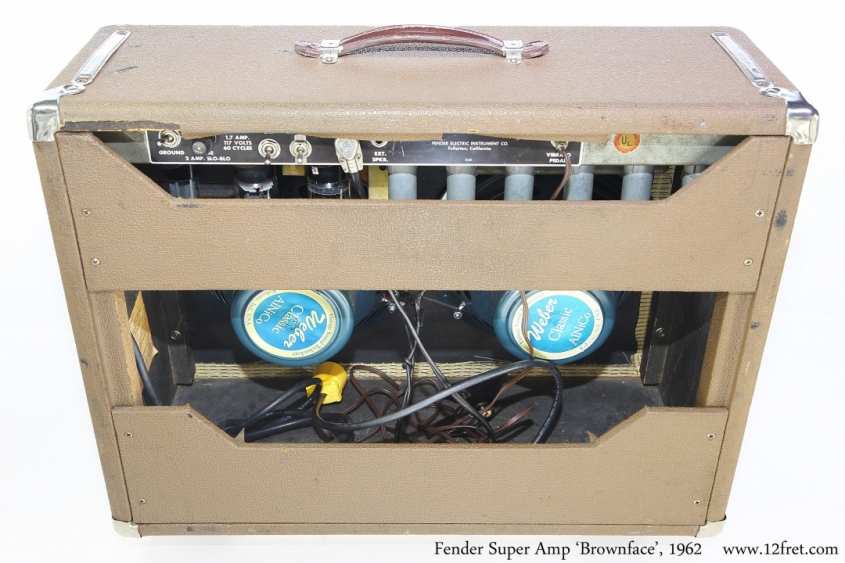 Originally introduced as the Dual Professional in late 1946 and renamed in 1947, the Fender Super Amp started as a 20 watt, 2×10 combo, rising to a whopping 40 watts by 1962, and was discontinued in 1963 as Reverb-equipped models displaced several designs.
Here we're looking at a Fender Super Brownface amp, with the 'brownface' trim putting it directly between the 'Blonde' and 'Blackface' eras. (In the vintage amplifier world, the terms 'Brownface and' 'Blackface' – referring to the amp's white lettering on a brown or black control panel – have no relation to what those terms mean in current political or cultural contexts). 'Brownface' amps appeared in 1959 and were built until 1963, followed by 'Blackface' amps in late 1963 to 1967, and then superseded by 'Silverface' models. 'Blonde' amps were built during the 'Brownface' era, and the Blonde covering was offered on the new Piggyback amp designs, and one combo – the Twin.
This amp dates to 1962 and is in overall good condition; the original 10 inch Jensen speakers have been replaced with a pair of Weber VST models . The transformers all date to 1962.  Preamp tubes are 7025, with a pair of 6L6GC or 5881 tubes depending on circuit. The rectifier tube is a GZ34, allowing tube saturation at lower volume levels (though not quite enough for typical bedroom use).  The handle has been replaced, and a modern 3-conductor power cable and plug for safety.   A few capacitors have been replaced.
At this point, the Fender Super Amp was a 40 watt amp using the 6G4-A circuit and 5881 tubes, with a pair of ten inch speakers. The schematic for this circuit version can be viewed here.
The weight of this Fender Super amp is around 45.05 pounds or 20.434 kg, so it is still portable, loud, and highly effective, but not as bulky as the 4×10 Super Reverb that followed it. And they sound just great.
These amps were quite popular with professional players, including the incredible Tommy Tedesco on his uncountable sessions as part of The Wrecking Crew – a loose group of Los Angeles studio players who played on an extremely wide range of material. That is a fascinating story, with both a movie and a book examining it, well worth investigating.
---
Price: $2999.99 CAD
Model: Super Amp
Year: 1962 |
Class: Vintage
Serial Number: 58076, built during 1962 in Fullerton, California
Country of Origin: USA
Condition: Good
Date Posted: 17/05/2021
---
This item has sold
Consignment Item
---
Weight: 45.05lbs 20.434kgs
Manufacturer's Website
Contact The Twelfth Fret Regarding This Item