Brand:
Friedman Amps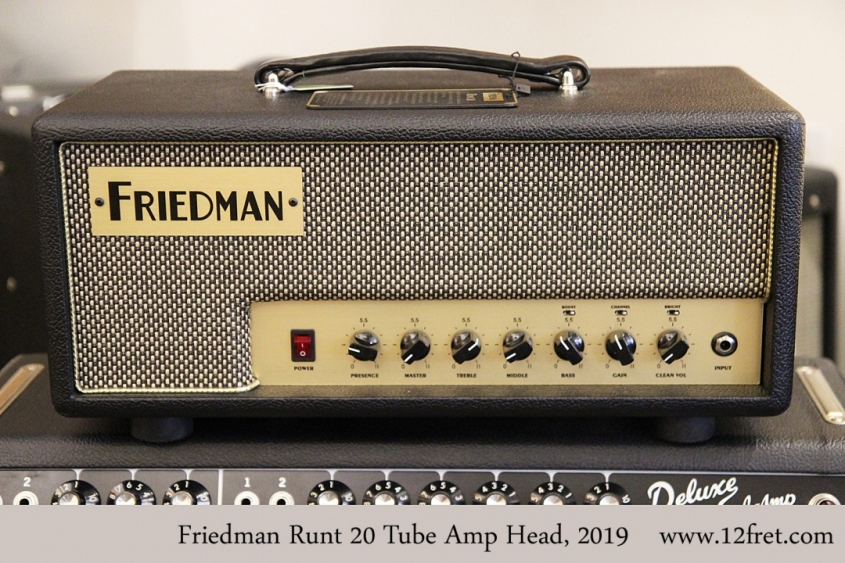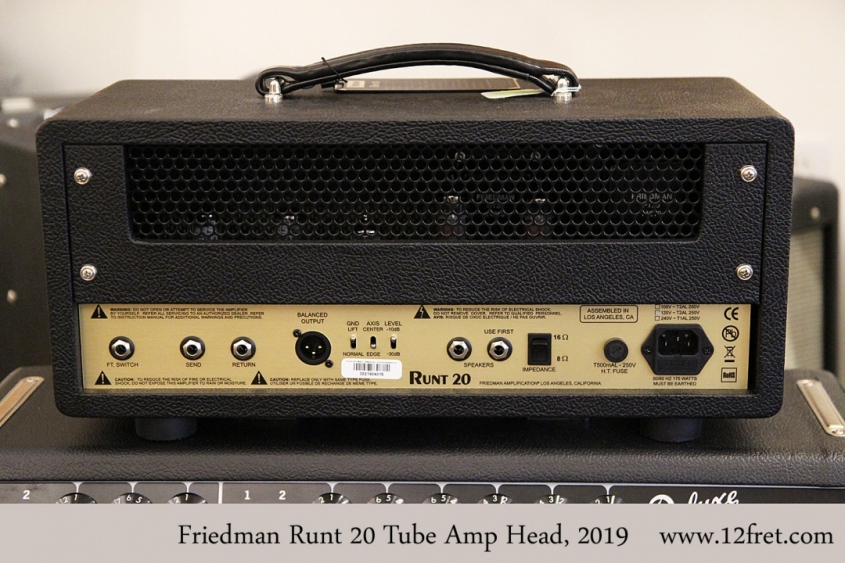 The Friedman Runt 20 tube amp head is a design by Dave Friedman and I'd bet a donut you've heard his work even if you don't recognize his name. Friedman has serviced, modified and built amps and pedalboard in the North Hollywood, California area for some decades. His client list includes players like EVH, Eddie Van Halen, Steve Stevens with Billy Idol and Jerry Cantrell of Alice and Chains.
Until around 2010, Friedman amps were branded as 'Marsha' amps. This clear nod to their design origins did not go unnoticed, and a desist letter caused Friedman to stop using that name and apply his own.
The Friedman Runt 20 head looks like an ordinary tube amp head, with a 20 watt output and clearly visually influenced by classic British amps. The Runt 20, however, has at least one key feature that sets it far apart from the vast majority of other tube amps, dramatically increasing its use.
That feature is a silent mode, allowing the amp to connected directly to a mixer via a cabinet-emulated XLR output and used without a speaker attached.
On virtually all tube amps without this feature, running without a speaker or other load will promptly destroy necessary parts of the power amplifier section such as output transformers and support components. As an added bonus, the cabinet emulation is based on use of a microphone, and the emulator allows selection of center or edge placement of the microphone relative to a speaker.
So, this amp head can be plugged directly into a recording system, without also carrying a speaker cabinet, and the signal is not modelled, but the real response of tubes. The physical interaction between a dimed amp through a speaker – or an elevened amp, these go to 11 – and a guitar will of course not be available, but this is still closer than any modeller can get.
This amplifier is nearly new, and was likely built in the earlier part of this year. It still has its Friedman hang tag!
Like a number of other boutique amplifiers (including Soldano, Tone King, Wampler, abd Egnater), the Friedman Runt 20 is built in the USA in Boutique Amp Distribution facility in Huntington Park, California. Friedman does check each amp before shipment.
Here is what the builder says about the Friedman Runt 20 head:
The Friedman Runt 20 is a 20-watt all tube head that delivers Friedman's legendary tone and versatility in a compact 2-channel amp. The Runt-20's power section is driven by two EL-84s, with three 12AX7s in the preamp. The "simple" clean channel features a volume knob and 3-position bright switch that delivers anything from pristine cleans to a slightly broken-up tone, which is great for blues and country. The heart and soul of the Runt-20 is the overdrive channel, which takes you from classic rock to all-out assault. Use the Boost switch and Gain knob to dial in the perfect amount of overdrive. A global presence control shapes the high-frequency response of the Runts power section.

The Friedman Runt 20 delivers the tight bottom end and midrange that is typically only found in much higher-wattage amps by utilizing custom transformers and the cleanest signal path possible. The Runt is ideal for many styles of music from blues to classic rock and heavy metal by merely adjusting the gain and master controls.

Plugging into the Runt, you will instantly notice the harmonically rich detailed chords and resonating single note lines. This amp cleans up exceptionally well with the guitar's volume knob, even with the amp on higher gain settings.

This is the first amp Dave Friedman has ever made with an internal load and cab-simulated XLR output. Comparing this analog circuit to some of the most intricate computer-based IRs, Dave achieved a direct output you can proudly send to front of house or use in the studio. The Runt also allows you to play "silently," meaning you can safely play the amp WITHOUT having a speaker cabinet connected. The XLR output includes a ground-lift, level, and center/edge of speaker cone simulation switches.

The Friedman Runt 20 was designed to take pedals well, and it loves boosts, ODs, phasers, flangers, tremolos, and wahs. The ultra-transparent no tone loss, buffered, series effects loop takes time-based effects pedals and rack units equally well. The head cabinet features beautiful black Tolex, with Baltic Birch construction, and is built to withstand the rigors of the road.
Price: $1200 CAD
Model: Runt 20
Year: Current |
Class: Used
Serial Number: 3021904015
Country of Origin: USA
Condition: Excellent
Date Posted: 12/09/2019
---
This item has sold
Consignment Item
---
Manufacturer's Website
Contact The Twelfth Fret Regarding This Item