Brand:
Kendrick Amplifiers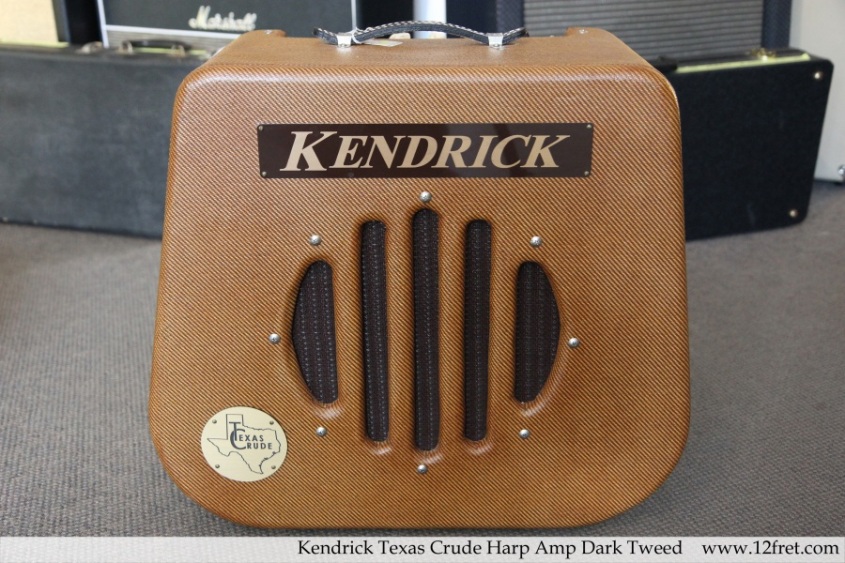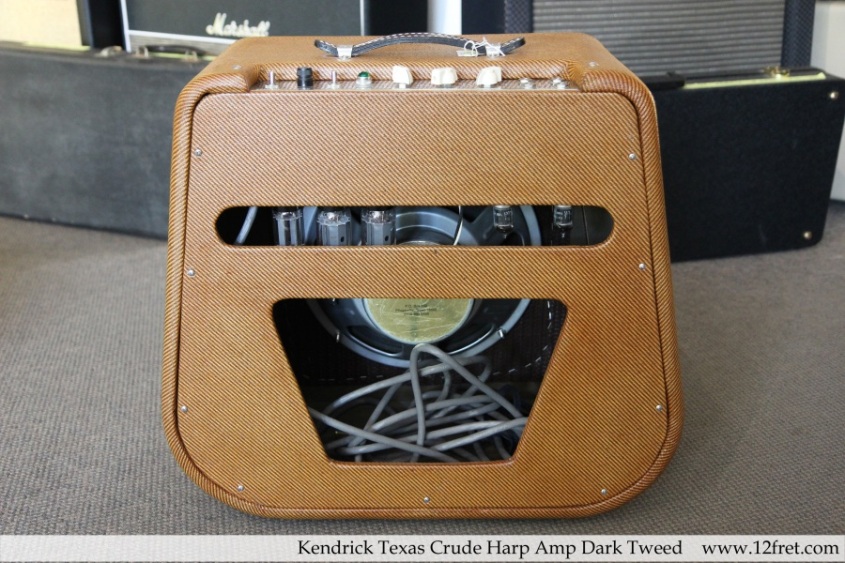 The Kendrick Texas Crude harp amp is aimed at harmonica players, putting 30 tube watts through a single 12 inch speaker. The cabinet is in the trapezoidal open back 'Beaumont style', covered in a dark lacquered tweed, and a 'Texas Crude' medallion on the bottom left front.
This amp is in overall very good original condition with an extra-long power cord. Unfortunately, some time ago Kendrick stopped adding serial numbers to amps so a precise build date can't be established.
Here's the builder on the Kendrick Texas Crude Harp Amp:
"The Kendrick Texas Crude Series Harp Amp features the "Beaumont Style" trapezoidal cabinet. This art deco design is known for enhancing bass frequency punch making it popular for blues harmonica players that want both tone and hip retro vibe. All tube circuitry includes 2 12AX7 pre-amp tubes, 2 6L6 output tubes and a GZ34 rectifier tube. Point-to-point circuitry hand wired on brass eyeleted epoxy glass component board. Exclusive wave form symmetry control fattens tone while reducing feedback. Because this amp lacks the tendency to feedback, the volume control can be cranked to unbelievable levels.
Harp players, how many times have you been asked to turn down because you were dominating the mix? Well that's not enough!"
---
Price: $2199.99 CAD
Model: Texas Crude Harp Amp
Year: 2012 | This is an approximate year
Class: Used
Serial Number: N/A, Kendrick does not use serials. Built in Kempner, Texas.
Country of Origin: USA
Condition: Very Good
Date Posted: 25/10/2023
---
---
Weight: 41.78lbs 19.99kgs
Manufacturer's Website
Contact The Twelfth Fret Regarding This Item