Please note!  This product has been discontinued by its manufacturer and is no longer available as new.  Please contact us for any similar products.   We're maintaining this post for historical and reference purposes. 
Guitarists around the world have spoken: our backs are sore, our homes and studios are full, and our ears just don't work like they used to. There will always be a place for large, loud, high powered amplifiers. Never the less, more and more players are re-discovering the joy of plugging into a small, lightweight, low wattage amp that won't break the bank or blow the windows out. Technical snobbery aside, there really is something special about the sound of an all tube class A amplifier. Marshall has done a fantastic job of creating an amp that squeezes a ton of sonic depth and subtly from a deceptively simple design.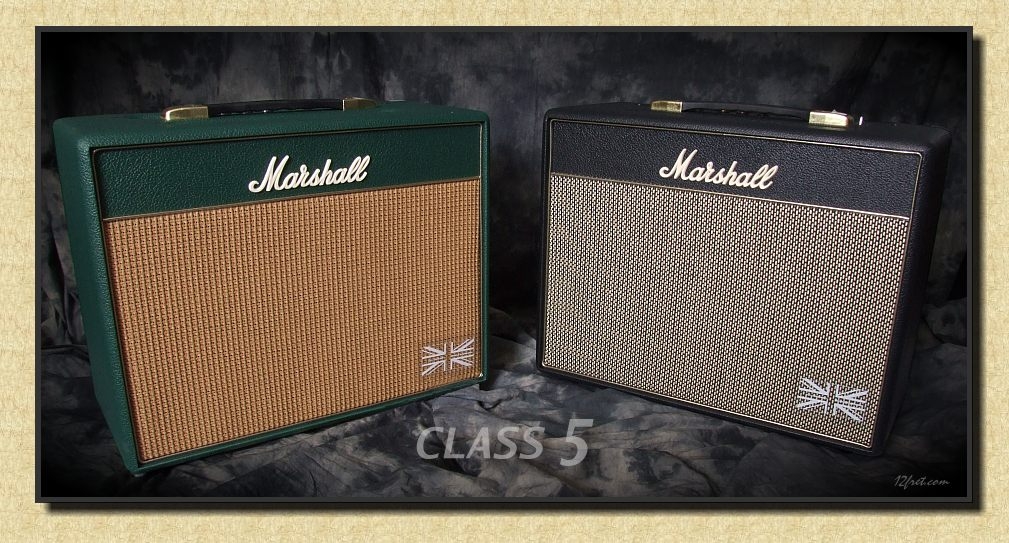 Running on a pair of ECC83 pre amp tubes and a single EL84 in the power section, the Class 5 produces the most powerful and rich 5 watts of sound I have ever heard. The custom designed G10F-15 10″ speaker produces a detailed and articulate low end, and allows the highs to come through with typical Marshall bark. Looking at the top panel, some guitarists might be concerned by the seeming lack of options. This is where the real magic of a class A amp steps in. The Class 5 sounds great the moment you turn it on. It doesn't matter where the 3 EQ dials are pointing, you will get a full and responsive sound. No need to spend hours searching for that "perfect setting" in order to get a tone that is usable. This helps make the Class 5 an incredibly fun amplifier to use.
Within minutes of plugging in, I moved from a lush jazz tone, up to a nice country twang, into a classic british crunch, all with just a few quick adjustment. The Class 5 can be loud, to be sure, but it also reacts intimately with your guitar's volume controls, allowing you to move from clean to crunch without taking your hand away from your guitar.
For those looking for a stage amp, the Class 5 belts out an impressive amount of sound from it's single 10″ speaker. It also comes equipped with a 16ohm extension cabinet output. Running it through a closed back 2×12 cabinet here at the shop, the Class 5 sounds massive. Want to play at home without disturbing your family/roommates/neighbours/landloards/etc.? Simply plug into the headphone jack on the back panel and you've got nothing to worry about (THANK YOU MARSHALL!!!)
Built in Marshall HQ in the UK, the Class 5 is exactly what we've been waiting for in a small, low wattage combo amp: light weight, low cost, and loads of killer tone!


Specifications
* Power: 5 Watts
* Pre-amp Valves: 2 x ECC83
* Power Amp Valves: 1 x EL84
* Volume, Treble, Middle, and Bass controls
* Internal Speaker: 1 x 10″ 16ohm Celestion G10F-15
* Headphone Output
* Speaker / Headphone Selector
* Extension Speaker Output
* Dimensions W, H, D (mm) 495 x 415 x 230
* Weight (kg) 12

Year: Current |
Class: Vintage
Condition: Brand New
---
This item has sold
Consignment Item
---
Contact The Twelfth Fret Regarding This Item