Brand:
Marshall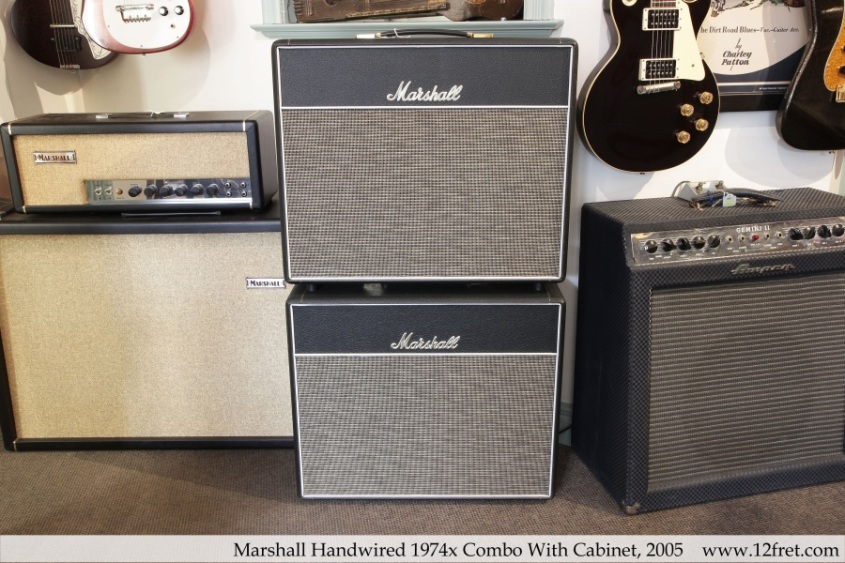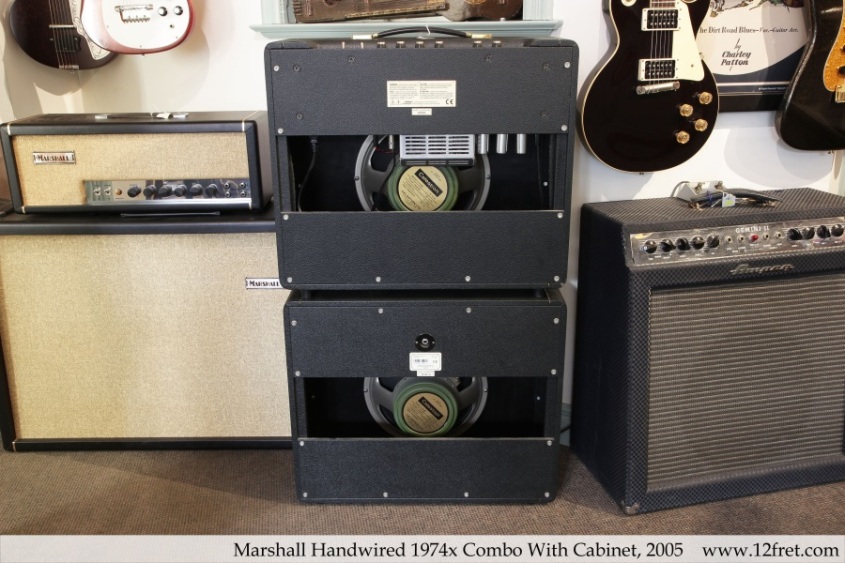 The Marshall Handwired 1974x is an 18-watt, 1×12 inch tube combo amp that reproduces one of the key amps in Marshall's history, and here is accompanied by the matching 1×12 cabinet.
This pristine example was built during 2005 – the combo during September and the cabinet October – at the Marshall plant in Bletchley, Milton Keynes England. It hews closely to the original design and construction. The original user manual booklets are included in the cabinet, and the footswitch is in the combo.
This is a beautiful amp, well designed and built, with no appreciable wear.
Note: The weight listed below is the total of both units. By themselves, the 1974x combo weighs 43.5 lbs or 19.772kg and the 1974cx cabinet 30.4lbs or 13.8kg.
Here is the builder on the Marshall Handwired 1974x:
"We are bringing back the classics. For sounds of the 60's, 70's and 80's these amps are for you. They are for those that want to recreate the nostalgic music memories. These sophisticated, stylish and classic amps allow you to perform your personality on stage. From the JTM45 to the JCM800 all the legendary Marshall tone you can imagine is packed into this series."
"The 18w Marshall Handwired 1974X is a re-issue of the 1974 produced between 1966 and 1968. Just like the original, the 1974X is valve driven, hand soldered, with an aluminium chassis, and has a Tremolo circuit. Its two-channel design includes volume, tone, speed and sensitivity on channel one, the tremolo channel and volume and tone controls on channel two. The special 12″ Celestion G12M-20 Greenback in the 1974X has been 'aged' to get as close as possible to that vintage, worn in sound of the 1974."
"Quicker to overdrive sooner than an amp of higher power to produce harmonically rich, vintage Marshall tones at volumes that won't shift your hearing."
"Due to the lower wattage and sensitivity of the amp, it will allow you to articulate each note. It is perfect for the studio. Produces rich, all-valve tones that you can easily manipulate using the speed and intensity controls."
And on the matching 1974cx cabinet:
"Explosive sound – combines with the 1974X to give a big sound for larger gigs. Brilliant tones – special Celestion speakers mimic the original Greenback speakers to give a great creamy tone. Lovingly handwired – the 1974CX has been designed to achieve maximum authenticity, with original components reproduced and the same construction methods employed."
Price: $3999.99 CAD
Model: 1974X with Cab
Year: 2005 |
Class: Used
Serial Number: Amp M-2005-39-0123-B Late Sept 2005, cab M-2005-42-0910-Z mid Oct 2005 made in England
Country of Origin: England
Condition: Excellent
Date Posted: 03/11/2023
---
---
Weight: 73.9lbs 33.572kgs
Manufacturer's Website
Contact The Twelfth Fret Regarding This Item