Brand:
Matchless Amplifiers
Matchless is one of those companies that has created a very distinct "mojo" out there amongst guitarists. In the past, they have been a catalyst for a "boutique amp revolution". Their DC-30 and Chieftain amps have become known as industry standard equipment and have even been immortalized by the amp modeling generation, from Line 6 all the way to Rocktron. I've tried many boutique amps and walked away from the experience thinking "So what…big deal" or "That's it?!". Matchless amps have been imitated but never duplicated. The essence of their design is in their simplicity, quality parts and excellent build quality.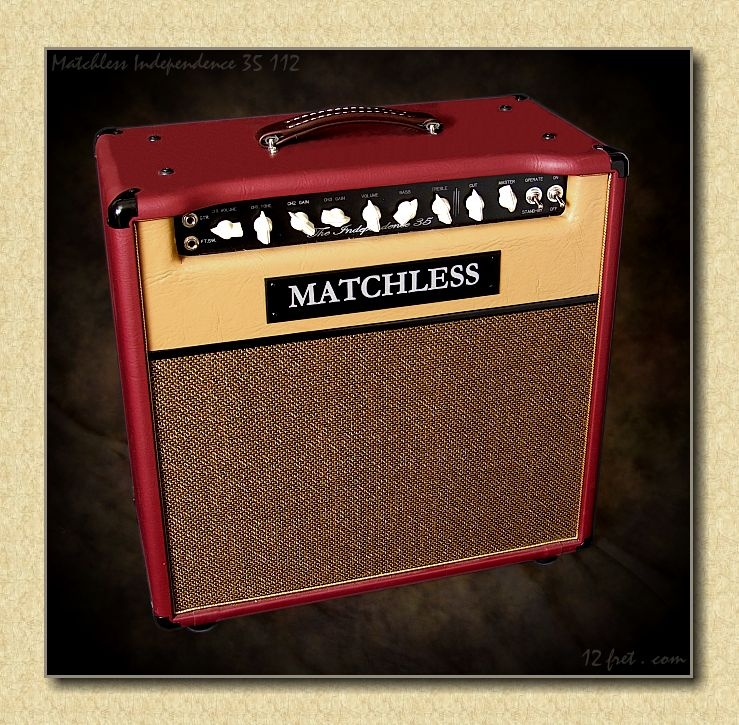 The Independence 35 takes the Matchless legend and packs it into a uber versatile combo amp. Upon lifting this tone monster, you'll be shocked at the sheer tank-like build. These amps are built to withstand military small arms training. Like its brethren, The Independence 35's handwired design is top notch and overdone ten fold on this amp. It features three distinct channels that go from clean to mean to scream. Don't let the modest 35 watt rating fool you…we're talking about Class A watts here!
Channel One on the Independence 35 projects the classic Matchless Class A tone with a simple yet effective two knob layout. This is the tone that is the pride and joy of this amp company. Robust and full-bodied like a premium Shiraz wine, the clean sound has headroom for days.
Channel Two packs a mean one-two punch that offers up a slightly spongier, more complex DC-30 crunch. Channel Two allows a player to go from the legendary Matchless Class-A bark to a classic Marshall-esque crunch. No wonder players like the Tea Party's Jeff Martin, Jimmy Page and Keith Urban love these beauties.
Channel Three kicks up the heat even further…we're talking Red Savina Pepper sauce hot! The saturation of this channel is just plain ol' addictive and dangerous. Inspiring a thick, bold and ultra mega hot overdrive, it has more to do with Hendrix/Jeff Beck/Leslie West/ Eric Johnson tones than it does Scandinavian Black Metal.
Add to this an ingenious "Cut" control on the master volume section and you have the perfect ingredients for the legendary Cream era Eric Clapton "woman tone"!
I really don't need to mention the sexy cabinetwork and gorgeous custom covering that these babies come in. They pretty much speak for themselves. The amp is topped off with a single Celestion Gold speaker and a sturdy two button footswitch. A modern twist on a truly classic amp!
Mike McAvan
Specifications
* 5AR4 rectifier tube
* 35 watt output is powered by the two EL34s, which are cathode self biasing
* 3 position rotary switch allows for 4, 8, & 16 ohm output
* channels are switched through one footswitch jack.
* 12AX7 preamp tubes
Year: 2010 |
Class: New
Country of Origin: USA
Condition: Brand New
Date Posted: 20/12/2010
---
This item has sold
Consignment Item
---
Contact The Twelfth Fret Regarding This Item