Brand:
Roland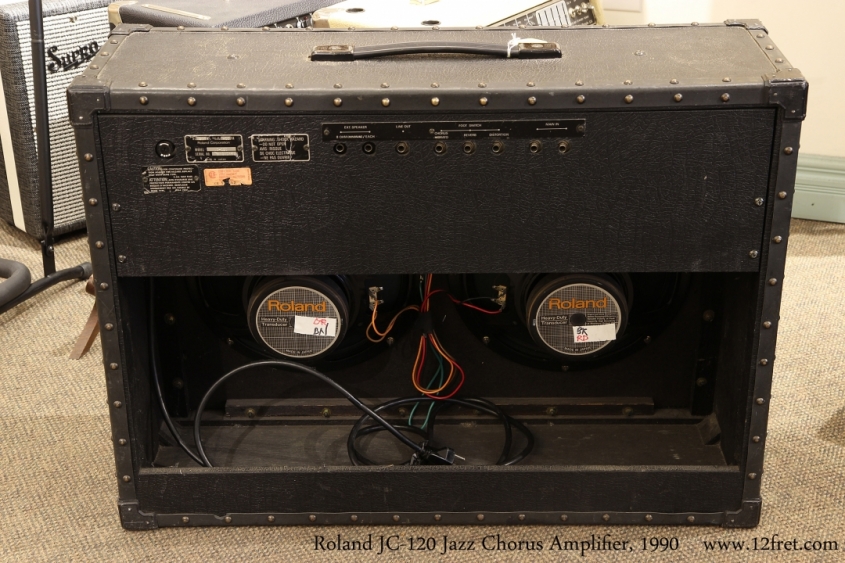 One of the defining amps of the late 1970's to mid 1980's period, the Roland JC120 Jazz Chorus amp delivers a distinctive crystal clear, clean tones and shimmering chorus with enough power for most stages. Introduced in 1975, the JC120 is still in production.
With the rise of 'New Wave' styles, musicians wanted options other than the heavily distorted tones provided by Marshall and similar amps, and then-new Chorus effects. Delivering clean sound at larger stage volumes requires a substantial amount of power, and it's often most practical to do this by way of transistors rather than tubes. It's easier to get clean headroom from an transistor than from a tube, but some of the practicality comes from the sheer weight of the power transformers, chassis and support circuity required for high-powered tube amps.
For comparison, a Fender Twin Reverb of up to 85 watts weighs about 75 pounds or 34 kg, while the 120 watt JC120 weighs 62 pounds or 28kg. As the weight of a tube amp increases, its construction must also be more robust – and heavier – to withstand the inertia of being moved on the road. As a real benefit, the reduced weight and coupled need for physical strength also reduced the price of the amplifier.
While it looks like many other twin-twelve amps, the JC120 has an unusual circuit configuration. It's 120 watts into 2×12, but each speaker has its own 60 watt amplifier. This is partly done to support the stereo chorus effect, which is produced by shifting the phase of copies of the input signal, compared to the original. Each of the 'sides' of the chorus, and each speaker, gets one of the two copies through its own power amplifier.
The clean sound of the Roland JC-120 appeared on many recordings and stages, in places that might not be expected. Billy Duffy of The Cult used a JC120 – and a Gretsch White Falcon. It's on many Police recordings, played by Andy Summers. Both Kirk Hammett and James Hetfield of Metallica used the JC120 for clean sounds. Funk players relied on the sound.
This Roland JC120 dates to March 1990, and was built by Roland in Japan. It's in good condition and has been maintained. There's some light scuffing to the black Tolex-style covering, and a couple of snags in the grille cloth.
Price: $699.99 CAD
Model: JC-120 Jazz Chorus
Year: 1990 |
Class: Used
Serial Number: BB29165
Country of Origin: Japan
Condition: Good
Date Posted: 11/04/2019
---
This item has sold
Consignment Item
---
Manufacturer's Website
Contact The Twelfth Fret Regarding This Item