Brand:
Sonny Jr Harmonica Amps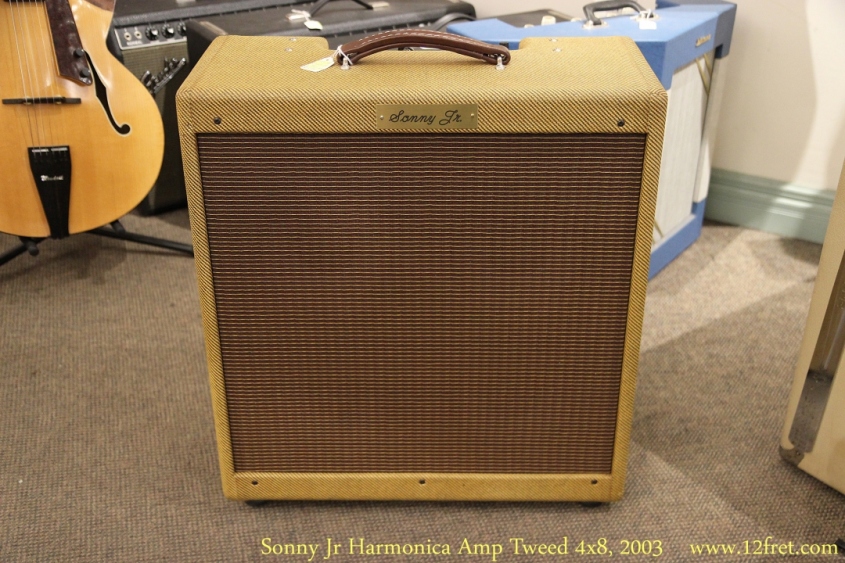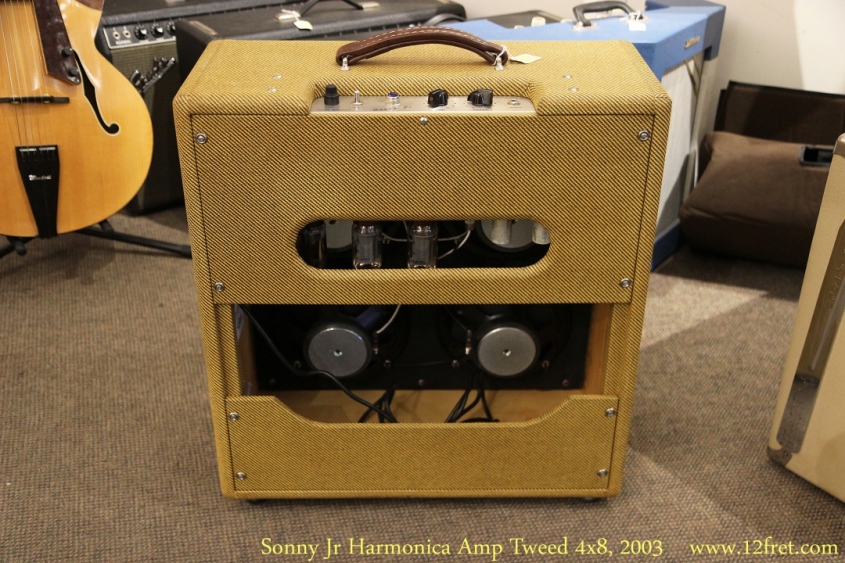 The Sonny Jr Harmonica Amp is the result of work by harmonica player Gary Onofrio in replicating the tones achieved by classic harp players like Sonny Terry, Charlie Musselwhite and James Cotton. The amp circuit is based on a model used by Little Walter.
Built during 2003 by Cotton Amps in Tolland, Connecticut, this Sonny Jr Harmonica Amp features a pair of 6L6 power tubes to generate around 40 watts and delivers that through four Pyle eight inch speakers. The cabinet looks a lot like a 1950's 4×10 Tweed Fender Bassman, but scaled down for the smaller speakers. The inputs are intended to accept a decent harmonica microphone.
This hand wired point-to-point construction amp, built of individually selected components, is in overall quite good shape, with the only real wear to the leather handle.
An excellent padded slip cover, with a strap to run under the amp and help keep it in place, is included. This kind of cover is a really good idea for any amp, especially if it stays in one location, protecting it from dust and grime.
Here is Gary Onofrio on the Sonny Jr Harmonica Amp:
"As you may know I stopped producing amps for a while so I could focus on some health issues. I am better! I've been doing some custom work for the past few years and I am ready to begin producing Sonny Jr amps again.
[…]
Charlie Musselwhite calls Sonny Jr. Amps, of which he owns three, the Rolls Royce of amplifiers; a great compliment from one of the most highly decorated harp players of our era. Thanks to Mark Hummel, Pierre Lacocque, Westside Andy, Gary Smith, Andy Santana and Greg Heumann for their continued use of my amps along with many other top pros around the world.
Thank you to all who love the amplified Chicago sound around the world who own one of my amps for the pure joy of how it feels to get "That Sound" and grow with the amp.
[…]
As always I will use only the finest parts built right here in the USA. From Heyboer transformers, Weber hand built speakers, finger jointed pine cabinets with the most exquisite finish in the industry, to the USA NOS paper in oil tone capacitors only found in Sonny Jr. Harp Amps – every component will be hand selected for tone, tone, tone.
I bought out virtually the world supply of these capacitors after doing extensive research in 2000. I continue to use NOS USA preamp tubes at no extra cost to you."
Price: $1400 CAD
Model: Sonny Jr
Year: 2003 |
Class: Used
Serial Number: 169
Country of Origin: USA
Condition: Very Good
Date Posted: 18/12/2019
---
This item has sold
Consignment Item
---
Including original Soft case
Weight: 39.15lbs 17.76kgs
Manufacturer's Website
Contact The Twelfth Fret Regarding This Item