Brand:
Tone King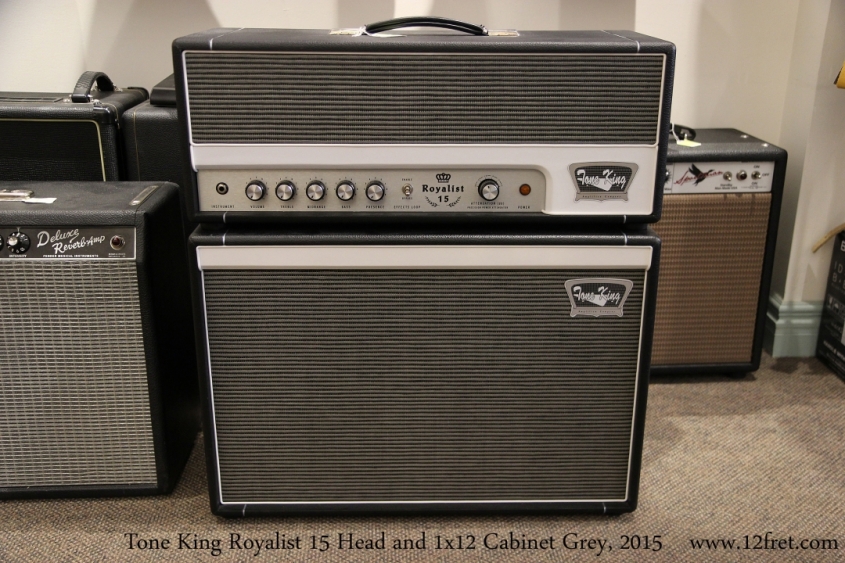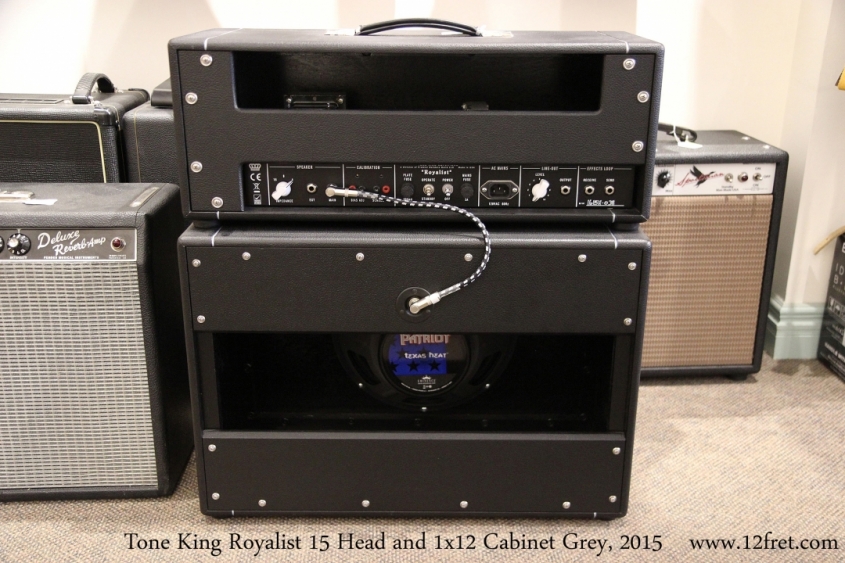 The Tone King Royalist 15 differs from most of builder Mark Bartel's production in that focuses on recreating a UK sound, akin to the Bluesbreaker and Plexi but at reasonable power levels.
Available in either 1×12 combo or split head / 1×12 cabinet configurations, the Tone King Royalist delivers 15 watts to a built-in attenuator, and then to a single 12 inch Eminence Texas Heat speaker. It is surprisingly light weight, yet it feels solidly built. For tubes, ut uses 3x12AX7 and 2x EL84s.
This amp was built during 2015 and is in very good, very clean condition and looks hardly used. It sounds great at low volumes – the Tone King Ironman attenuator is built in.
Here is part of what Mark Bartel has to say about his Tone King Royalist:
"The Royalist is inspired by the sound of the early Marshall amps, and you will certainly hear elements of the old bluesbreaker, JTM45, and JMP50 in the sound of this amp. However, the Royalist is no mere clone of a vintage amp. It is very much a new design which captures the essence of those fine vintage amps, but goes further as well.

I used the same approach to the design process as I always have in the past. It all starts with critical listening, in order to understand the qualities – good and bad – that define the sound of these iconic vintage British amps.

Then, relying simply on engineering know-how and past experience, I developed circuit designs to deliver more of the good and less of the bad qualities, for an idealized version of those iconic tones we all know and love. I made no attempt to duplicate the design or construction of the originals, since my goalwas to go beyond the limitations of those classic designs.

As always, half of the design effort went into the voicing of the speaker cabinets. The goal was to capture the low-end thump, chunk, and presence of a certain vintage "basketweave" 4×12 which is a big part of that sound, but do it in a smaller, lighter, more convenient package – 1×12 and 2×12.

This was the most difficult design I've done in several years, since it was so entirely different from the Fender voicings I had been familiar with. Regardless, I am delighted with the sound of the Royalist cabs, and I think they are an excellent match for the amp. To top it off, I added a number of additional useful features. I developed a special version of the Ironman attenuator, with a reactive load tuned specifically for this amp, as well as an extremely transparent effects loop and a very useful line-out circuit. "
---
Price: $2500 CAD
View Spec Sheet (PDF)
Model: Royalist 15
Year: 2015 |
Class: Used
Serial Number: 1615H-038
Country of Origin: USA
Condition: Very Good
Date Posted: 30/07/2018
---
This item has sold
Consignment Item
---
Manufacturer's Website
View Spec Sheet (PDF)
Contact The Twelfth Fret Regarding This Item