Brand:
Trinity Amplifiers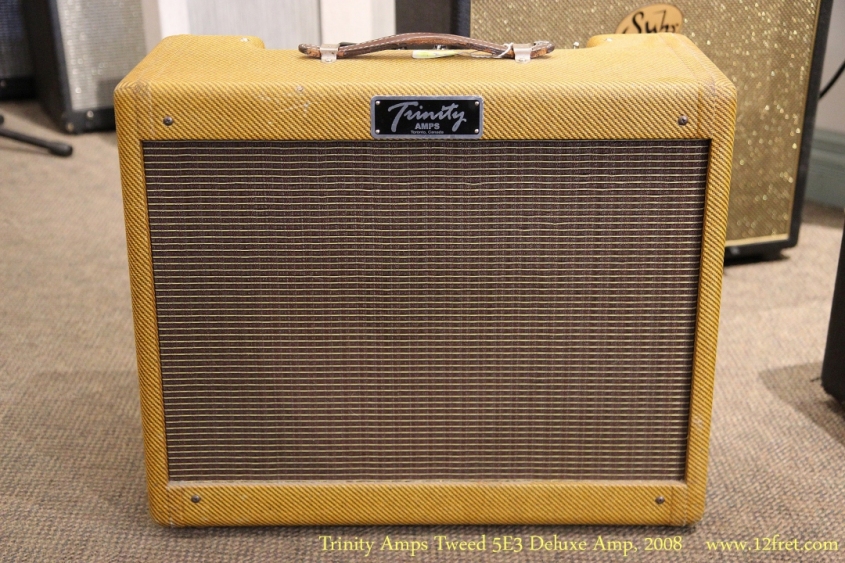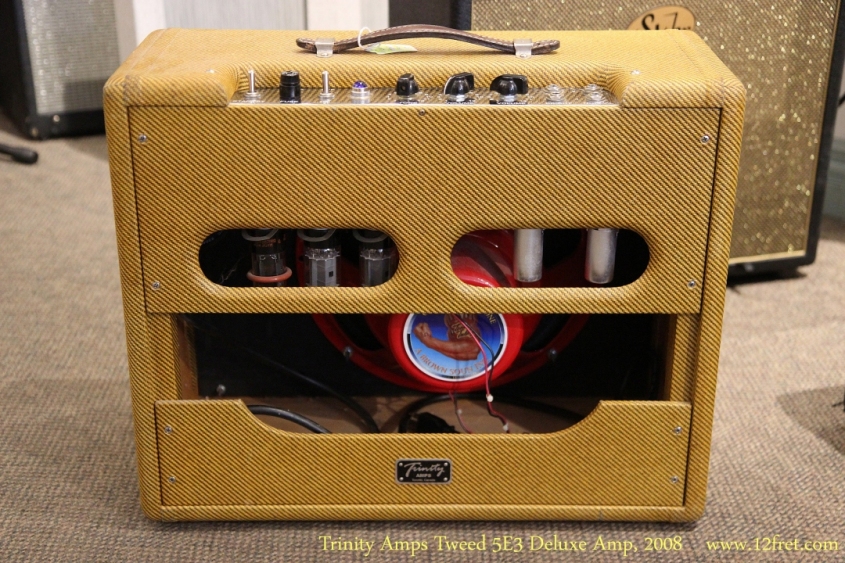 The Trinity Tweed amp, built in Brighton Ontario since 2006, is based on the famed Fender Deluxe 5E3 amplifier, built from 1955 to 1960. Packaged as 15 watt, 1×12 Combo design, the 5E3 Deluxe has appeared on many stages and recordings with players like Neil Young, Mike Campbell, Billy Gibbons, The Edge, Rich Robinson and Don Felder – people who know and need tone.
The Trinity Tweed is hand built on custom turret boards, but not a slavish reproduction of the original Fender model; the circuit layout and grounding has been altered and improved, and the inputs isolated to reduce noise. Custom built transformers come from Heyboer . These transformers are based on the originals that Fender used, but deliver improved high current capacity and grounding – again to minimize hum and noise.
This amplifier design uses a pair of 6V6 power tubes with the custom transformers to produce a rather loud 15 watts, while the preamp tubes are one each 12AX7 and 12AY7. The speaker is a Tone Tubby Alnico A Brown Soun 12 inch, finished in red.
The cabinet is built of local, Ontario produced 3/4 inch thick solid Pine.
This Trinity Tweed amplifier dates to 2008, and was originally used by Trinity as an in-house demonstrator, and used perhaps six times a year. In 2010, its original purchaser needed an amp, and wanted this one! It remained in his own studio for his remaining years, and shows no signs of having being used on the road.
This amp is in very good, clean condition and sounds – great. It's extremely versatile, and its compact size and weight make it easy to carry. But it all comes back to the amp's tone, which is fantastic.
Be sure to check out the video on Trinity Amps, part of Kim Mitchell's Guitar Picks series!
Here is the builder describing the Trinity Tweed 5E3:
"For rock, country or blues players who want a moderately powered amp they can crank up on a small to medium sized gig or in the studio, the Trinity Amps Tweed may be the amp for you. The fat, snappy guitar tones heard on many recordings, from Memphis to Abbey Road, were made using the Tweed. This is not a Marshall Les Paul EL84 sound, but it is familiar if you've heard anything recorded in the 60's or 70's. The Tweed produces about 15 loud watts into 8 Ohms using two 6V6 output tubes and is housed in a classic Tweed cabinet. The circuit is based on the original Fender 5E3 Tweed Deluxe.
You can use this amp with almost every style of pickup or guitar including Tele's, Strat's, Les Paul, Gibson SG, Esprit, 339, Gretsch etc. The Tweed can get tones ranging from some of the best fender clean tone you've ever heard, to that cool jazz and blues midrange focussed tone, all the way to some very, very meaty rock distortion (picture Black Crowes). For an amp with limited controls it can get an amazing array of tones. Distortion comes on fairly quickly but it is warm and subtle and not grainy. This tone is perfect for jazz soloing. When a bridge pickup is used, there is a lovely grind that is smooth but with bite.
Plug into channel 2. Set channel 1 volume at 6, channel 2 volume at 3, tone at 11ish, guitar tone about 3/4 then vary the guitar volume : 1/2 for clean, 3/4 for a bit of edge. You can get delicious grind with this simple setup simply by controlling the overdrive with the guitar volume knob.
What amazes players who own, record or audition this amp, is the ability to pull tones from any era. Classic rock and country are a given, but also Van Halen style shred, Edge/U2 atmospherics, and brutal, grinding techno/industrial. The Tweed also takes pedals beautifully, and is a good base layer for plugins.
True to the Fender original, the Tweed has 2 channels, 2 inputs per channel, each with a volume control and one shared tone control . 3 knobs in all. But the interaction between the controls makes it much more sophisticated than one would expect. Even though the features are limited, it is one of the most versatile amps ever. Jazz, blues, rock, country, it's all there. It has enough power for most jams and small gigs. With a Tone Tubby Alnico, it is loud with a fabulous tone.
To develop and refine the Tweed, we improved the layout, grounding, isolated the input jacks and reduced noise level. We then had Heyboer develop custom transformers to our spec. The Power Transformer is improved with high current capacity and a ground wire for the heaters to minimize hum. The OT is the more expensive Fender #108 design and we used old grade steel laminations and paper bobbins to our spec. The redesign also includes a standby switch."
Price: $1150 CAD
Model: Tweed 5E3
Year: 2008 |
Class: Used
Serial Number: 200812
Country of Origin: Canada
Condition: Very Good
Date Posted: 15/08/2019
---
This item has sold
Consignment Item
---
Manufacturer's Website
Contact The Twelfth Fret Regarding This Item