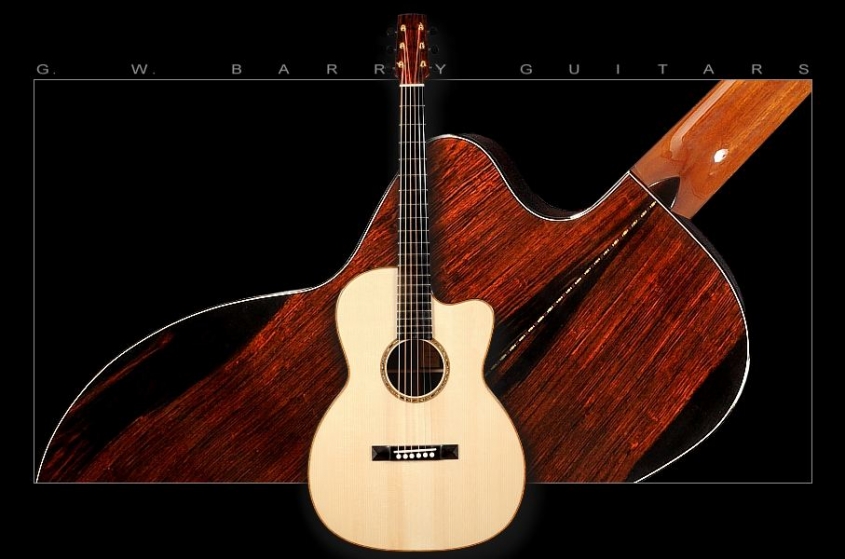 –
Here is a stellar new offering from the workshop of G.W. Barry. This amazing flat top features a new body shape and a beautiful set of straight grained re-claimed Brazilian rosewood! The full lush and angelic tone of this guitar seems to flow like silk and practically begs to be played! You have done it again Mr. Barry!!
–
–
"This particular order came about from a repeat customer who was really looking to zero in on his "dream" guitar. It started with a 12 fret neck join to body which centers the pyramid bridge in the lower bout and it was then determined that an expanded ooo style body would yield more power in the bottom end while establishing more lush treble frequencies and a more open mid-range. The core idea of air displacement is front and center on this design as the expanded body, more centered bridge and beveled side port work together to accentuate a more airy/open sounding instrument which is less constrained by the natural compression of a 14 fret to body design.
The silky Adirondack top was chosen for its higher "ceiling" or "threshold" allowing more dynamic nuance within the customers finger style playing. Then you add a straight grained re-claimed Brazilian rosewood back and sides with glass-like tap tone and a wider string spacing (1 ¾ at nut…2 5/16 at bridge) and all the elements are in place for a finger style rocket!"
G.W. Barry
Special thanks to David Wren for the photos!
---
You can preview our videos now on Our YouTube Channel!
You can now Visit our Facebook page!