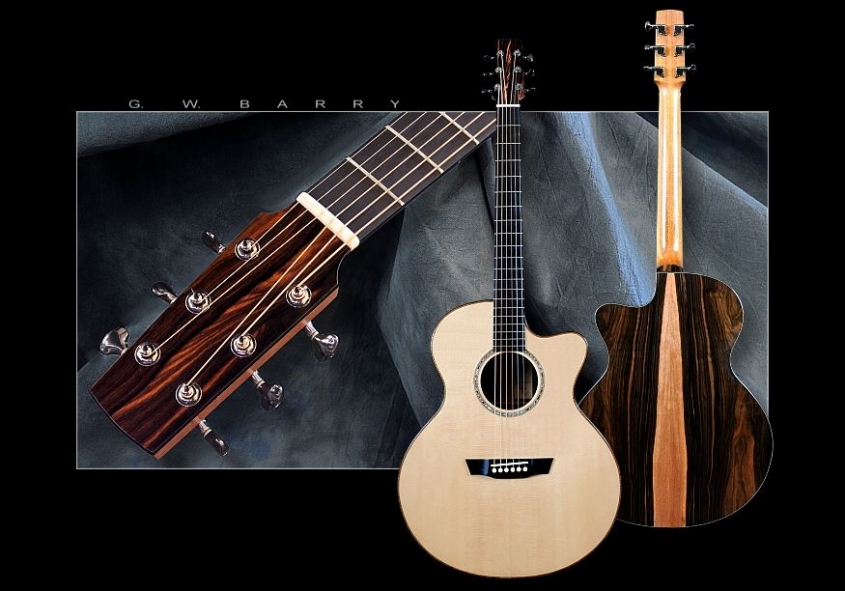 Someone once told me that a great luthier is like a great chef: they are all exceptionally skilled and at the top of their game,  you just have to find the right recipe for you taste buds. To my ears nobody has a better sonic stew then G.W. Barry. I have been a fan of his work ever since I started working at the 12th Fret and I vowed to one day own one of these exceptional instruments.  So I decided to work with Mr. Barry to create my dream guitar!!
The concert body was a logical choice for my playing style as it provides plenty of power, punchy and full bass response, smooth yet cutting midrange and  shimmering smooth articulate treble frequencies. The curvaceous 16″ lower bout is complimented by a tight waist which sits really comfortable in the lap and makes it feel like a much smaller guitar. The Venetian cutaway provide excellent access to higher frets and the side port might possibly be one of the best design elements on modern flat top guitars today! The side port provides the player with a monitoring factor and augments the overall volume and tone production by allowing the top to move more freely due to the increased rapid air movement.
In my conversations with Mr. Barry about my playing style which tends to feature lots of lower alternate tunings, a light attack and shifts between hybrid picking, fingerstyle and strumming, he suggested a longer scale length of 26″ rather then the usual 25.5″. This not only helps to maintain a similar tension and feel when tuned down but it also creates a clearer tone for lower pitches with more presence and volume on the low end!
Then it came time for the wood choices! Sitka spruce has always been my favourite top for a guitar because of its strong note fundamental, lovely dynamic range and strength to weight ratio.  This particular set has a beautifully tight grain and a subtle light golden hue.  The back and sides I was looking for needed to compliment the Sitka top and had to have  a cool exotic looking figure. Winner = Malaysian Blackwood!! This set has some wild dark black and brown stripes and a wedge like sap wood running down the middle of the book match. Tonally this wood is similar to ebony, it is a dense hardwood that is clear and loud with a broad dynamic range and a slightly scooped midrange. It seems to be uniquely responsive to different playing styles and I am able to tap into its darker side and pull out lots of overtone complexity. This combination of woods along with Mr. Barry's stunning design creates a tone and sonic signature which is simply huge!! This is why I have dubbed this guitar the "Titan"!
This incredible instrument is topped off with a subtle earthy visual elements such as matching Malaysian Blackwood peg head and heel cap, figured mahogany purfling and a Paua shell rosette surrounded by figured mahogany. Simply beautiful!
G.W. Barry continually creates guitars that are sonic and visual master pieces and I am so glad to own such an inspiring instrument!!
Mike Gray
Thanks to David Wren and G.W. Barry for the photos.
Specifications
Concert cutaway
26″ scale length
16″ lower bout width
Sitka spruce top
Malaysian Blackwood back and sides
Matching Malaysian Blackwood headstock overlay
Figured mahogany purfling and ebony binding
Paua shell rosette surrounded by figured mahogany
Billet split Adirondack spruce bracing
Sideport
Tropical Mahogany neck with medium elliptical profile
Ebony fretboard
Ebony bridge with compensated bone saddle
1 3/4″ bone nut
Gotoh 510 tuners with black  finish
TKL hardshell case
---
You can preview our videos now on Our YouTube Channel!
You can now Visit our Facebook page!