---
NOTE: This guitar is presently available.
Click here to see our new posting for the Barry OM Koa!
---
It always puts a smile on my face when I walk into the shop and see a new G.W. Barry guitar in progress or hanging in the finishing booth. My curiosity and anticipation builds to hear the sonic wonderment that will go along with the gorgeous look of his guitars! The latest offering from G.W. Barry is a beautiful Orchestra Model which features a Bearclaw Sitka spruce top and a stunning set of premium Hawaiian Koa on the sides and back.
If you can draw your eyes away from the beautiful color and figure of the Hawaiian Koa, which is difficult, you will begin to see the rest of the subtle and extremely elegant visual features on this guitar. The matching Koa peghead overlay and body binding complete a unifying theme. My favourite visual features are the Paua shell rosette which is surrounded by mahogany and black/white/black fillets, and the matching mahogany top border which conveys a lovely organic and earthy quality.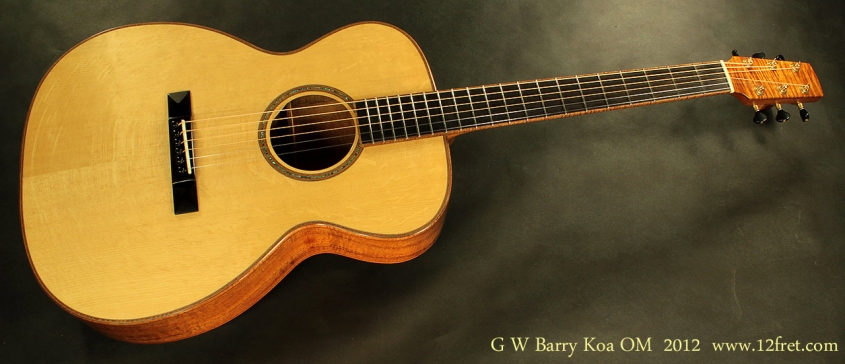 For the past 30 years Gordon Barry has honed and refined his craft to create a distinct and wonderfully musical sonic signature. His ear for wood selection and attention to design elements are contributing factors in the creation of this sonic signature. One such design element is the side port featured on this guitar and a first for Mr. Barry's OM models.The side port provides the player with a monitoring factor and augments the overall volume and tone production by allow the top to move more freely due to the increased rapid air movement.
An additional tonal and visual benefit on this guitar is the ebony pyramid bridge. The narrower and slightly offset rounded pyramid bridge has a beautifully smooth look. Gordon feels that it torque's the top differently which is better suited to the 15″ top width of a smaller body guitar. Mr. Barry has tweaked the classic Orchestra Model to produce an incredibly responsive guitar which is versatile enough to cover both fingerstyle playing and pick-work with ease!
The Bearclaw Sitka spruce on the top is found in larger denser trees at lower elevations. This increased density provides added stiffness and the ability to build a lighter top. The use of billet split Adirondack bracing ensures a quarter sawn bracing without runout and provides more strength and greater stiffness with less deflection. The increased energy transfer from this top and bracing combination translates into a crisp yet smooth note fundamental with tons of sustain and sparkling upper partials! The premium Koa from the Big Island of Hawaii is a tropical hardwood which blends the midrange of mahogany and the top end sparkle of maple. It starts out fairly bright and opens up as it is played expanding the midrange and resonance. These wood sets are a perfect marriage for an orchestra body providing a full, lush and sparkling tone!
When you have a smaller body guitar that sits just right in your lap, a smooth low profile neck with slightly rolled fingerboard edges and an absolutely perfect set up, you have a guitar that is so comfortable to play you will never want to put it down! I have three main criteria for evaluating a guitar (besides its looks) : Clarity, Complexity and Comfort. This guitar has all three C's in full force! Another amazing instrument from the workshop of G.W. Barry!
Mike Gray
* 1 3/4″ wide bone nut
* Beveled figured Koa peghead overlay
* One piece tropical mahogany neck
* Reinforced dovetail neck joint
* 25 1/2″ scale length
* Ebony fingerboard with Koa binding
* Medium/low elliptical neck profile
* Precision Gotoh 510 tuners in Antique Gold with Black buttons
* Bearclaw Sitka spruce top
* Premium flamed Hawaiian koa back & sides
* Adirondack spruce braces
* 15″ lower bout dimension
* 4″ deep sides at end pin area
* Paua abalone shell soundhole rosette with mahogany surrounding
* Side port
* Flamed koa body binding with black edge fillet
* Pyramid ebony bridge
* Intonation compensated polished bone saddle
* Gloss lacquer finish
* Deluxe arch topped case or Calton case available at extra charge.
---
You can preview our videos now on Our YouTube Channel!
You can now Visit our Facebook page!