25 of Canada's top guitar builders. Sunday June 22nd, 1-5pm.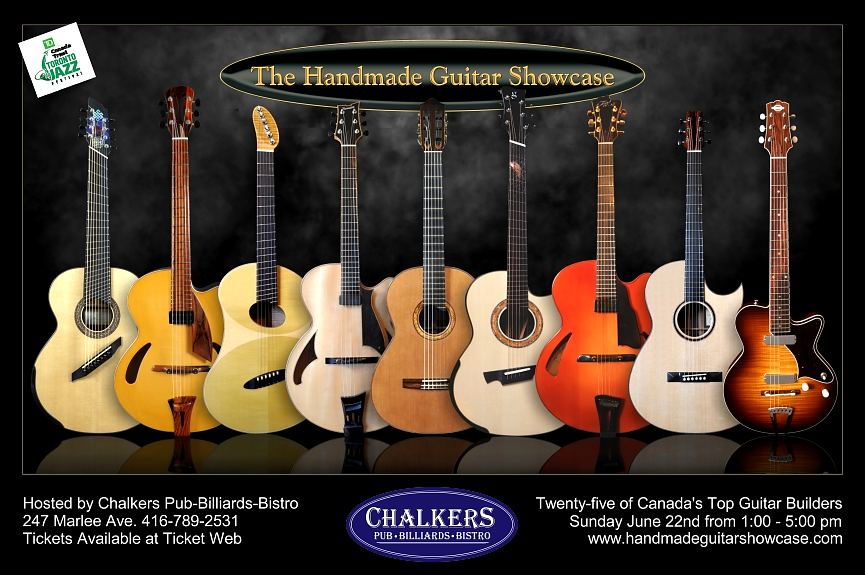 The Handmade Guitar Showcase is developed by Allan Gorman and David Wren, and features twenty-five of Canada's preeminent guitar makers in the informal atmosphere of one of Toronto's finest jazz venues. In conjunction with the Toronto Jazz Festival, Chalkers Bistro is hosting an event that brings together some of our most talented craftspeople displaying a diverse array of their guitars … from electric, to flattop to carved tops.
Featuring:
G.W. Barry
Mario Beauregard
Marc Beneteau
Sergei de Jonge
Tony Duggan -Smith
Oskar Graf
George Gray
Michael Greenfield
Anne Hartman
Doug Harrison
Patrick Hodgins
Tony Karol
Michael Kennedy
Mark Kett
Edward Klein
Dennis Kwasnycia
William "Grit" Laskin
Chris Lounsbury
Linda Manzer
Luis Feu de Mesquita
Alastair Miller
Sheldon Schwartz
Pete Swanson (Dagmar Guitars)
Peggy White
David Wren
Joseph Yanuziello
LINKS & INFO
Sunday June 22, 2014 at Chalkers Bistro
Tickets are available for $10 through Ticket Web.
For directions to Chalkers Bistro, click here.
For more information, visit the official website: HandmadeGuitarShowcase.com.
You can also visit the official Facebook Page.