12fret.com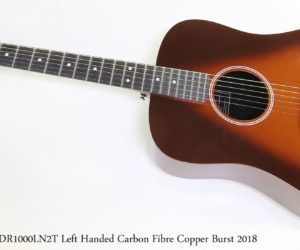 Rainsong H-DR1000LN2T Left Handed Carbon Fibre Copper Burst 2018
Price: $2500 CAD
MORE

→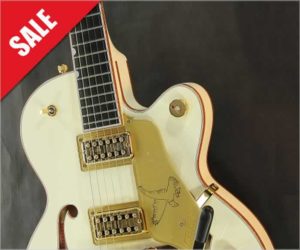 This Gretsch G6112TCB-WF Limited Edition Falcon Jr. in Vintage White, is a great little guitar and is a new model. Blending influences from three sources – the classic Gretsch White Falcon, the Jet body design, and the new Gretsch Players models. Aside from being very flashy, this is a great playing and sounding guitar.
Every once in a while, something built as a promotional item for an industry trade show really takes off, gets more intention than expected and is put into production. This was the case with the 1954 Gretsch White Falcon, intended to show off the elegance and quality of the Gretsch electric archtop line at the 1954 NAMM trade show in California.
Price: $4249 CAD
MORE

→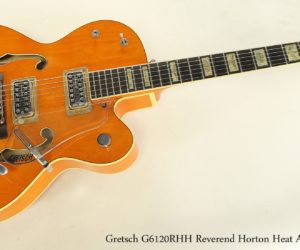 The Gretsch G6120RHH is the signature Reverend Horton Heat model, based on 1955 and 1958 6120 specifications. It features classic lines and Western decoration, plus a number of modern upgrades like locking tuners and pinned adjustable bridge.
Price: $3199 CAD
MORE

→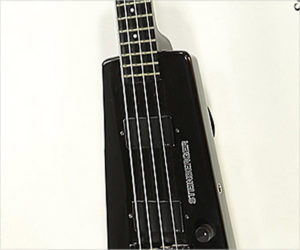 Here we have a Steinberger XL2 Headless Fretted Bass, dating to 1984 and built at the Steinberger shop in Newburgh, New York. It uses the unmistakable headless design based on the L2 and is made of graphite reinforced epoxy with some plastic components (the top). The pickups are by EMG. It is in overall very good, original condition though – as is common with these instruments – the plug-in leg rest is missing. Fret wear is minor and it's very comfortable to play, with a tight focused tone even acoustically. 
Ned Steinberger came from a fine arts background, focusing on sculpture, to create highly influential instruments, particularly the headless guitar and bass.
Price: $3499 CAD
This instrument has sold
MORE

→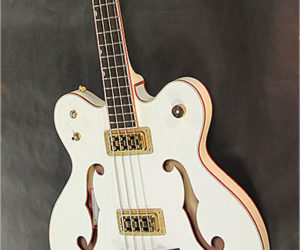 Here's something unusual a Gretsch G6136LSB White Falcon Bass dating to November 2011. We rarely see these basses; they were not produced with the original 1950's versions of the White Falcon, and first appeared around 2006 as a new model built for Gretsch at the Japan Terada plant (hence the JT at the start of the serial number). This plant builds many really excellent quality instruments.
The Gretsch G6136LSB White Falcon Bass uses a fully hollow, arched Maple laminate body with tone bar bracing, and a 34-inch scale Maple neck with bound Ebony fingerboard, and with the engraved gold-plated "THE WHITE FALCON" plaque on the Falcon-styled headstock. It's a White Falcon, so of course all of the binding is Gold Sparkle.
Price: $2899 CAD
MORE

→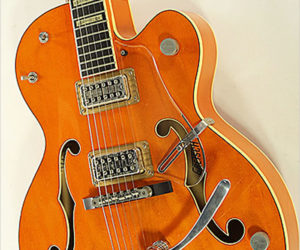 Here's one we don't see very often – a Gretsch G6120RHH Reverend Horton Heat Archtop signature model! This is based on a combination of 1955 6120 construction and 1958 style electronics. It has all the 1950's Gretsch western decoration – the G-brand on the body, the Steer-head and cactus inlay set, 50's style Bigsby arm and of course the Gretsch orange finish. It also has a couple of very modern upgrades – a pinned bridge and locking tuners for much faster string changes. This guitar is in all original condition and dates to November of 2005, the first year the Reverend Horton Heat signature model was available. It's in very good condition and plays great.
Price: $3200 CAD
This instrument has sold
MORE

→