6120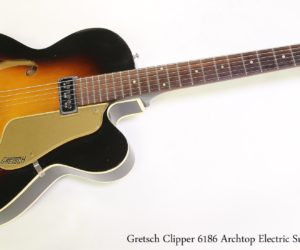 Gretsch Clipper 6186 Archtop Electric Sunburst, 1958
Price: $999.99 CAD
This instrument has sold
MORE

→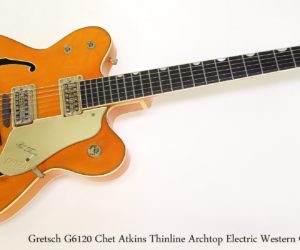 The Gretsch 6120 Chet Atkins appeared in 1954 as a 16 inch wide 2.75 inch deep, single cutaway double pickup model, but for 1962 the new closed ElectroTone body provided a second cutaway shallower depth at 2.25 inches and faux F-Holes.
Price: $4250 CAD
MORE

→
The Gretsch G6120 DS Nashville is based on 1955-56 6120 models equipped with single coil deArmond DynaSonic pickups. Built for a short time starting in 2003, it is a 'dressed down' version of the G6120 DSV – it lacks the Western-style decorative G brand on the body and engraved block inlays.
Price: $2200 CAD
This instrument has sold
MORE

→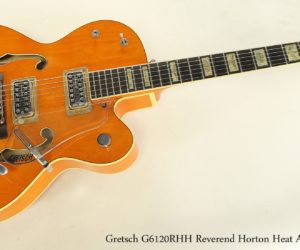 The Gretsch G6120RHH is the signature Reverend Horton Heat model, based on 1955 and 1958 6120 specifications. It features classic lines and Western decoration, plus a number of modern upgrades like locking tuners and pinned adjustable bridge.
Price: $3199 CAD
This instrument has sold
MORE

→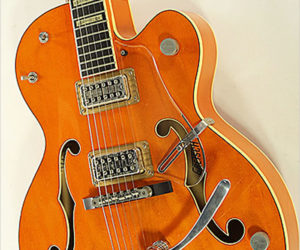 Here's one we don't see very often – a Gretsch G6120RHH Reverend Horton Heat Archtop signature model! This is based on a combination of 1955 6120 construction and 1958 style electronics. It has all the 1950's Gretsch western decoration – the G-brand on the body, the Steer-head and cactus inlay set, 50's style Bigsby arm and of course the Gretsch orange finish. It also has a couple of very modern upgrades – a pinned bridge and locking tuners for much faster string changes. This guitar is in all original condition and dates to November of 2005, the first year the Reverend Horton Heat signature model was available. It's in very good condition and plays great.
Price: $3200 CAD
This instrument has sold
MORE

→
The Gretsch 6120 is one of the historically key archtop electric guitars. This fine example dates to the start of the Gretsch resurgence in the early 1990s.
Price: $2600 CAD
This instrument has sold
MORE

→