DynaSonic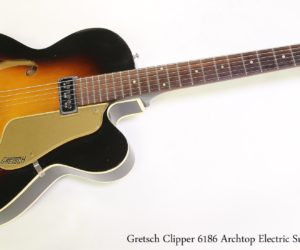 Gretsch Clipper 6186 Archtop Electric Sunburst, 1958
Vintage
Price: $999.99 CAD
This instrument has sold
MORE

→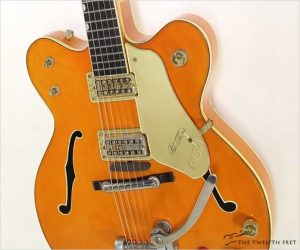 The Gretsch 6120 Chet Atkins appeared in 1954 as a 16 inch wide 2.75 inch deep, single cutaway double pickup model, but for 1962 the new closed ElectroTone body provided a second cutaway shallower depth at 2.25 inches and faux F-Holes.
Vintage
Price: $4,250.00 CAD
This instrument has sold
MORE

→
The Gretsch G6120 DS Nashville is based on 1955-56 6120 models equipped with single coil deArmond DynaSonic pickups. Built for a short time starting in 2003, it is a 'dressed down' version of the G6120 DSV – it lacks the Western-style decorative G brand on the body and engraved block inlays.
Used
Price: $2,200.00 CAD
This instrument has sold
MORE

→