Fretless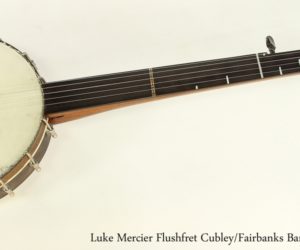 Luke Mercier Flushfret Cubley/Fairbanks Banjo No. 36, 2005
Price: $1650 CAD
MORE

→
The Godin fretless 5-string Bass body is made of two pieces of silver leaf maple, chambered and capped with spruce. The neck bolts on, and uses rock maple plus an ebony fingerboard on the fretless version. The Fretted version gets a rosewood fingerboard. The bridge matches the fingerboard, and on this older example uses an acoustic-guitar style pin bridge. Godin is very well acquainted with using piezo pickups and have devised a very usable and unobtrusive control layout next to the fingerboard. Access to the battery for the preamp is on the back.
Price: $800 CAD
This instrument has sold
MORE

→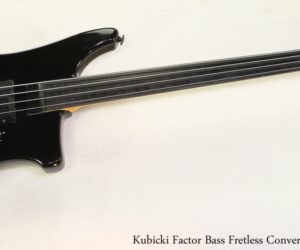 The Kubicki Factor Bass appeared as a limited production item in 1983. Once one of the first built was used by John Taylor of Duran Duran during a Saturday Night Live appearance, demand rose sharply.
Price: $2499.99 CAD
This instrument has sold
MORE

→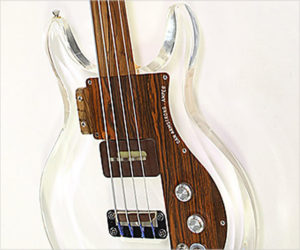 Here we have an Ampeg Dan Armstrong Plexiglass Fretless Bass, built in 1969 likely at the Ampeg facility in Linden, New Jersey. It's a full 34 inch scale with 1 9/16 nut width, and weights in at 10.34 pounds – this weight is one of the drawbacks of the body material. The neck is maple with a flat-sawn Brazilian Rosewood fingerboard, which at the time was very commonly used on quality instruments. There is some wear to the covering of the pickup, and the body has some light scratching, as expected for an instrument of this age. It appears to be in original condition, with an extra washer added to support the output jack – this is always a vulnerable area.
Price: $1875 CAD
This instrument has sold
MORE

→