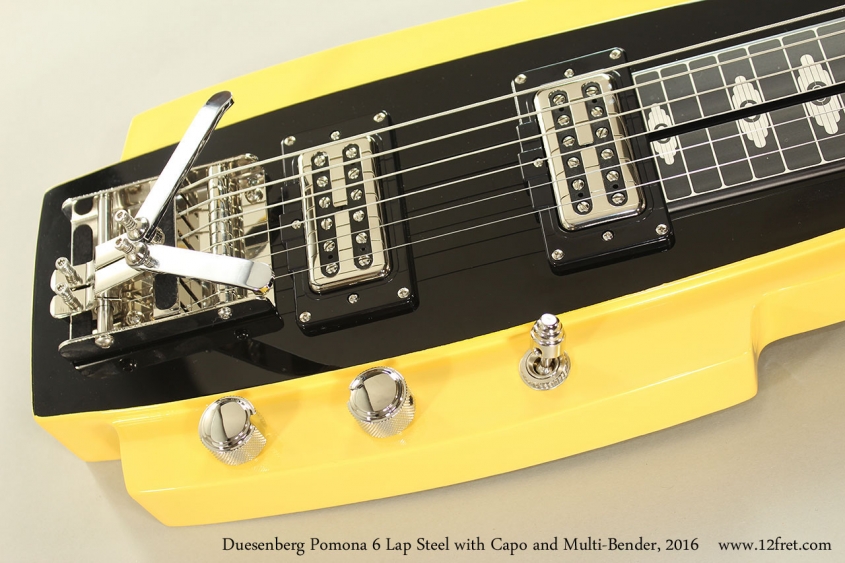 The Duesenberg Pomona 6 Lap Steel comes stock with a built-in capo and Multi-Bender tailpiece, and is arguably THE best lap steel on the market today.
The basic concept of the lap steel is straightforward, but Duesenberg has added features to make the Pomona 6 a fully professional grade instrument.
First, unlike most lap steels, it's a long scale, 25.5 inches, just like a Fender Telecaster, so from top to bottom the notes are full and rich and issues regarding available string sets and odd gauges won't arise. The body is a mahogany slab, so it has a warm, full tone.
Second, the metal nut and integrated capo are very solid and secure, and provides huge sustain for open strings. The capo slides down a track in the middle of the fingerboard so there's no chance of it dropping out during performance or maintenance.
The pickups are custom Duesenberg Little Toaster humbuckers, based on the vintage Gretsch Filter 'Tron design – this tend to be bright and twangy, perfect for a steel guitar.
Finally, the bridge builds in the Duesenberg Multi-Bender. This idea is based on the classic Bigsby Palm Pedal kit, which replaced the forward down tension bar on a dual-roller Bigsby unit and added one or more levers. The levers have setscrews fore and aft, allowing first the resting position of the arm (via the rear screw) and then the upward pitch change with the forward screw. Once set, pressing on the lever with your palm shifts that note up a precise amount, just like a pedal steel. The Pomona 6 comes stock with two levers, but it's simple to add more.
The Duesenberg Pomona is extremely well made, with all the attention to detail that's typical of Duesenberg products. If you need a professional grade lap steel – this is it.
---
Price: $2,699.00 CAD
Model: Pomona 6
Year: 2016
Class: New
Serial Number: Varies as New. Shown here is #141241.
Condition: Brand New
Date Posted: 14/09/2016
---
This instrument has been sold
Not Consignment
---
Contact The Twelfth Fret Regarding This Item