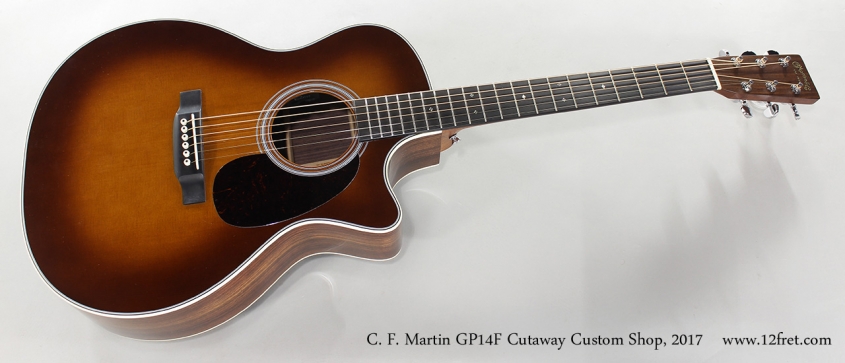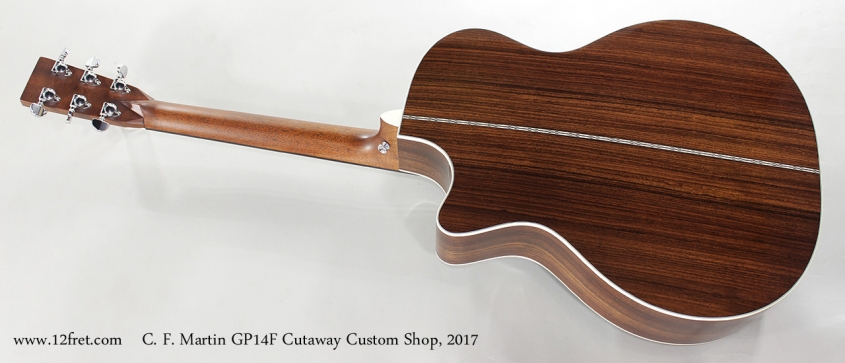 During my recent Martin factory tour I was offered my choice of 14 select pre-built Martin Custom Shop guitars. I chose two unique one-of-a-kind guitars that really took my fancy.
These guitars are creations of the 3 Master Luthiers in the Custom Shop, specifically put together for for our dealer-Facotry-Custom-Shop-Tour. They reflect their personal favourite woods and bracing patterns – personal favourites based on their vast experience at Martin Guitars.
I knew that I could not possibly go wrong choosing any of the guitars offered. That said, two made an immediate impression and now that I have them here at the shop, I remain very pleased with my choices.
Martin GP-14 FCtwy, Custom Build #2865324
For my second guitar I was looking for a solid working musicians' guitar that would offer studio grade balance and tone, volume for solo playing and a superb pickup system.
The GP-14 was the ideal choice and to get one actually built by one of the Master Luthiers in the Custom Shop, PLUS the new VT Enhance pickup was an oportunity not to be missed. For this Canadian Dealer Factory tour, the Custom Shop offered three GP-14 guitars as examples to demonstate the new Custom Fishman Aura VT Enhance pickup system.
Tasting notes on the Martin GP-14 FCtwy:
Loud and full bass with clear trebles, lots of note separation with rich harmonic complexity. Impossible to 'overdrive' this top no matter how hard one attacks. The guitar has already 'opened up' nicely and sounds like a guitar that has 1000 hours of playing on it though at best it has been played so far perhaps 10 minutes.
For fingerstyle it is clear and retains the full bass response even when played very lightly. This guitar offers the best of both worlds to players who switch between fingerstyle and flat picking. And the Low Oval Performance neck with the 1 ¾ nut is a dream to play.
The back-story on the Fishmand VT Enhance system: It's no secret while transducer (piezo) systems have been in use for decades, the quest for the most accurate reproduction remains as urgent as ever. Pickups still rely on EQ tone-shaping preamps to mold the signal into a more sonically acceptable form. While Fishman pickups offer a great acoustic sound; first time – every time. But we never claim that it 'sounds exactly like the guitar'. Up until now, to avoid the more 'generic' tone of a pickup one must use a studio-grade microphone.
The Martin Custom Shop challenged Fishman to take their Aura Technology to the next level and they now offer a service whereby they create a true 'mirror image' representation. The same sound — not just a representation.
The individual guitar is sent to Fishman's Studio in Andover Maine. For the Martin GP-14 FCtwy, a Neumann KM84 small diaphrgm, condensor mic was used to capture a true image of the guitar.
The Fishman engineers are able to deliver 'The Martin Sound' of this specific guitar, replicating the nuances captured by a premium microphone in the controlled environment of a studio.
The Fishman engineer takes the guitar through a very sophisticated recording and mix-down session to capture the unique 'sonic signature'. It's a time-consuming and expensive process that can't be rushed. Each instrument 'image' is determined by elements of guitar construction, scale length and other factors through the top-shelf microphone listening to this instrument. There are no shortcuts!
This process allows select Martin guitars to deliver the most lifelike performance under any live circumstance – the most lifelike reproduction of the guitars' true voice.
Martin now offers individualized Fishman Aura Imaging as a Custom Shop Option to any enthusiast. While this option comes with a premium cost of $1749 Canadian, the process yields one of the most individualized custom creations we're able to place in a players hands. This service is now available for any Martin Custom Shop guitar on request.
Now for the really sweet part: for the purposes of my Dealer factory Custom Shop tour, this special service was offered a no extra cost !!
Price with pickup $ 5019
Grant MacNeill, The Twelfth Fret
Price: $5,019.00 CAD
Model: GP-14F
Year: 2017
Class: New
Serial Number: Serial 2021550 Custom ordered by Grant MacNeill and built during 2017 at the Martin shop in Nazareth, Pennsylvania.
Country of Origin: USA
Condition: Brand New
Date Posted: 05/06/2017
---
This instrument has been sold
Not Consignment
---
Contact The Twelfth Fret Regarding This Item